This afternoon I received a call from my wife informing me that the tiles at the dining room going to the kitchen has popped up and cracked. I got home and was really upset after seeing it.
---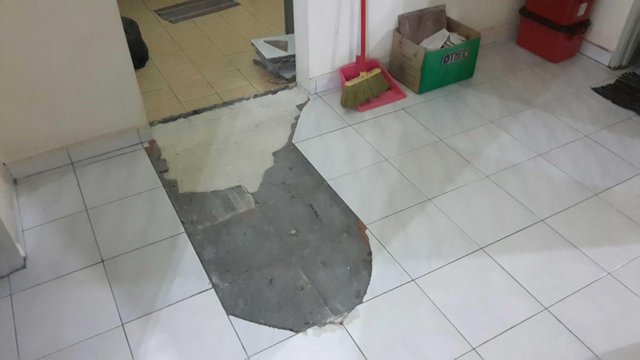 ---
After I bought this apartment in 2010, I came to check it, and the first thing that I noticed is the tiles has popped up in the living room and the 2nd room. The developer came and fixed it without any further cost.
Recently, the tiles has begun to popped up again especially in the master bedroom and the 2nd room. I don't have time to fixed it, so I just smashed the tiles and cover it up temporarily using a carpet. I guess it is time for me to engage a contractor to lay a new set of tiles for the whole apartment. Sigh.
This apartment that I bought is a medium cost type, developed by the govenment housing agency (SPNB). Never in my mind has any doubt about the quality of their contractor's work. Afterall, its a government's project, and surely they have competent people to look after the progress and quality of works done. But I was wrong.
Oh well. Hopefully Steem will go up, need some extra cash to pay for the contractor soon.
---
Who Am I?
I am an Engineer working for companies that specialises in Electrical, ELV and Mechanical contract works for High Rise Buildings, Shopping Malls, Housings and Electrical Sub-Stations.
I was first introduced to Steemit in December 2017, but I was only active blogging in January 2018. Since then, I've been writing almost everyday. There is no specific title that I blog about, I write almost all types of topics that came across my mind or things that interest me. Now, Steemit is part and partial of my life. Through Steemit I began to learn new things and meet strangers that now I called friends. It's an enjoyable journey so far, and hopefully Steemit will be an enjoyable experience for you too.
---
My Motto In Life
"Live Your Life To The Fullest, Stay Healthy, And Be The Beacon Of LOVE For People Around You"