The Date palm, special food in Ramadan
horee ... it feels happy and can not wait for the coming of the holy month of ramadan, for us Muslims, the month of Ramadan is a very special month and very special, because in the month of Ramadan we Muslims can do various practices to obtain reward from Allah SWT .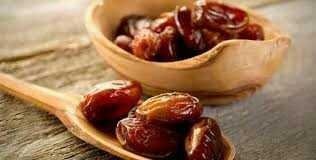 but I do not want to discuss about ramadhan, because the day before the fast will not be long again stay a few more days.
I will share some mamfaat of the date palm,
Dates are a favorite fruit when breaking or dying. The fruit of Saudi Arabia is commonly used as takjil iftar. In the mosques, three dates are plugged into plastic, including one other snack to restore the exhausted energy after a day of fasting. In minimarkets or supermarkets, dates are placed at the front with various variants. Whereas, on a typical day, dates are almost never seen. Except in limited locations. Then, actually why the date palm seems only famous when the month of fasting alone?
Date palm fruit is rich in fiber that can prevent constipation when fasting, can kill bacteria, reduce cholesterol levels and stimulate digestive enzymes in the stomach. No wonder if the date is very suitable for people who run the fast because of its benefits.
dates are the fruits recommended by the Prophet Muhammad as a very good food for breaking the fast or dawn.
One of the Historical Hadiths mentions the Prophet Muhammad who encouraged his followers to consume dates, especially during the month of fasting. Because, dates can increase the energy needed to fast or restore the energy lost after fasting.
in addition to the many benefits, the dates are very tasty and can be combined with the menu iftar.
** Other benefits of dates for healthy body **
maintain bone health
contains high fiber
launching urine
Overcoming anemia
Overcoming allergies
Raise your weight
nourish the nervous system.
increase stamina
maintain heart health.
Because it tastes good and sweet, dates are used as other preparations, in addition to just takjil. For example such as date palm, date palm cake, date palm juice,
With various advantages and features of dates, do not be surprised if the dates are very famous especially in the month of Ramadan. Is one recipe for breaking the fast
Recipe Ice Blewah Orange Dates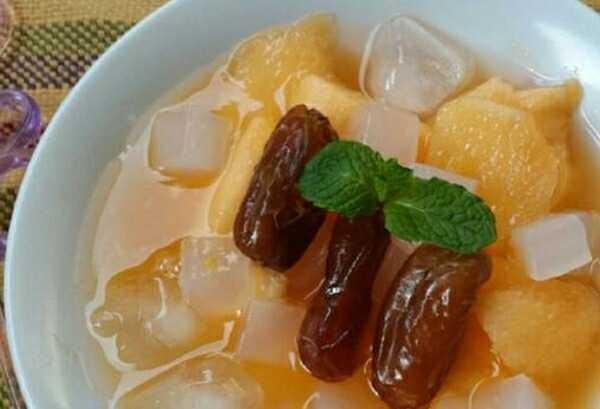 ** Es Cantonese ingredients: **
Block 1/2 fruit
Sugar liquid / simple syrup 6 tablespoons
2 field terraces
Nata de coco 6 tablespoons (ready to use)
Dates 6 pieces (seeded)
Ice cubes 10 tablespoons
** How to Make Lemona Orange Blossom Ice: </ bold> **
First take the cantaloupe meat, the way it can be dredged with a spoon. Set aside.
Next squeeze the orange fruit, take the water. Set aside.
After that prepare 2 serving bowls. Place 5 tablespoons of dessert, 3 tablespoons orange juice, 3 tablespoons liquid sugar / sugar syrup, nata de coco 3 tablespoons, ice cubes, and 3 dates.
Finish, 2 bowls of ice lemon blossom ready to serve while cold.
So my explanation of date palms, thank you for visiting my platform today, do not forget to always support me with upvote, comment and resteem.thanks