Material: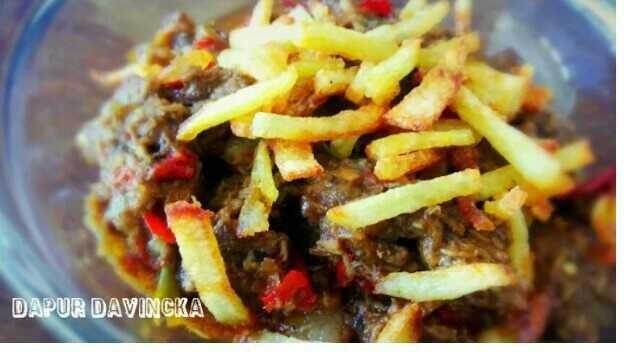 Beef is approximately 400-500 gr.
Terasi half tablespoon
Javanese Acid (almost) 1 tablespoon
Nutmeg, I use a half teaspoon powder
Pepper, I use a powder of a teaspoon (do not have a "real" Kakaaaaa: p)
Cloves 5 grains
Red Sugar (according to the cake only)
Large red chili 3-5 pieces, according to taste
Onion, about 6-7 cloves (here the red meat segede fist so hihihi)
Garlic, 2 cloves
Lemongrass, one stalk that the white part is yes
Galangal, I use a powder tooaaaa: p. Approximately half a teaspoon
Ginger, 2-3 cm
Soy sauce, one tablespoon
Cooking oil is about 1-2 tablespoons.
Salt to taste.
Addition: French fries. Potatoes sliced ​​matches and fried until dry.
How to make:
Beef checkers, size to taste. Of course, clean it first dong ya;).
Boil the meat with nutmeg + pepper + terasi + cloves + tamarind (dilute with air about 2 tbsp) + brown sugar. No need extra water from the ...