Hello Friends
I am good and hope you are also good and having a great time with family and friends.
Its the eve of Independence day and India is going to celebrate its freedom tomorrow. Currently its almost 10pm in India and a time of less than 12 hours left for the 15th august celebration.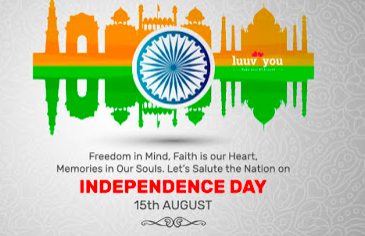 15th august is date of our independence and whole country celebrate this great with full on happiness and awesomeness.
India's primary prime minister, Jawaharlal Nehru, raised the Indian national banner over the Red Fort's Lahori Gate in Delhi on August 15, 1947. The office holder Prime Minister usually raises the banner on each subsequent Independence Day and gives the nation a delivery.
---
15th August is celebrated as Independence day every year because on this date in year 1947 India got its freedom from British.
Red fort is decorated nicely and tomorrow our prime minister Mr Narendra Modi will raise Indian flag and deliver his speech at red fort. Few of my friends have arranged the passes and they are going to attend it tomorrow and I will see if I can make it.
---
Thank you so much.