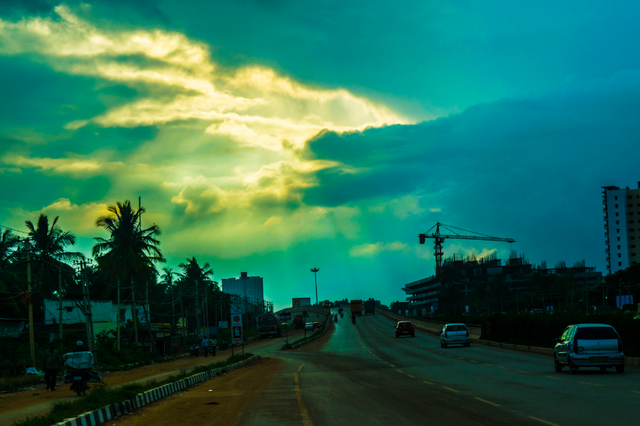 So, I was driving around apartment hunting on this particular evening when the sky in front of us, which was cloudy up until then, cleared up all of a sudden and the sun rays poured out and down onto the ground from it as seen in the picture.
While seeing the picture you might not really be able to sense it, but imagine a cloudy dark sky that separated and became what you saw in the picture, that was something.
This was clicked using my Nikon D3300 and later processed in Lightroom.
If you saw the above photo and did not like it much because of tint, you might like this one :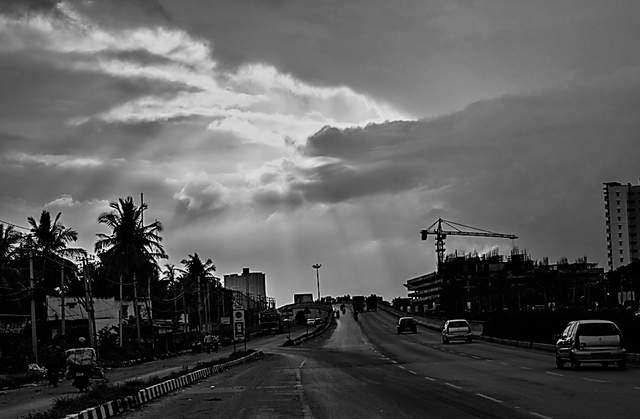 The above B&W photograph is also my favorite. I was driving our car when the sun cleared up as such, which was even more of a sight like a minute before I took this photo, but by the time I parked the car, took out the camera to click this, it changed a bit.
PS : The apartment that we found finally was in the same area. Maybe that was why the sky opened up. As a solution to my search and point towards it?
Perhaps.