Jeffrey Epstein's connections to powerful democrats was uncovered in previous reports from mainstream media, like the UK's Guardian. I guess that was when they were more honest, prior to the hit pieces on publishers of truth like Julian Assange.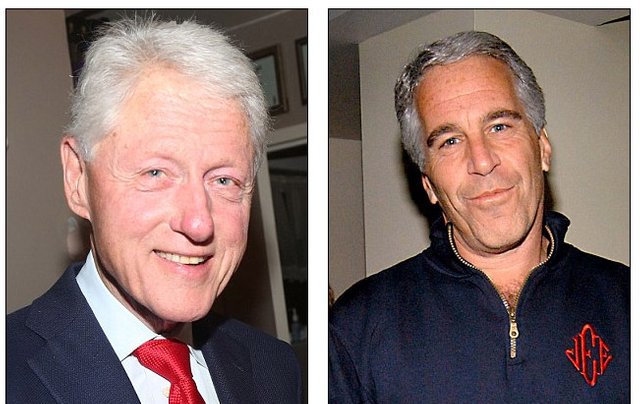 Source
Most notably there is Bill Clinton who was a passenger on Epstein's "lolita express", among others like Chris Tucker and Kevin Spacy. This was the private jet used to fly selected people to his "orgy island" where young girls (or boys?) were sexually preyed upon.
When it comes to the Clintons, the Guardian had reported that Epstein "donated" a whopping $3.5 million to the CLinton foundation from a secret Swiss bank account. This was just after the case against him was being investigated, which started in 2005.
Was this to secure favorable treatment? Possibly. He apparently was one of the founding members of the Clinton foundation as well.
In a sworn statement by Virginia Roberts, the woman who claims she was a teen sex slave forced to have sex with Prince Andrew, she confirms that Clinton was at the "orgy island", backing up the flight manifest records of the time.
Speaking with Lawyers, Roberts stated:
"I remember asking Jeffrey, 'What's Bill Clinton doing here?' kind-of-thing and he laughed it off and said, 'Well, he owes me a favor' … he never told me what favors they were.'"
Then forward a few years to the Justice departments case against Epstein, and Epstein gets a "Sweetheart deal" negotiated by lawyers including Ken Starr. Starr was part of the whitewash that cleared Clinton's finances and sex allegations during his presidency.
The FBI stopped their investigation, let him off easy by pleading guilty to a prostitution charge, and then sealed away all his files. This included video surveillance data of his sexual activities, along with his pals. Possibly including Clinton and others.
Who knows who is still paid and bought off, or has blackmail video being used to leverage an new deal for Epstein. We can only wait to see if anything at all will come of the new charges once the higher ups put the pressure on the FBI again.
---
Thank you for your time and attention. Peace.
---
If you appreciate and value the content, please consider: Upvoting, Sharing or Reblogging below.


me for more content to come!
---
Like what I do? Then consider giving me a vote on the Witness page :) Thanks!

My goal is to share knowledge, truth and moral understanding in order to help change the world for the better. If you appreciate and value what I do, please consider supporting me as a Steem Witness by voting for me at the bottom of the Witness page.
---
Posted from KURE