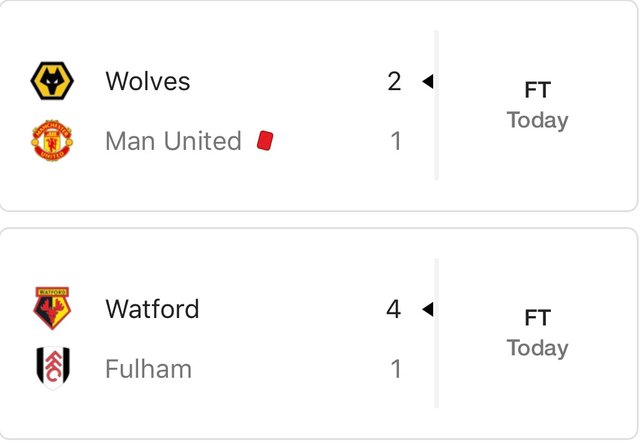 MAN. United lost and Wolves proved to be a contender.
Wolves is in seventh place.
Definitely a stronghold in the top 10.
This game was easily winnable by ManU.
So many missed left and right have proved to be detrimental for them.
Ashley two yellow turn to red left a big void for Wolves to continue their attack.
Actually 30 minutes into the match, Wolves was fiercely controlling the tempo and scored their first goal from a defensive mistake.
It was a deluxe goal and they didn't stop there
Pull a victory out of a debacle in the second half.
This is the strength of EPL.
^^^^^^^^^^^^^^^^^^<\center>
Fulham has joined Huddersfield in the relegation league.
Sad I think it is.
I saw fans with big banner stated Fulham relegation party.
Sad news for a club putting so much to play in premier league.
Weird coincidence every year three teams always fall back and three from second division rise up.
Definitely a weird cycle worth mentioning.
Chelsea can take this opportunity to rise up and cement the fourth place.
Arsenal is in third place quietly.
Great season for The EPL.
Let see if Man city or Liverpool will take everything.
Keep on postin

Posted using Partiko iOS