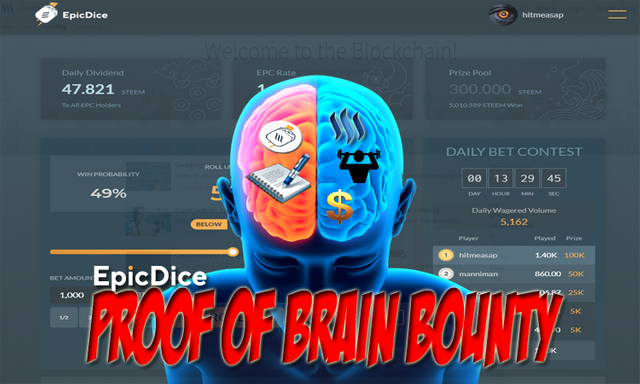 I know, I've talked about this before too, but due to the recent hardfork (HF21+22), we've seen that many authors have started to earn less for their contributions, so I figured I would talk about this one more time.
While some might think that the latest HF was literally the end of their Steem careers, I am here to tell you that it's not. Or that it doesn't have to be. You still have options. You have many more options than what I am about to talk about in this article, but this is one of them, and it's applicable on #newsteem. I have been vocal about my thoughts regarding these hardforks prior to this article, so there's no need to go into any of that again... And this is not about the hardforks, this is all about EpicDice, a gambling dApp on Steem, and a chance for people to increase their earnings.
What I want you to know, or remember if you're already aware of it, is that EpicDice rewards people for content, in form of EPC tokens.
I could obviously talk about how these tokens are great for anyone looking to earn dividends, but instead of doing that and instead of going in to things I have mentioned before, I will talk about how easy it is to sell these tokens. You sell them on Steem-engine, and they are currently worth 10-15 Steem per 100K tokens.
---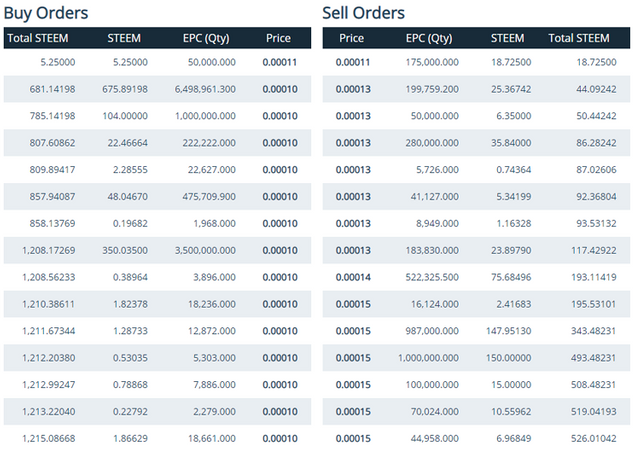 Screenshot from Steem-engine.
---
Any content is welcome as long as it is EpicDice-related, such as:
Review/thought/feedback of the system
Analysis of data
Fan art/infographic/animation/video/audio for the brand
Host promotional event, awareness campaign
And literally anything else you can think of. Your imagination is the limit. If you missed it, you can read this post to see all the details.
So, if you are looking for some extra rewards, the PoB bounty from EpicDice might be exactly what you are looking for. You can earn anything between 5000 EPC all the way up to 100K. You don't have to gamble or wager anything, you don't have to be a gambler and you can be new or old to Steem. None of that matters. You don't even have to like gambling or EpicDice for that matter...
The only thing that matters is the quality of your posts, (as the rewards are based on the overall quality), and that your content are valid entries and fulfill the requirements stated on the PoB-post.
Things You Can Do With Your EPC Rewards:

Hold and earn dividends.
Sell for Steem.
Gamble on EpicDice.

Some of my latest EpicDice-related articles:
---
For transparency reasons:
I am a moderator in the EpicDice Discord Channel, but I am not part of the official team that is behind EpicDice. I am frequently publishing EpicDice-related articles, both as a moderator but also in an attempt to share my own thoughts which is based upon my own personal experience. My ref-link is included in all EpicDice-related articles I publish.