Heart.
Rice Papers.
Encasing nature's gifts.
Miniature Pansies settle amidst.
Hydrangeas and Snapdragons. All dressed in white.
Wishing you a new year filled with love and peace, joy and abundance.
~Ally.
---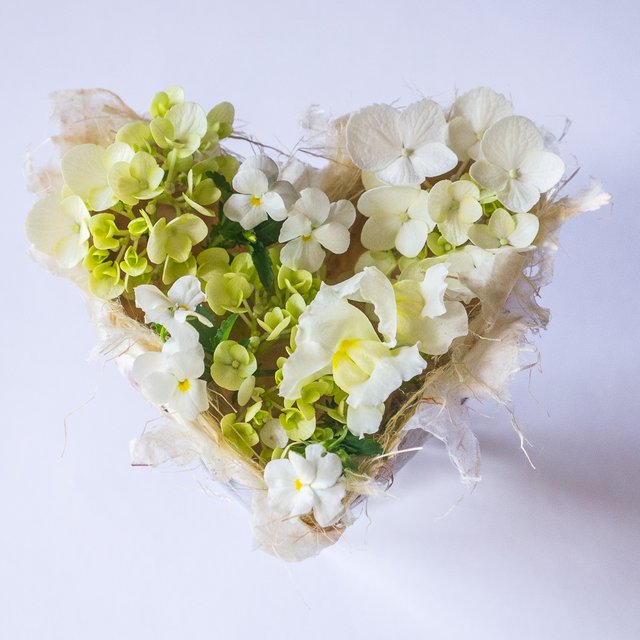 ---
A heart that is holding infinite possibilities.
A creative who is learning to trust the mystery of what will be.
A spirit that is willing to fly into new creative realms and share the journey.
~Ally.
---
Developing an Eco Product.
This year I was very excited to learn about the Homesteaders Co-op in @homesteaderscoop's Introductory Article: Supporting a Steem Community Economy: Intention, values and ethics in our products.
The Homesteaders Co-op is a collective group of steemit artisans that accept SBD for their handmade, sustainable, environmentally friendly products, services and handicrafts. ~@homesteaderscoop
We care about living and working sustainably, peacefully, with intention and with respect for mother earth, the environment and fellow man. We care about strong community values and making a difference together. ~@homesteaderscoop
I've been making small 'nests' for a few years now, with the idea of them being an eco product that can be used as an ornament, or a pot plant container, or a container to hold personal treatures in.
Originally my 'nests' were made from naturally shredded paperbark and embellished with other natural materials collected from the forest floor of our nearby bushland area. These nests were fine to give as gifts to friends, but I doubt our Australian Customs would allow them to travel through Australia Post.
This year I've been working with paper mache: Embedding seeds and lichens, leaves and flowers into layers of different Japanese rice papers. Eventually I'll make my own paper from natural materials including recycled hemp and kombucha scobys and I'm also planning on painting very simple tribal/minimalist/abstract designs on some of them.
I first shared this concept at: Ephemeral Art. Eco-friendly Products. Steem Accepting Store.
I love the idea of being able to sell handmade products for STEEM/SBD and being part of the Homesteaders Co-op and so I've been developing this particular product range that I'm calling Heart Art with the view to apply.
A simple Heart.
This Heart is quite small: Measuring 130 width by 120 in length and 70 mms in height. I'll describe more fully how it was made ~ Sometime in the new year now.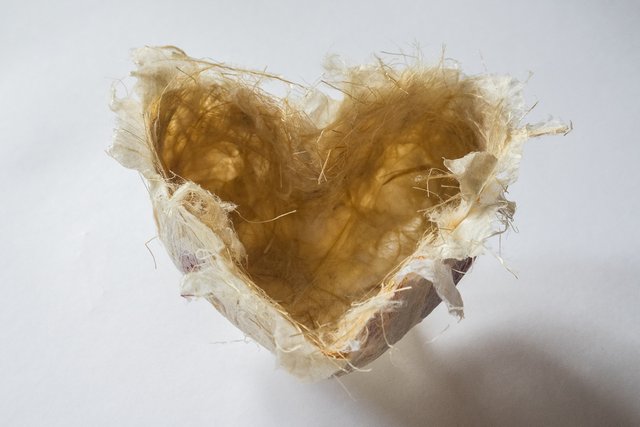 ---
The term Homesteader is used somewhat loosely. The modern use of the word typically refers to someone that is trying to live sustainably. This can be achieved through a variety of ways such as growing one's own food, living self sufficiently and creating tools, clothes or products from home-grown, local or otherwise sustainable resources.
~What is a Homesteader
---
The underneath side of the Heart.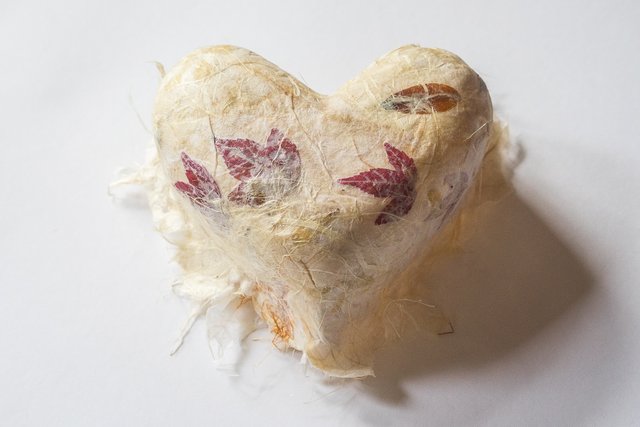 ---
While historically homesteading was a lifestyle governed by necessity in order to survive, modern homesteading is often fueled by ethics and passion for living a sustainable lifestyle in contrast to a modern world filled with waste of natural resources, pollution and other problems. In most cases homesteading doesn't pay very well and so you can be sure many homesteaders are committed to their lifestyle based on their values.
~What is a Homesteader
---
Handmade Heart Art
Assemblage. Photography: ©Alison Lee Cousland.
SONY Mark2 A7: 35 mm.

---

---
Posted from Earth ♥︎ Sand ♥︎ Water ♥︎ Ice with SteemPress : http://www.allyinspirit.info/2018/12/31/handmade-heart-art-with-summer-flowers-from-my-garden-original-photography/
---