EOS chain stability should be the primary objective of governance
A call for ECAF to suspend issuing orders which require modifying accounts
Governance should preserve chain stability
All parties on EOS should be concerned to preserve the stability of the chain. Stability occurs when parties behave in a manner consistent with the expectations they have set - when outcomes are predictable.
ECAF began with the stated aim of trying to solve a number of diverse problems. These ranged from contractual disputes, to DAO-type hacks, to theft of tokens.
ECAF issued its first order to change the keys of an account in early November. It was the first order of its kind to move property from one account to another; previous orders had been to 'blacklist' or freeze an account.
However, it has become clear that several elements of this body are not fit for purpose. In particular, there is lack of clarity over the scope and intended purpose of 'arbitration' - and even what arbitration is.
ECAF's scope and effectiveness is unclear
ECAF appears to be willing to look at and issue 'orders' to block producers about situations that fall outside the normal definition of arbitration.
Arbitration is a process entered into by parties who have a dispute with each other, with the intended aim of resolving the dispute.
Let's look at the areas ECAF appears to be willing to issue orders regarding:
Situations in which parties have a dispute over a contract
Situations in which tokens have allegedly been stolen
When a user has lost their keys
Hacks resulting from code vulnerabilities
Taking these in turn:
(1) Is a legitimate area for arbitration and can be handled by arbitration services
(2) Is a criminal matter (more on this topic below)
(3) No dispute is present here, and there are serious questions of scalability and affordability of a service that offers to assist users with lost keys
(4) This is a crucial area; the action taken to address these is by developers and block producers (more on this topic below)
'Arbitrating' criminal matters?
It is a principle of statute (the laws of countries) that they take precedence over contract. This means that the laws of countries currently supercede individuals' contractual agreements with each other.
Perhaps the EOS community would like to lobby governments to make an exception to their property laws to carve out cryptocurrency, so that theft of EOS could be resolved by an alternate forum. Those who believe traditional legal frameworks are not functioning well, are violent or coercive may be especially motivated to pursue this.
But such an exception has not yet been achieved in law, so currently when ECAF issues 'orders' for block producers to move private property from one account to another, both ECAF and block producers are doing so outside of any legal framework. Normally a court order is required before property can be lawfully 'restored'.
Let's also bear in mind that if ECAF really were trying to erect a parallel criminal justice system, there would be a slew of considerations such as rules and procedure to handle evidence, witnesses, appeal and so on. It might be a worthwhile effort to create a parallel criminal justice system, but it's a big task.
Given this, it seems only a matter of time before an 'order' is given that is wrong. When this happens the consequences and magnitude are unknown.
It is a manifestly under-developed proposition for ECAF to deliver 'orders' to block producers to make restitution for crimes at this time. Unless ECAF can show that it has the jurisdiction to instruct block producers to move private property between users, to continue to do so introduces uncertainty and instability into the chain.
Dealing with code vulnerabilities - DAO-events
When a hack occurs exploiting a vulnerability in code, there are two aspects to the response:
(1) To amend the code of the affected contract to stop the active draining of tokens
(2) To attempt to get the stolen tokens back
With respect to (1), there is already a functioning system in place to edit code. At application level, the developer holding a valid key can amend the contract. At the level of the chain, block producers implement code changes (either ⅔+1 or all 21 BPs depending on the change required).
This system has been used a number of times since chain launch successfully, with BPs coordinating, sometimes with Block.one, to deploy updated code. ECAF has not been involved in this process.
With respect to (2), within minutes stolen tokens are traded into other currencies or fiat. If they remain on exchanges, there may be the opportunity to restore some funds, but outside this, once funds are stolen and traded out of EOS, they leave the purview of block producers to restore (the only exception is when tokens are staked).
It is unrealistic to create the expectation that 'arbitration' is a process for restoring stolen funds.
Being responsible about the expectations we set
The concepts of governance and arbitration on EOS are generating expectations for users that we can not deliver on.
Users are being told a general story of safety and stopgaps, when the reality of the mechanisms for restitution are far different.
This is not responsible. We should limit our scope to what we can reliably achieve, especially when private property and a multi-billion dollar chain are at stake.
Equally, by being more authentic about the realistic limits of 'governance', we cede the space for developers to offer effective services to protect users from theft, such as time-delayed and multisig transactions as common practice, walled-environments with extra safety mechanisms, recovery services on owner and active keys, education and so on.
Our position
We call on ECAF to refrain from issuing any orders which require modifying accounts. We ask ECAF to exercise appropriate scope restraint by entertaining cases of arbitration of contractual disputes only (ie those which might otherwise be heard by the civil justice system) rather than criminal matters.
It is also imperative that we, as a community, institute the required referendum as soon as possible and allow EOS mainnet token holders to decide on the governance they want for the chain.
-Michael, Rob, Luke, Saro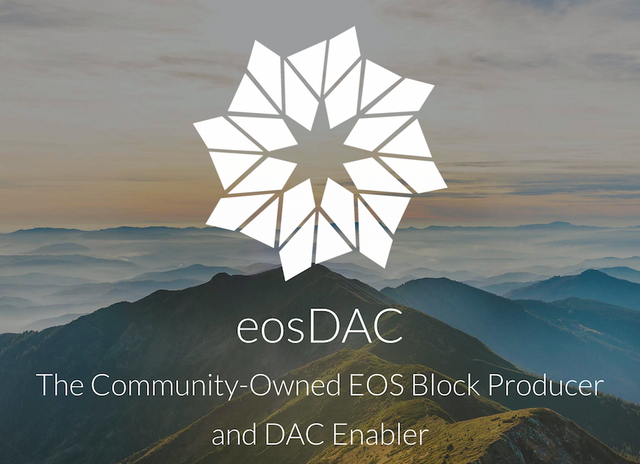 Please vote for eosdacserver
Join our newsletter to stay informed and follow us on your favorite social media platform:
Steemit | Discord | Telegram | Facebook | Twitter | Google-plus | Github | Instagram | Linkedin | Medium | Reddit | YouTube | Weibo| VK| Bihu