This is how block.one is distributing the EOS coins, over a period of almost a year.
There will be one billion EOS coins. 100 millions will be own by block.one.
The other 900 millions are distributed over 351 periods.
Period #0 occurred at the end of June, beginning of July and lasted 5 days (120 hours).
Periods #1 to #350 are consecutive periods of 23 hours over 335 days.
For each period, there are a number of coins offered:
for period #0, there were 200 million coins.
for each period #1 to #350, there are 2 million coins.
For each period, you can send Ethereums (ETH), but you don't know how many EOS coins you will get. At the end of the period, the number of EOS coins offered during the period is divided by the total number of Ethereums sent, and that yields the price of the EOS coin for the period.
We are currently in period #21, that will end at 9AM Pacific Time tomorrow Friday July 21st.
As you can see on the picture, after more than 8 hours, around 200 ETHs have been received.
Most of the ETHs are sent in the last hour of the period, if not the last 10 minutes, by people hoping that there will not be too many ETHs offered for the period, so they can get more EOS coins.
---
Before the start of the distribution, I realized that during period #0 there will be an average of 20 million EOS coins per day, compared to 2 millions during the other 350 periods of a little less that a day. So, my hypothesis was that period #0 was the best period to buy EOS coins.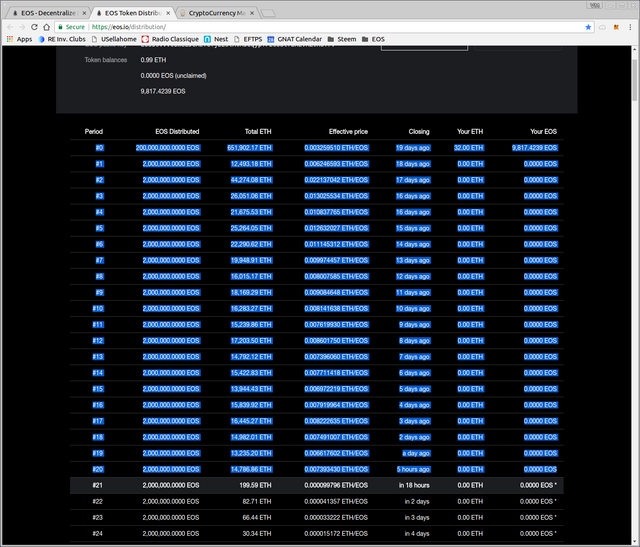 Up to now, after 21 periods (#0 to #20) my hypothesis has been verified:
the best period was #0: 0.00326 ETH/EOS
the next one was #1: 0.00625 ETH/EOS
the worst period was #2: 0.02214 ETH/EOS
There still are 330 periods before the end of the distribution. So, during any of these periods, it is possible that the price of each EOS coin could be lower that the price during period #0, but I doubt it.
---
The total number of ETHs sent to block.one so far is over 1 million. At the current price of Ethereum, this is over US$200Millions.
---
This method of distribution if pure genius, as there will be more buyers over a so long distribution period.
It is also diabolical, as you don't know when you send your ETHs how many EOS coins you will get.
---