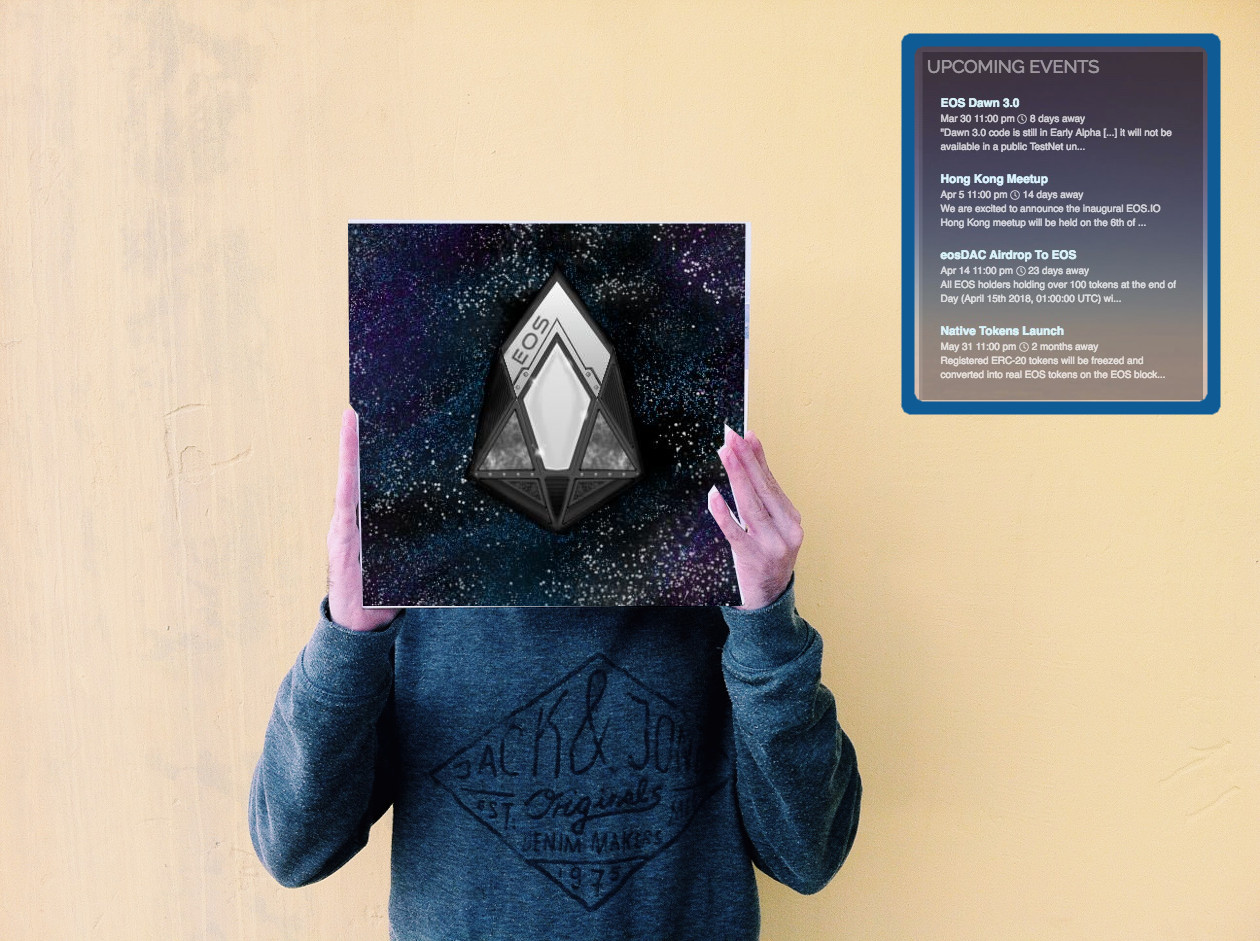 image credit: unsplash + @rubenalexander
If you're like me, you're probably trying to figure out which EOS website can keep you updated about the latest price movements, token airdrops on the EOS blockchain, the latest dApp projects, token registration verification tools and social news.
The beauty of decentralization sometimes also causes a lot of confusion, as searching all over the internet for fragments of useful info makes us crazy and wastes our time. I have been trying to piece together all sorts of news about EOS, but today I finally found a really good website that contains 90% of what I need. EOS Countdown, https://eoscountdown.com/ was built by Jason Hodges, a software developer and it has nearly all the EOS news and info you need to navigate the upcoming birth of the EOS blockchain which happens in June 2018.
HOW CAN I CHECK TO SEE IF MY ETH ADDRESS IS PROPERLY REGISTERED TO EOS?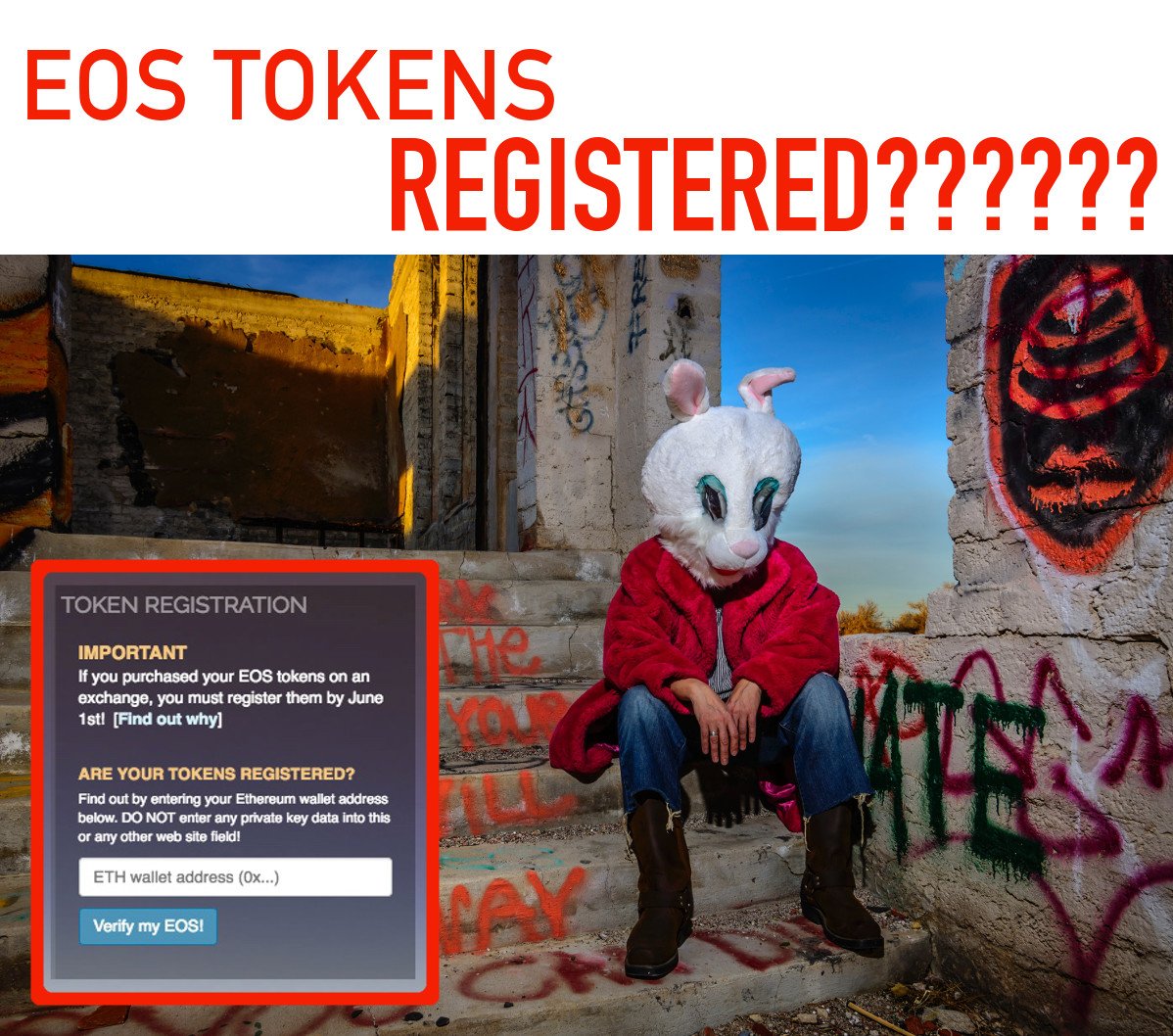 I bet you're very interested in this one question: Did I register my Ethereum address properly to the EOS blockchain and will my EOS tokens be all set come June 1, 2018?
Yes! You can check the registration status of your ETH address using the tool on this website:
https://eoscountdown.com/
The section is contained under the header TOKEN REGISTRATION.
All you do is put your public key into the search box and you will know if your ETH address has been registered. Remember only put in your PUBLIC key. Don't ever put in your private key.
If you have not yet registered your ETH address to your EOS address then please watch this video to learn how:

Don't delay on this as June 1, 2018 is the fast approaching deadline.
HOW CAN I KEEP UP WITH THE NEWS ABOUT EOS?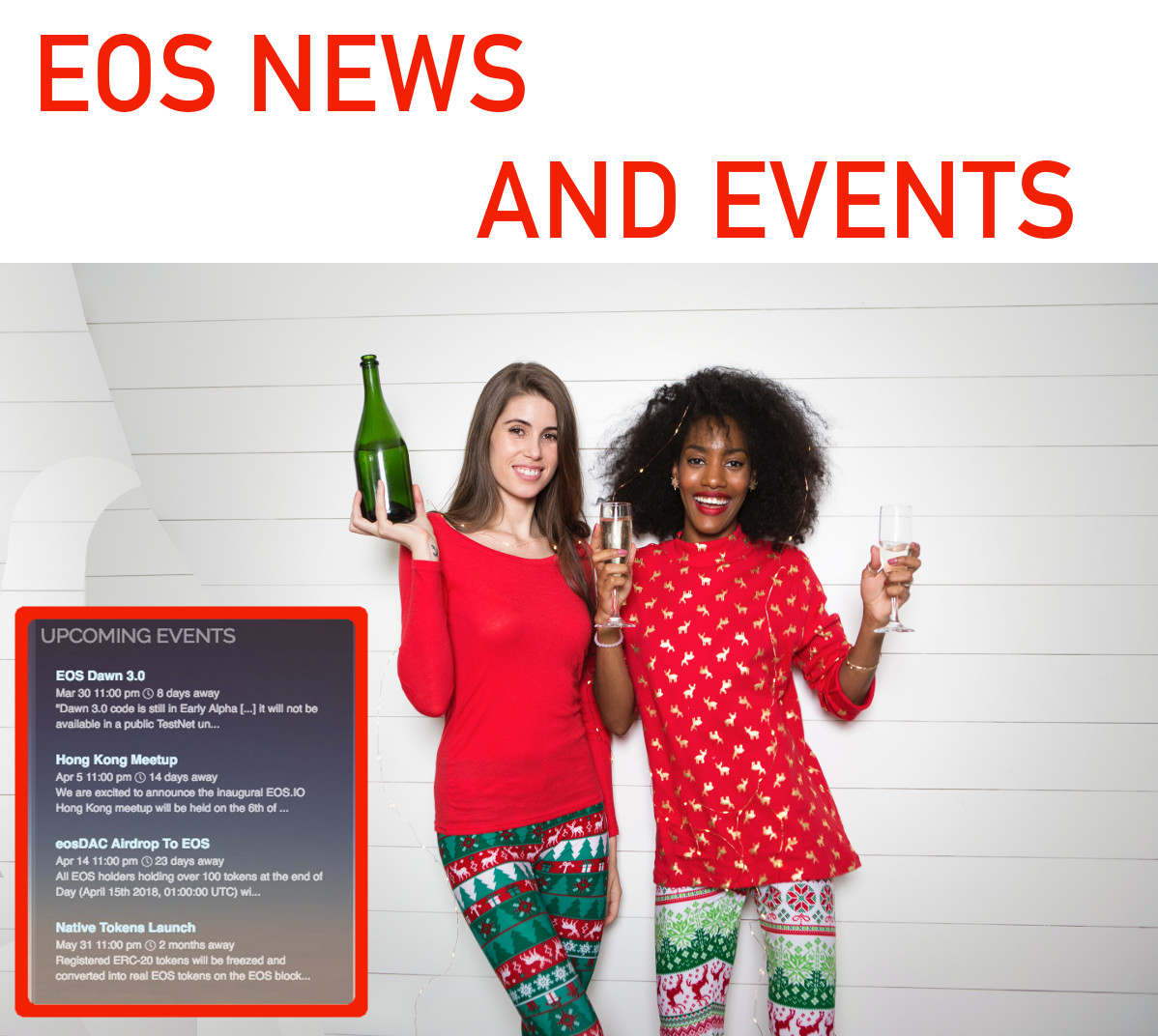 This site is fantastic because all the links you need are contained in the section SOCIAL FEED.
Another very useful section is the UPCOMING EVENTS, in which I just learned that another airdrop will occur for EOS token holders who have more than 100 EOS in their wallets. Here's an update from eosDAC, https://eosdac.io/tokens/ which is the latest token airdrop going to EOS holders:
"75% of eosDAC tokens (900,000,000) have been allocated for an airdrop to EOS token holders. All EOS token holders holding over 100 tokens* at the end of Day 300 of the EOS crowdsale (April 15th 2018, 01:00:00 UTC) will receive 1 eosDAC token for each EOS token that they hold, these tokens will be transferred directly into their Ethereum (ERC20 compatible) wallet. The actual airdrop will be made as soon as possible after this date and after we have run necessary tests and checks." - https://eosdac.io/tokens/
The EOS train is moving fast and today I noticed that the only coin way far in positive green land was EOS. I am collecting all the EOS projects and accounts in a Twitter list, so you can follow me there and subscribe to this list which will save you tons of time. Here's my Twitter account: https://twitter.com/stellabelle
I'll also be writing a post about the upcoming airdrops to EOS holders, and so far there are 3 in total. To get up to speed on all the essential info about EOS, check out this article: https://medium.com/@eosforumorg/eos-will-launch-in-a-few-months-heres-what-we-know-b816bd350546
Cheers,
Stellabelle
This article was originally published in Hackernoon: https://hackernoon.com/whats-the-best-website-for-eos-token-holders-to-keep-updated-about-airdrops-token-registration-fb2c5ac7e090