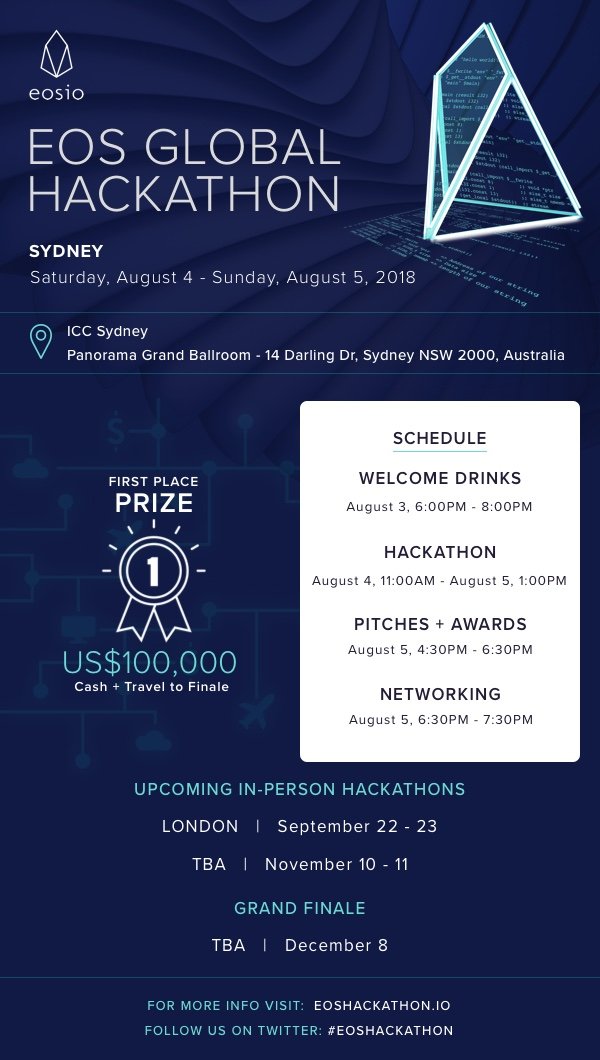 EOS.IO Hackathon
The EOS Global Hackathon series is a first-of-its-kind event in the world of blockchain that serves Block.one's goal of supporting a decentralized global community from the ground up. Block.one have put up $1,500,000 USD in prizes across 5 events for the best projects utilizing EOS.IO blockchain technology.
Come join in on the fun on August 4-5th in our home town Sydney, Australia. GenerEOS will be mentoring in the hackathon and will be participating in projects as much as possible.
Receive a 100% discount on tickets using the code "GenerEOSHack" when registering for the Sydney event. For more information and to register head over to https://eoshackathon.io/
We hope to see you there!
About US
GenerEOS is a social enterprise block producing candidate with a mission of promoting and supporting scalable and highly reliable block production whilst giving back block rewards to community projects and charities.
Based out of Sydney, Australia, GenerEOS is founded by a team of like minded blockchain enthusiasts with diverse backgrounds and a passion to make a difference in the world and fostering the spirit of generosity by giving back.
GenerEOS: Helping EOS Change the World
Public Presence
Website: https://www.genereos.io
Twitter: https://twitter.com/genereossydney
Steem: https://steemit.com/@genereos
Telegram: https://t.me/generEOS
Reddit: https://www.reddit.com/user/GenerEOS
Github: https://github.com/generEOS
Medium: https://medium.com/@generEOS
Facebook: https://www.facebook.com/generEOS: