Goddess of the Crypto Dawn. EOS enters Main Stage, today 2nd June 2018.
Are we really standing on the Edge of The Crypto Dawn?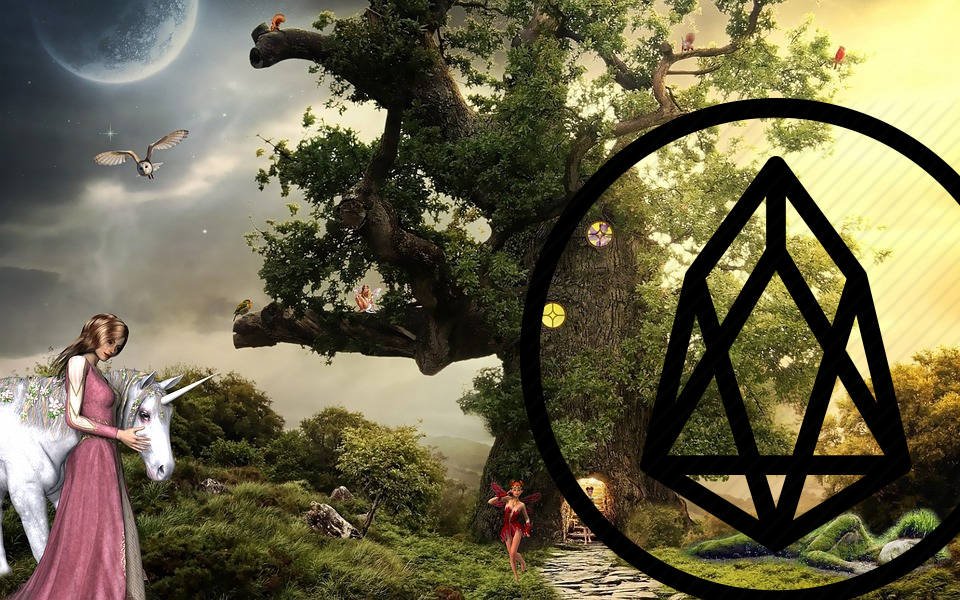 I bought into EOS very early on. Selling my Steem to ETH and on to EOS.
I liked Dan Latimer. The Geeky Dark Elf who helped launch Steem & Steemit.
I remember thinking it odd it was launched on Ethereum.
With all payments in ETH for EOS. Like some Alien Predator Facehugger, living inside its host.
As the ETH rolled in for EOS. They sold it off big time. Crashing the price of Ethereum.
All very confusing to a Crypto Newbie.
But what the fuck did I know about the machinery of creating a new all singing and all dancing Blockchain.
A war of words developed between, "Steemit Ned," Dan's oul partner and Dan and "Vitalik Buterin, Mr Ethereum."
I wrote about a Video confrontation between "Buterin and Larimer" in a Steemit Post, which I will repost.
It went like this:
"Buterin, looking like some, just released, emaciated prisoner of war.
Waving his arms around, as if generating an Ethereum Force Field, a Crypto Spell,
to ward of the deadly attack of the, Larimar Dark Eyed Elf Magic.
Larimar Dark Elf, his eyes glowing, as he tries to batter through the Ethereum Spell Wall,
cast by the weakened, Ethereum Wizard."
Fun Times, yes. And then I read an article saying 50% of EOS are not Registered.
And I just know, most Crypto Investors are just nuts.
If they were not registered in time. They are worthless.
Which may have been the EOS game plan all along.
Relying on the us numpty humans, who buy lots of shite stuff and then just forget we have it.
Bitcoin has suffered the same type of Crypto buying Metal Fatigue.
With Millions lost in Landfill and just forgotten on old hard-disks.
I hope on this day 2nd June 2018, most EOS tokens have been registered.
But I fear not.
Below is an article about EOS which I like a lot as it does sum up, all that is right and wrong with the project.
Here, on the Eve of what I do hope is the start of the Crypto Blockchain 3.0, I salute everybody who gives a damn.
Taken from the Article EOS: Goddess of the Crypto Dawn.by Daniel Jeffries
EOS was just one of the many projects at Consensus. It was an amazing conference all around, filled with incredible energy and possibility.
Go back and look and you'll see that the real crypto buying boom started that very week, as projects announced innovation after innovation. Zcash rocketed to new heights as JP Morgan announced adoption of their privacy protocols. Dozens of other coins saw their valuations spike hard.
I left the conference drunk on wine and ideas, my head swirling with possibilities.
But it was EOS that loomed largest in my imagination.
Read the whole article:
https://hackernoon.com/eos-goddess-of-the-crypto-dawn-4b2959c03a35


Images Courtsey of Pixabay & Iconfinder