EOS tools by franceos : EOS wallet, voting and delegating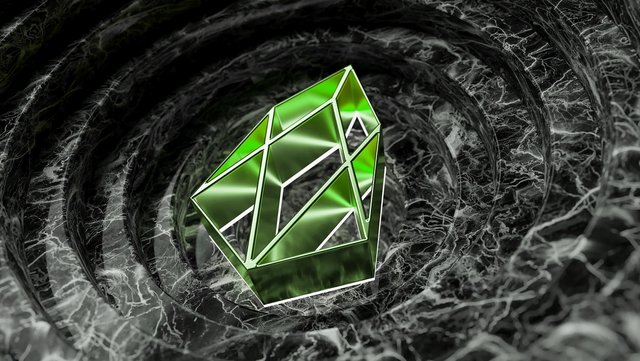 As planned in our roadmap, franceos is commited to develop user friendly tools for EOS community. Our new version of franceos tools is now online ! It now integrates a user-friendly and secure online wallet based on Scatter, and several useful tools.

franceos tools
Official website :
http://tools.franceos.fr/
franceos scatter-based wallet :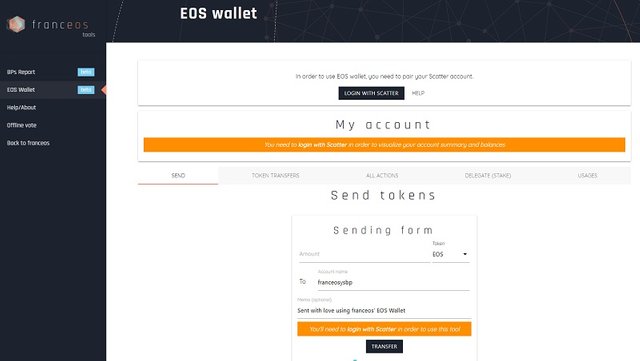 Our new tool is an EOS wallet / Account manager, which allows you to :
Transfer tokens, make payments in an user-friendly and secure manner ;
Stake or unstake tokens ;
Delegate authority over an account.
You can use every classical services (transfer tokens), but also allocate your tokens in CPU/RAM/NET, buy/sell RAM... everything in a secure and friendly way.
EOS blockchain explorer :
EOS Voting statistics report :
In this beta version, there's voters repartition per BP, and global votes/stake infos. Here again, the tool has been designed to be visual and pleasant :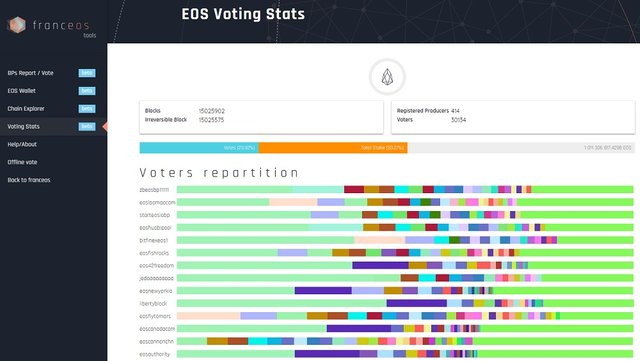 EOS BP Report by franceos :
Our EOS Report is very useful if you want to take a look at EOS Network block producing infrastructure in a visual way :
Ranking of EOS block producers is presented in a pleasant way ;
We provide a compliance report for each block producer (http access, SSL encryption, peering, BP.json, EOSIO software)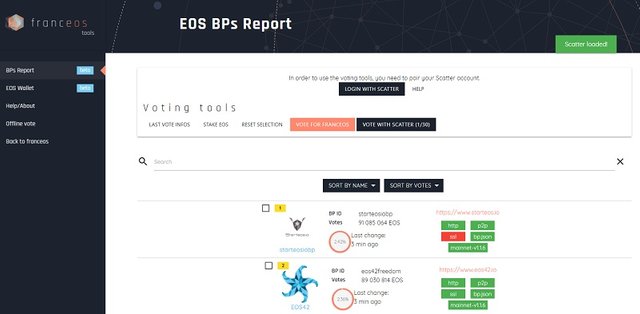 Voting tools :
Of course, our EOS Tools allow you to vote for the block producers of your choice, based on what you see in our EOS report. You just have to check the boxes in front of each BP you want to support, and vote for them once your Scatter account is paired with our tools. We also have a very simple but very secure tool allowing you to perform your vote offline before broadcasting the signed transaction online.
Don't hesitate to give any feedback about those tools and the interface ! Everything is still in beta version, we are working to improve existing tools, and to provide new ones for EOS community (proxy voting, etc.)
franceos team