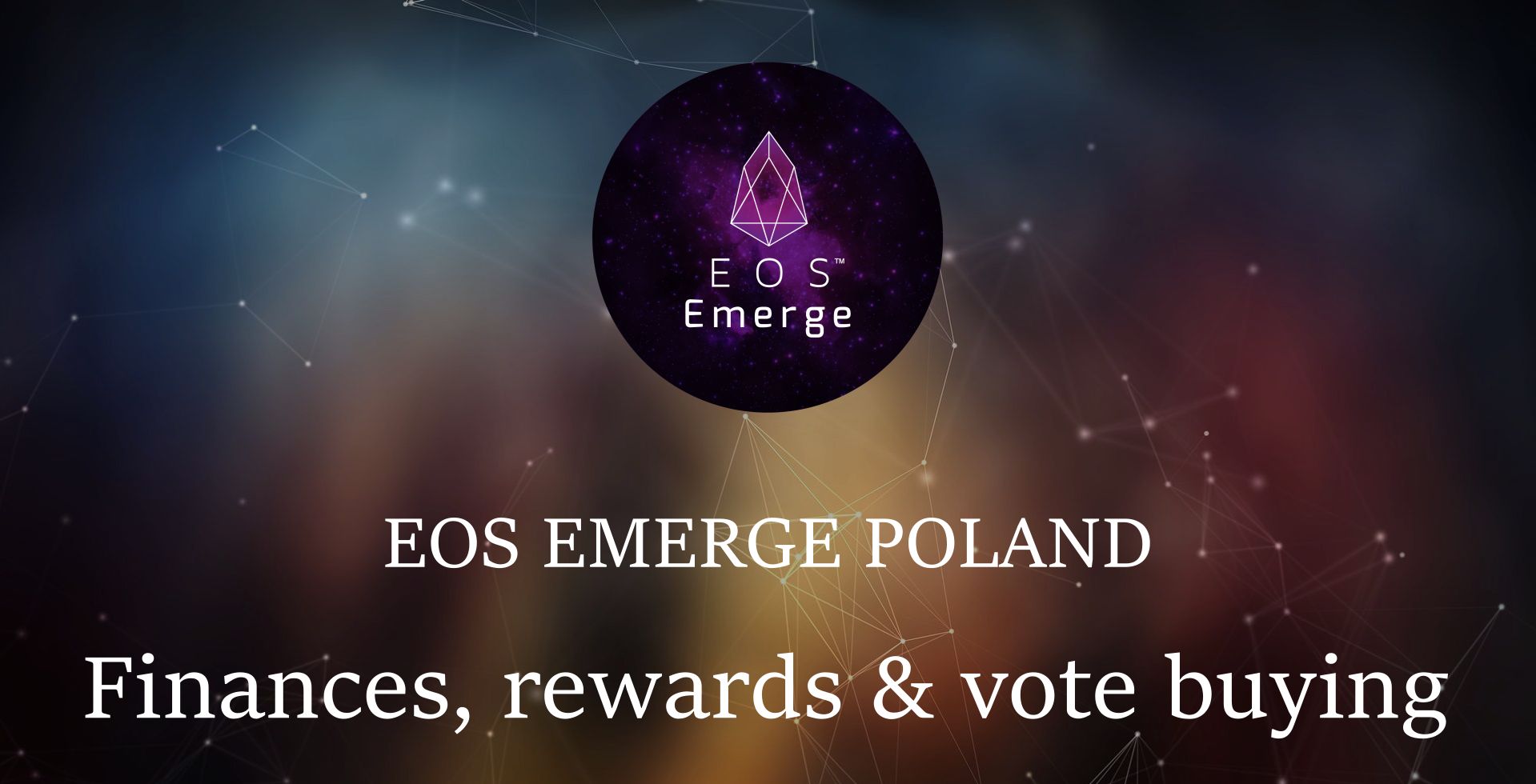 Finances & Token rewards
We are 100% self-funded and thanks to our well-established position on the market as a company, we do not have to worry about the implementation of various time-consuming legal procedures. No one knows yet what legal challenges will be faced by the block producers, but we know that regardless of this, we have the appropriate experience and knowledge that will allow us to solve such problems as quickly as possible. Instead of facing the complex challenges of starting a business, we can focus on what is more important. We have large facilities, both financial and technological, so token rewards for us do not mean "to be or not to be".
For us, rewards are treated as a tool thanks to which we will be able to automatically launch procedures to expand scalability at a fast pace, but also to be able to devote some of our human resources to organize workshops and trainings to be able to constantly raise awareness about EOS.
We do not agree to make unpaid promises, which is why the final percentage of the reward token will be available only after the launch of the mainnet. The submission of empty election promises can and is inseparably associated with democracy and elections, but in our opinion, there is no place for that in the EOS ecosystem.
We take a similar position with regards to all kinds of airdrops - in our opinion they pose a serious threat to the objectivity of perceived producers by the token holders and may adversely affect the operation of the network in the long term.
At the same time, we are fully committed to respecting fundamental values ​and maintaining the highest standards of transparency, integrity and accountability. Thanks to the great involvement of the entire EOS community, valuable unwritten rules have been developed - regarding mutual respect, readiness for immediate and selfless help or openness in sharing knowledge. And that is the unique value of the EOS project.
Position on vote-buying and dividends
Although it was unthinkable some time ago, the reality shows that where there is the possibility of making a profit, there is also temptation, even in EOS environment.
Giving power to the token holders, all candidates should be required to maintain a unified and strong position against such temptations. Allegations of buying votes or attempts to manipulate are disturbing, and we as EOS Emerge Poland strongly condemn such practices.
Exerting an influence, and in particular a financial impact on voters, is obviously contrary to the interests of the whole community, regardless of whether it is a written or unwritten rule.
As candidates for the BPs, we will NOT support or actively participate in such practices. We remain completely impartial, and we will NOT OFFER any benefits (like dividends, tokens payments or worker proposals) in return for voting.
Contact:
E-mail: support@eosemerge.io
Website: https://eosemerge.io
BP Listing: https://bp.eosgo.io/listing/eos-emerge-eos-poland-2/
Steemit: https://steemit.com/@eosemerge
Telegram: https://t.me/eosemerge
Twitter: https://twitter.com/eos_emerge