Cypherglass Announces New Website & Services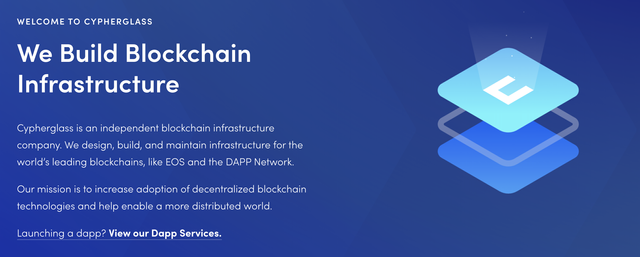 As the EOS Ecosystem evolves and changes, many Block Producers have offered new services in addition to simply producing blocks or operating as a standby BP.
Over the last 2 years, Cypherglass has built many tools for the EOS community including Glass, Windshield, and our voter tool, Lens. We are the main sponsor for Everything EOS, the leading community Youtube channel for EOS news and interviews, and have offered several bounties including the $100,000 Ledger and Trezor bounties, which have both been claimed.
Partners from Cypherglass continue to build other businesses like EOS Name Service and are owners in other on-chain businesses like dmail, where we offer our strategic insights, and marketing experience to help grow those products.
Even with all of that, many in the community don't think of Cypherglass as an engineering heavy BP; however we have one of the most experienced teams in the EOS landscape for Infrastructure and Engineering. Today we would like to formally announce our new website, which outlines an evolution of our business, and now includes several new offerings, the biggest of which is our new DSP Services division.
https://www.cypherglass.com/dapp-service-provider-dsp
Available Dapp Services
BLOCKCHAIN CONSULTING
The Cypherglass team is made up of industry veterans with several decades of combined experience in the blockchain space. Our team can help guide your project from conception to completion with our strategic consulting services.
DAPP DEVELOPMENT
Dappiness is a dapp development company specialized in building decentralized apps of any size. Their talented team has successfully worked with a variety of projects, both large and small.
MARKETING / MEDIA SERVICES
The Cypherglass team has several decades of combined experience in marketing and media services. We offer a variety of services including marketing, content creation, content promotion, and much more.
DAPP NETWORK: STAKING SERVICE
The Cypherglass Staking Service enables all DAPP token holders to earn their share of network inflation by simply staking to the Cypherglass DSP. We automatically pay out 80% of the total staking rewards on a daily basis.
This service is coming soon.
DAPP NETWORK: IPFS (VRAM)
The Cypherglass IPFS Service provides vRAM on the DAPP Network. vRAM is an affordable, distributed blockchain data storage layer on the DAPP Network that enables developers to dramatically reduce costs and improve user experience.
• Moonlighting, a freelance job platform, reduced their costs from $2,000 per day to just $10 per day for their 750,000+ users by utilizing the vRAM service of the DAPP Network.
We can tailor a custom package to fit the needs of your dapp, or you can start staking to our vRAM service now.
CUSTOM SERVICES
Don't see what you need to build, run, and scale your dapp? We can tailor a custom package to fit your needs and allow your dapp to scale to millions of users on-chain at a very low cost.
— The Cypherglass Team
Join us in discussions on our Telegram channel here… https://t.me/cypherglass
Twitter… @CypherglassBP
Or check out our website at… http://www.cypherglass.com