Ecosystem Education: Our next line of defense
Education is an important complement to physical ecosystem rehabilitation efforts. A team can work endlessly to conserve and protect a struggling ecosystem to have their work render useless due to improper care by local people. Most of the time education is an effective and simple way to help local populations understand ecosystem rehabilitation efforts and inspire them to build a more sustainable future.
The EcoSwell team facilitated an education session with the second grade students at the Lobitos Primary School. The team focused on teaching an interactive curriculum about dry forest species, specifically the Cortarrama Peruana, and conservation efforts. Since 90% of the dry forest has been degraded, this topic is very important for Lobitos; and to EcoSwell. The class began with the students watching an introductory video to prepare them for the lesson. Although the video was informative, all of the students were overjoyed when we brought out plant species for them to interact with.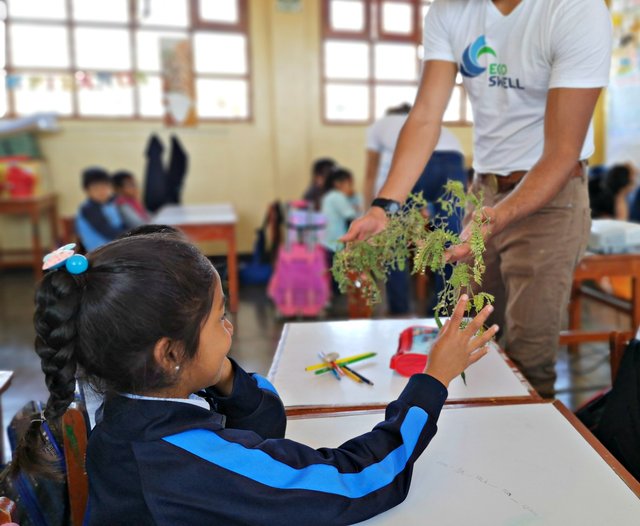 Intern, Anthony Rizzi, showing a student an example of a dry forest plant species (algarrobo).
Students were able to see and touch a variety of plant species that can be identified close to home. These included algarrobo, palo negro, vichayo, sapote and azote de cristo - all native to the dry forest of northern Peru. The interaction between the team and each student was personalized and completely different. When looking around the room you could see students pondering, asking questions, laughing, and smiling (That room of smiles could have lit up all of Peru).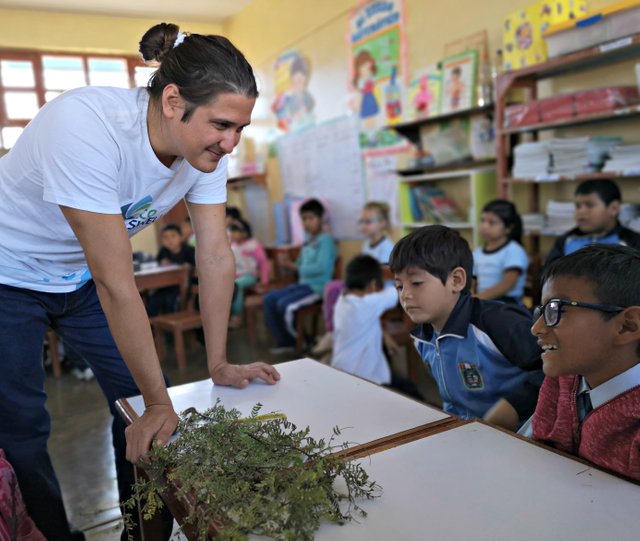 Director, Alejandro Pizarro, talking with two keen students about local plant life.
The plant species presentation was followed with a song played by Joris Simiatis and Alejandro Pizarro. The song was written by the EcoSwell team about the endangered bird species of the dry forest, the Peruvian Plantcutter (Cortarrama Peruana). The students enthusiastically learned the lyrics and sang along with us.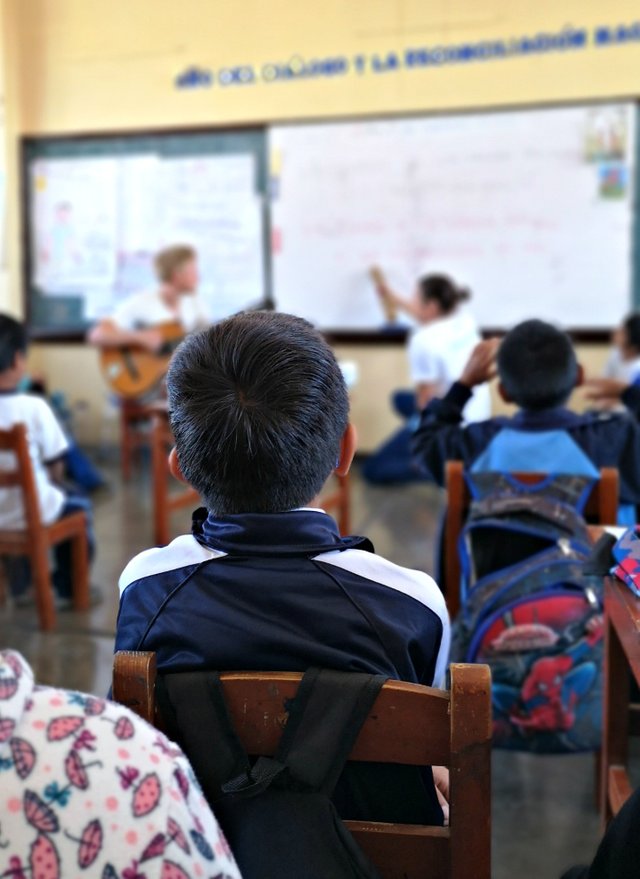 A student learning the lyrics to the song about the Peruvian Plantcutter (Cortarrama Peruana).
Our performers were entertaining, the lyrics gave a powerful message to the kids, and by the end of the day the entire EcoSwell team had the song stuck in their heads. After finishing the song and wrapping up the class the team handed out informative posters for each student to bring home.
We hope that the messages made a lasting impression on the students. This knowledge will provide them with the foundation to be dry forest 'ecosystem guardians', our next line of defense towards dry forest conservation.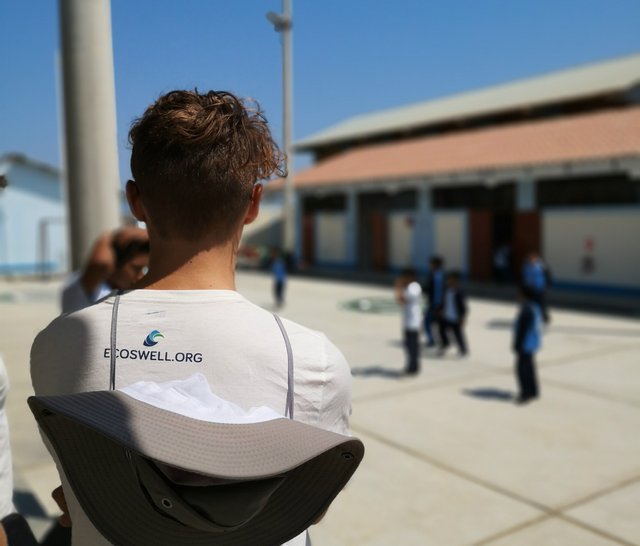 Volunteer, Quinn Johnstadt, watching school children play a game of football (soccer) at the end of our visit.
This post was written and photographs were taken by Zowie Vonkalckreuth.
@EcoSwell is a for-impact, sustainable development organization based in Lobitos, Peru. Since 2014, we have been working everyday to help coastal communities thrive in unison with nature. If you would like to learn more, please visit our Facebook, website, and follow us on SteemIt!