Tone and Tenth to the Holy Cross

Tone and Tenth to the Holy Cross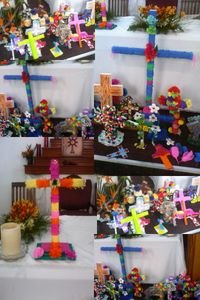 ---
Here in Venezuela is venerated the Holy Cross for being the holy wood on which Jesus of Nazareth died, in summer specifically, May 3 is celebrated in most of the country's populations.
Now I will leave some letters of a tone and a tenth written by me to venerate the cross specifically in Lara state (Central-western state of Venezuela)
---
Tone:
I
El mundo aquel día,
Triste y mudo estaba,
Ya que el dios nuestro,
A su hijo entregaba,
Todo oscurecía,
Tanto sufrimiento,
Que le dio a Jesús,
El humano ingenuo.



II

Las hojas muy secas,
Y el suelo quebrado,
El monte quemado,
Traen su respuesta,
La naturaleza,
Se entristeció,
Y clavando a cristo,
Del mal nos salvo.

III

Al sol de medio día,
Con la brisa ausente,
Arrastra un inocente,
Madero de agonía,
Su madre maría,
Su padre José,
Salvador del mundo
Jesús de nazared

Tenth:

Cuarteta

Bendito santo madero,
Con Jesús en el clavado,
Y llorando una gran pena,
La virgen allí a su lado.

I

Los 3 de mayo se exponen,
En Lara y todo el país,
Tradición que de raíz,
De religión se compone,
La santa iglesia dispone,
De historia desde el primero,
Y con corazón sincero,
Lo expreso con devoción,
Amen a la redención,
Bendito el santo madero.

II

En el monte en que murió,
Según lo cuenta la historia,
Tres cruces hacen memoria,
Del hecho que allí ocurrió,
La virgen ahí le lloro,
Por su dolor elevado,
El relato ahora contado,
En la montaña sagrada,
El santo madero estaba,
Con Jesús en el clavado.

III

Muy mal se sintió maría,
Por ver tanto sufrimiento,
Aunque describirlo intento,
Hasta él no le llegaría,
Ese día padecería,
Dios padre de pena ajena,
Gotas caen en la arena
Porque el hombre lo había herido,
Dios estaba enfurecido,
Y llorando una gran pena.

IV

Jesús estaba en la cruz,
Por eso es santo madero,
Pues murió nuestro cordero,
Pa´ llevarnos a la luz,
Y así nuestro Jesús,
Nos libro del gran pecado,
Del cual él nos ha salvado,
Sin embargo él no contaba,
La gran pena que llevaba,
La virgen allí a su lado.
---
Each paragraph or piece of text is called foot, these feet depending on the main singer or "captain" is defined the melody with which will be sung to the cross of May.
This takes place all night and that is why they call it wake, where each captain has his own tones and tenths, which dictates to each of the couples to sing them.