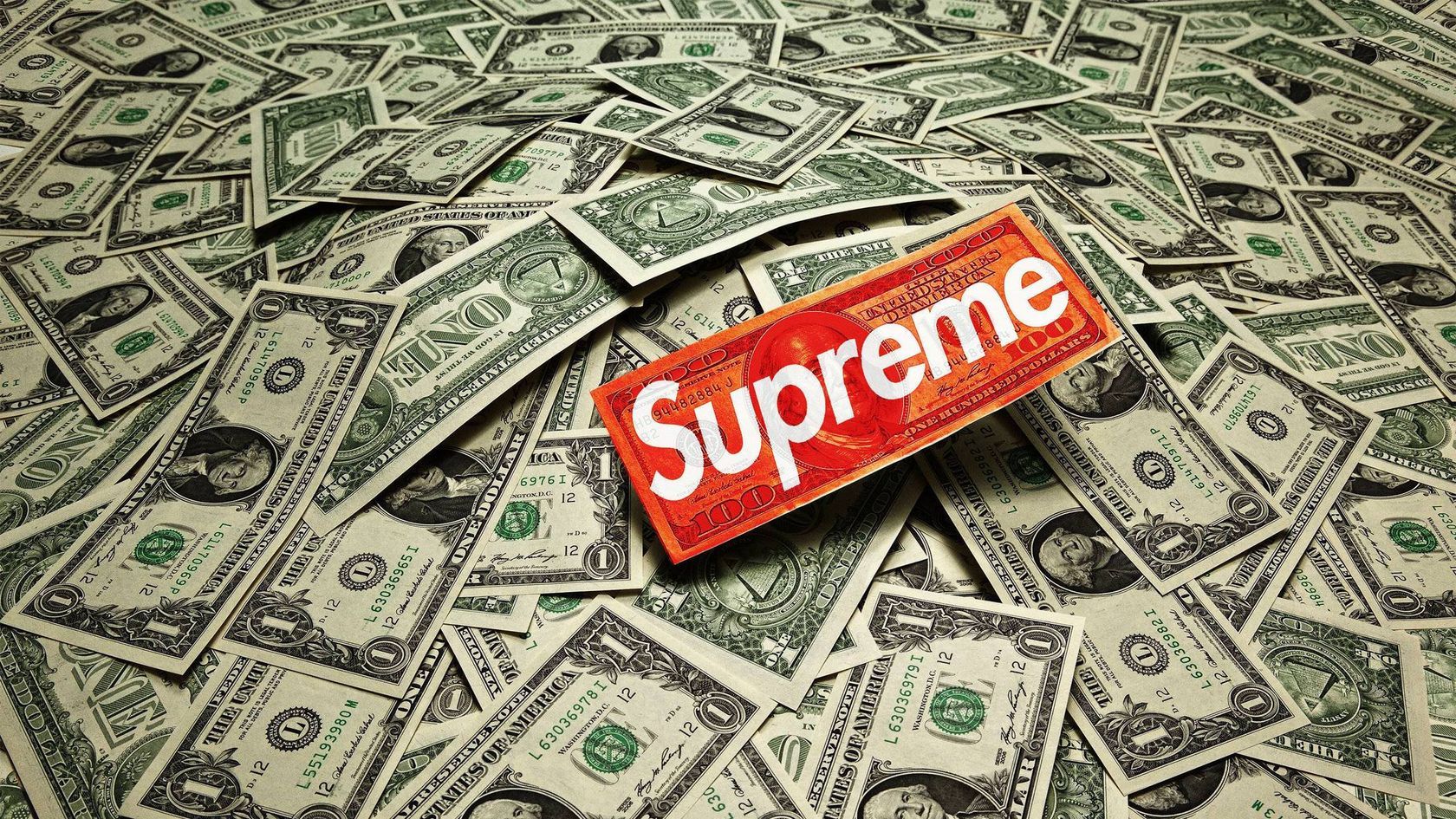 For many of us, buying an expensive phone is stupid.
The usual value and complexity of the complexes - say the less affluent. After all, the Iphons do not really suit anything and Xiaomi with similar functions can have a quarter of the price of the new Apple phone, no?
Today, however, we will not talk about the actual functionality of Jobs' phones. We will focus on why people want to pay a lot for gadgets.
What is the cult of the brand?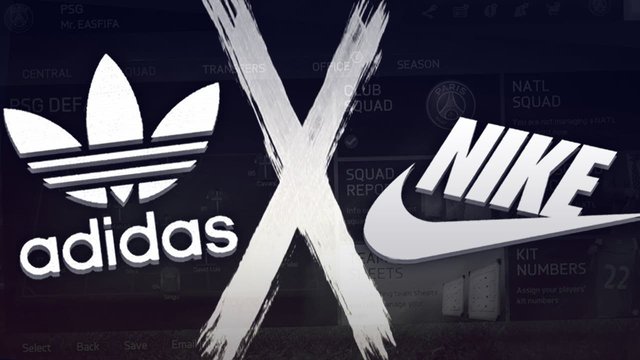 What makes people around the world willing to spend hundreds of dollars on a regular T-shirt with the company logo? As it happens, one company becomes popular without offering anything new, while the other innovative goes bankrupt, wanting to offer customers something new.
On this topic, you can write an elaborate on various examples of long-term brands.
Let's be honest: most often it's just a badge :-)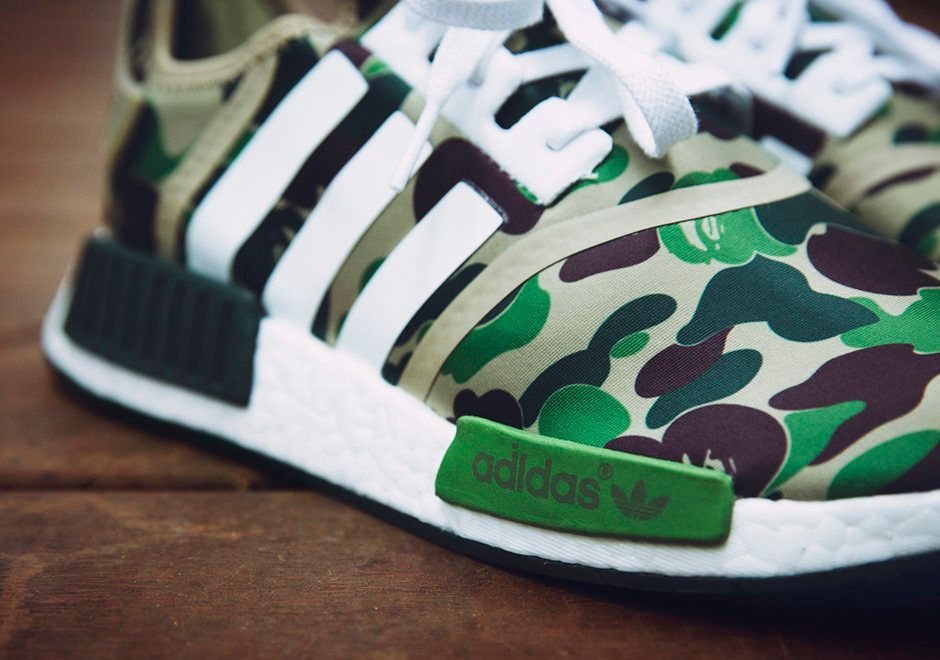 The whole myk is to build a brand that someone will want to buy.
Effective strategies have brands like Adidas or Nike, but I assume you do not have hundreds of millions of dollars in advertising campaigns for your product, so I chose something more mundane.
There are many roads for this purpose, we will focus on the project, which was created only two years ago and in a short time, gained the status of the iconic brand by small means.
We will discuss simple mechanisms that can be applied to your projects making them recognizable.
Ready?
If so, then get to know ... Anti Social Social Club.
Silence in the room ...
Yes, I know ... If you are not interested in streetwear then there is a good chance that you hear the name for the first time. There is nothing wrong with that, believe me, however, that in the world such street brands are popular with Adidas or Nike, and in many of them even surpass them when it comes to devoting fans.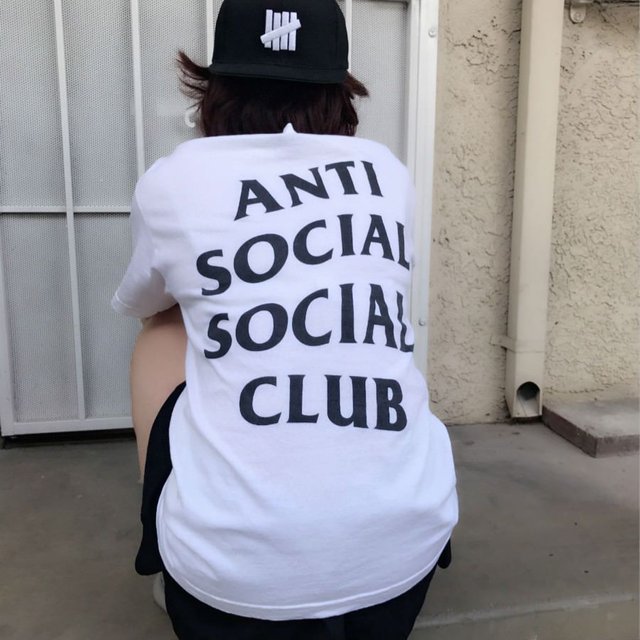 Always at the premiere of the new series of clothing Anti Social Social Club or Supreme, the queues are set up a few days earlier, and the entire edition available on the Internet is sold out within a dozen or so (no mistakes here) seconds.
Then it is resold by resellers even 10 times more than the original price. Not bad what?
https://www.youtube.com/watch?time_continue=1&v=DofyVYEh8y8
How is the madness in the world behind ASSC and how can it be translated into your own project?
Very easy!
It's about a specific business model that anyone can apply in their project at the same time without needing a fortune for development.
Get Ready!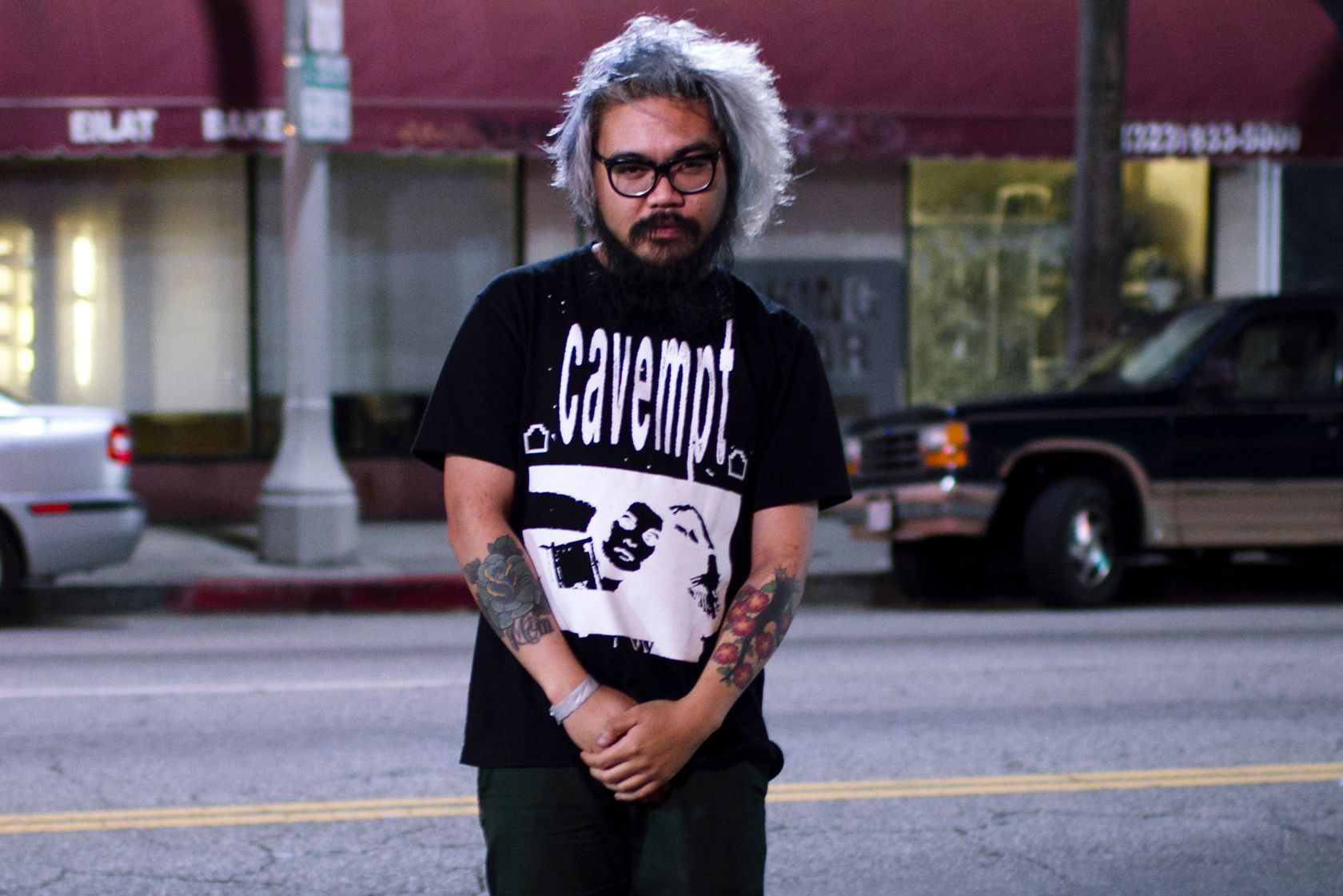 In interviews he emphasizes that from childhood he did various things and then sold them. He never expected that his project would turn into a company worth hundreds of millions of dollars.
Many of these truths, because even now, when fans stand in the queue all day long for his clothes, he remains the same and runs the company as much as an amateur at the beginning.
At least that's what the marketing experts would say ...
Second: Let your project evoke feelings.
Products created by Neeka have a negative message of rebellion. They are a reflection of his depression, experiences, a largely unsuccessful relationship that left him unhealed wounds.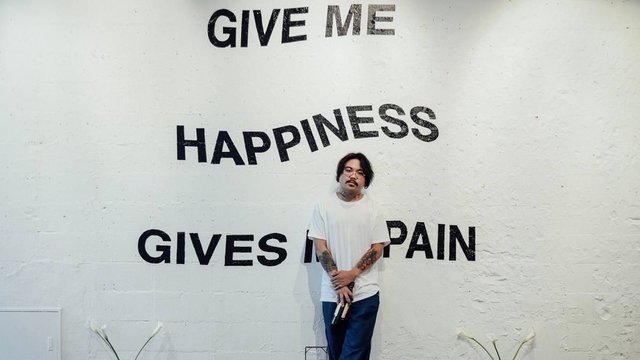 The authenticity of all this is added by the fact that Neek shares his pain on social media, he says openly about the loss of life. This approach makes for fans is not just one of the stars on FB but a real guest who lives like them. When Kim Kardasian bought his hat and showed up at one of the parties, someone said she dressed in his feelings.
He is simply honest about what he does, and customers love it.
Thirdly: make a spectacular entry on the market
The Anti Social Social Club was presented to clients in the Pop Up Store in Los Angeles. It aroused great interest and for most people who stood hours in queues simply ran out of goods.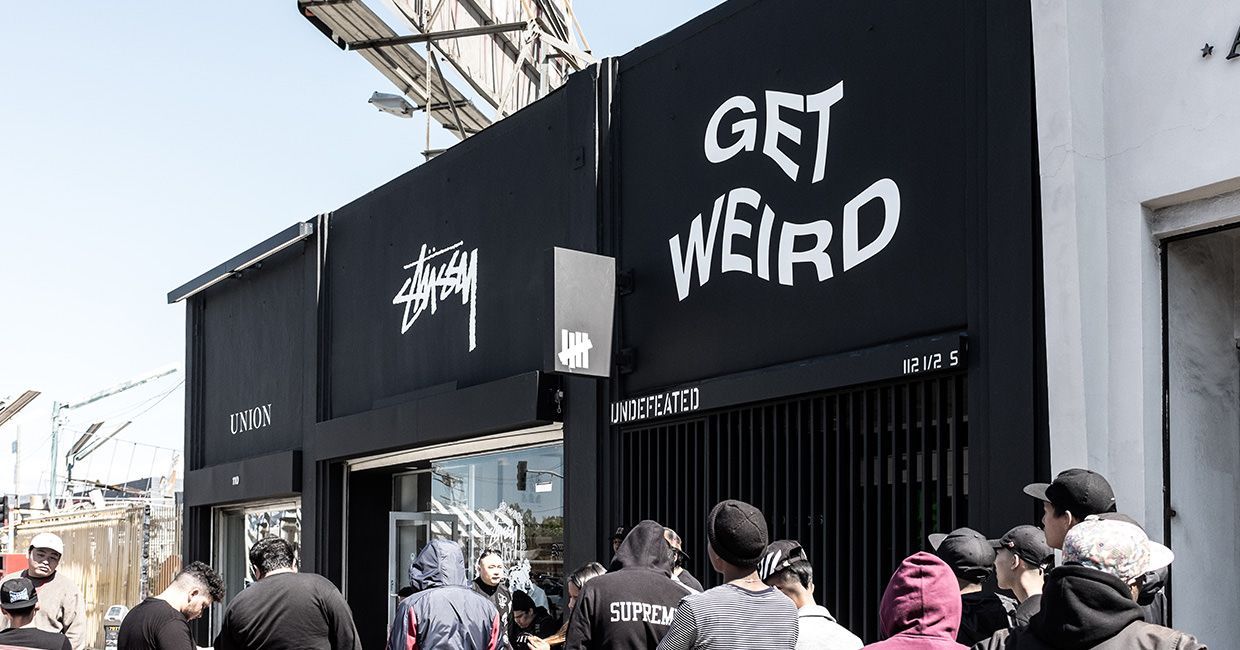 Pop Up stalls differ from those known from galleries or stores in that they are opened in unusual places for a short time. It works more like happening than sales. Thanks to this treatment, new products arouse interest in an interesting form, a way of approaching the client. They are not only interested in ordinary people, but also local media, who are keen to inform their viewers about similar initiatives.
Portable Adidas store in the form of a shoe box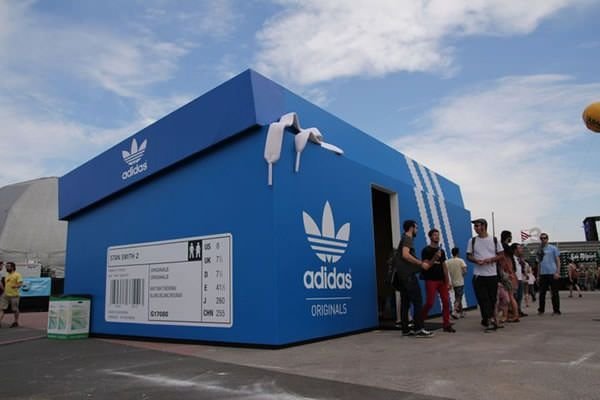 Zalora brand store in one of the busy places in the city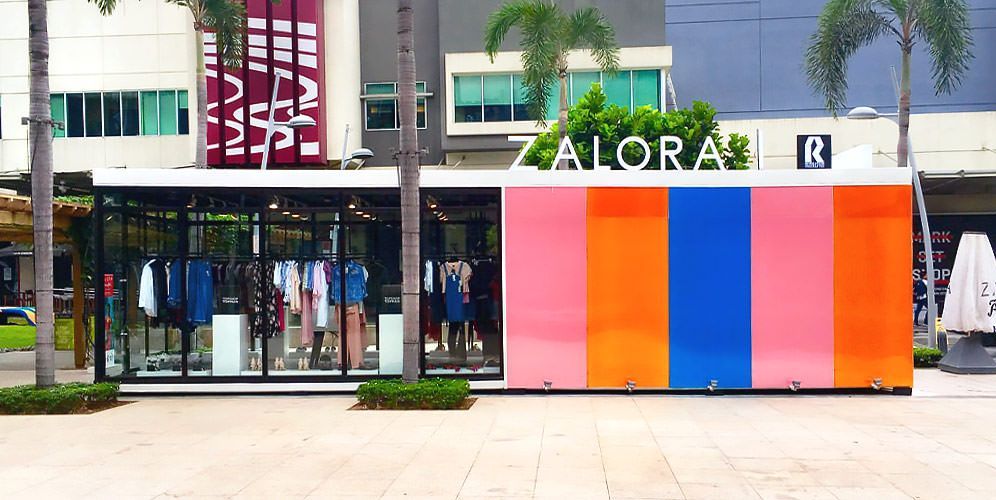 Sale container Superdry navester near the beach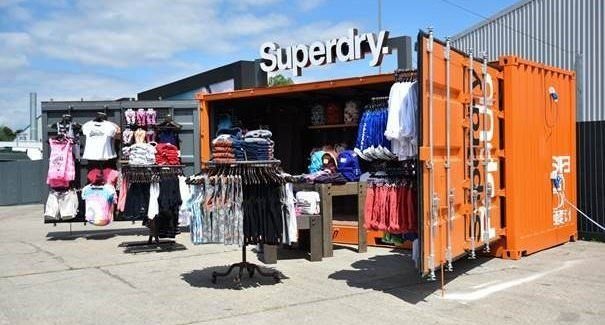 Why is it still a good idea?
Pop Up Store is still a fairly rare form of advertising in Poland and it is worth remembering it debuting with its brand. Contrary to appearances, it does not require large financial outlays, because a square from the city for a few weeks can be rented for just a few hundred zlotys, making the store a local attraction that will attract customers better than intrusive advertising.
An alternative may be performances at trade fairs, media shows, industry events, but you will be there only one of the exhibitors who came to the event. By putting a Pop Up Store in the city center you are an event.
Fourthly: only release limited editions
Neeka Look's genius is not only a niche but also a product way.
The Anti Social Social Club from the very beginning releases its collections in very limited amounts.
Sometimes it boils down to dozens of pieces of a given pattern, thus creating exclusive editions that are a treat for collectors. A cult of elitism is created around the brand.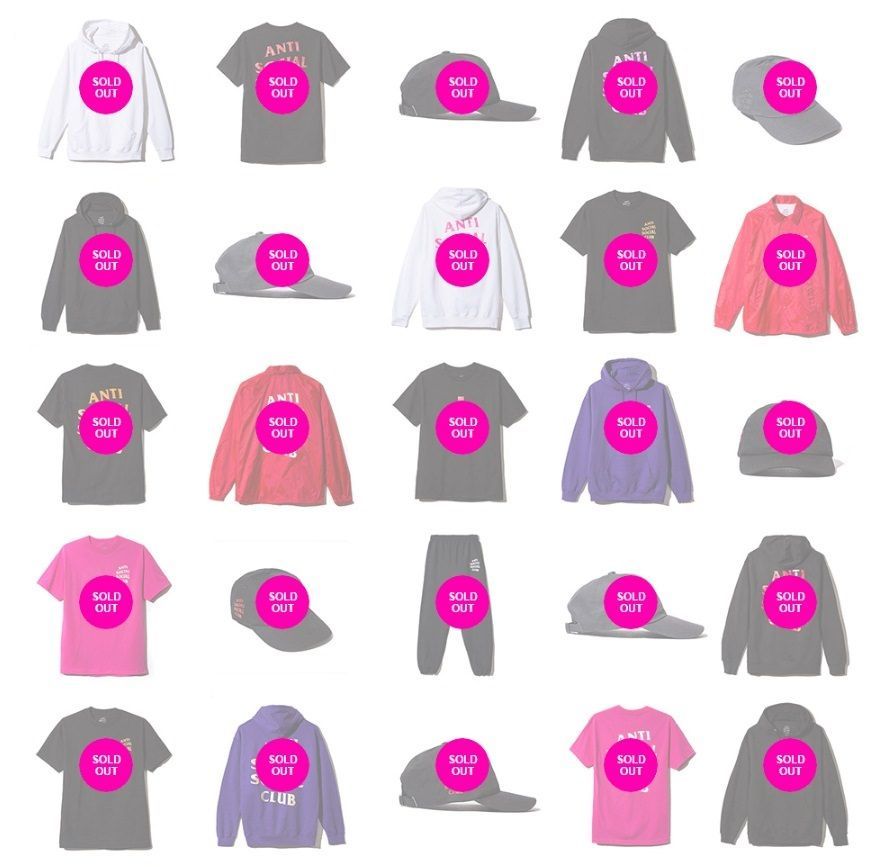 The brand's online store at the time of the launch of the new collection (the so-called Drop) is lopsided, with an assortment of sales up several dozen seconds. More desperate by the user ready-made products that automate the purchase, through greater attractiveness to your dream shirt or shoes. Even though everyone has something to say, it means they have something to do with others.
What else does the limit work for?
He drastically lowers costs, dear ones. Imagine that you are only taking a few steps each. If you sell to great, you are on the plus side. Not all of this, but not the smartest one, only a few-dozen pieces, which in the worst case will sell at lower prices. Genius.
Fifth: cooperate with other brands
There would be no ASSC if it were not for cooperation. Series with brands like the Undefeated gave him incredible popularity and reputation. From time to time, on the news of further cooperation of ASSC in industry media on streetwear?
Neek does not pay for advertising, everyone is advertising him all around.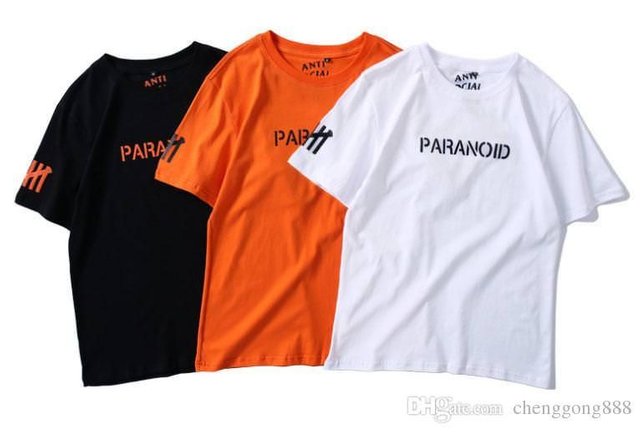 )
I wrote to you in the article about why this works
patrons describing how cooperation or patronage can very strongly strengthen the company's rank. Neek knew that and at the beginning of the industry he established a cooperation with locally known brands entering the market with a repulse.
Sixth: build the cult of the brand!
Anti Social Social Club is a brand created on the emotions of its creator. It focuses on negatives, depression or points of common hundreds of millions of people in the world who can not find their place in life. Neeka's biography and his company's policy at every step, manifesting a rebellion against the reality known to us, created a cult around this brand.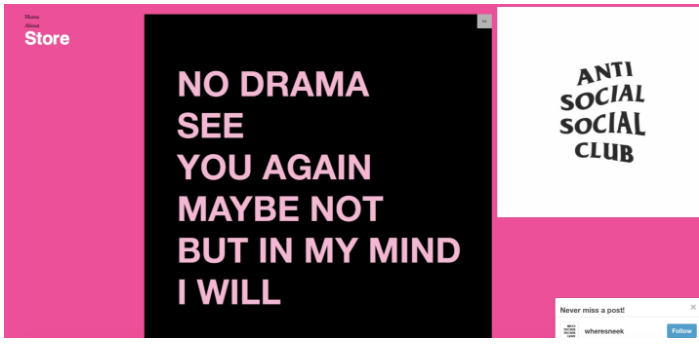 Why does it work?
The target group targeted by the products is huge, young people, full of bitterness and rebellion, like to express their attitudes or beliefs with their attire.
What is important is their enough that the market, despite high competition, still has room for new creations, which ASSC is a perfect example.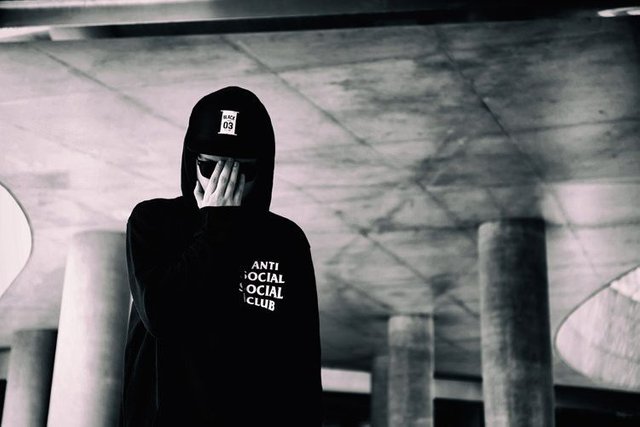 Other brands Neek does not focus on different. For every other day, hundreds of thousands of dollars for online campaigns, beautiful responsive online stores your store was created on a low-cost template, the company's website simply a Tumblr account.
All this makes the seeming chaos and amateurishness that emanates from the brand as well as Neeek's statements on his social profiles builds a coherent image consistent with the idea of ​​rebellion.
There is a method in this scarves !!
Many of you thought that it could be better and make everything hype over.
The history of this brand sounds like a joke.
You know what?
You're right, but that's not all.
The products sold by Neeek Lurek to the most ordinary mass in the world are materials.
Many buyers complain about quality, but the creator does not do anything about it, the popularity of the brand grows with each series of clothes. "The whole brand", m. In. Excellently.
People from the niche which Neek Lurk chose, just expect it. Rebellion against rules.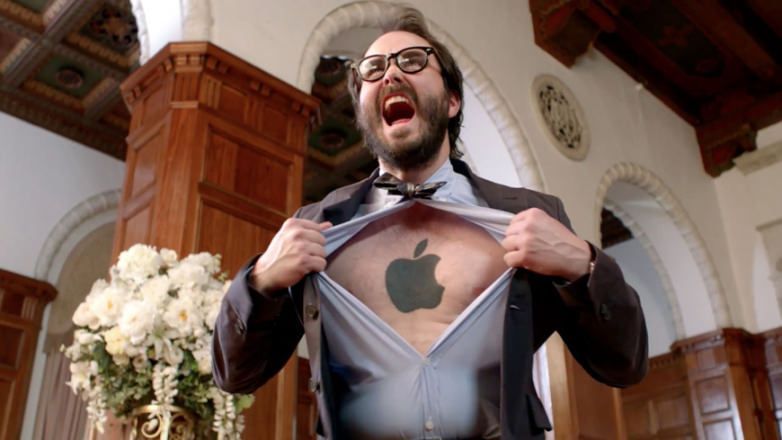 If you dream about the success of your project, you must know from the outset who it will be directed to and what needs it will satisfy.
Think about it calmly and your chances of success will increase.
Thank you to those who survived until the end.