My dear friend and awesome Steem Personality @princessmewmew is doing something lovely and important - she challenges us to:
...write a post listing ten good things in your life, or ten things or you are grateful for, or even ten things that make you happy, or a combination of these things
It's something I can recommend to everyone: write down those things! A very tactical way to do it is to grab a vase, put it in a visible spot in a room you spend a lot of time in, lay a block of small notes next to it plus a pen, and write one good (can be super small!) thing that happened every day on a paper, fold it, and put it in the vase. Every half year, or - at New Years Eve for example, empty the vase and randomly pick a few of the papers and read them out loud!
You'd be surprized how many good things are happening in your life! It's a way to cherish those moments and even in years you're feeling more down than other years you'll see there's many happy little notes to be found in your happy vase :-)
Oh, you're already convinced you're going to join in this Wondrous Wednesday? Awesome! Because the STEEM prizes she is handing out for participating are actually only a very cool bonus to something that is already so nice to share!
---
My 10 things
---
These are merely the 10 first things that popped in my head and if I were to write 10 again tomorrow I could make up 10 different ones! I didn't even realize I had already reached 10 items when I did. In totally random order of happiness:
Cheese
I love chocolate, and sometimes I crave it, but if I were to be send to a deserted island and had to pick 1 food item for the rest of my life it would be cheese. Besides the taste it reminds me of my grandmother who didn't have a lot of money but would cut two huge blocks (like, huge!) of cheese on her tiny kitchen table every time I was visiting to share and eat with me.
The Dutch Coastline
A walk on the beach. The sound of water, waves. Wind. Drinking a cup of hot chocolate milk afterwards, when the cold made your hands feel frozen.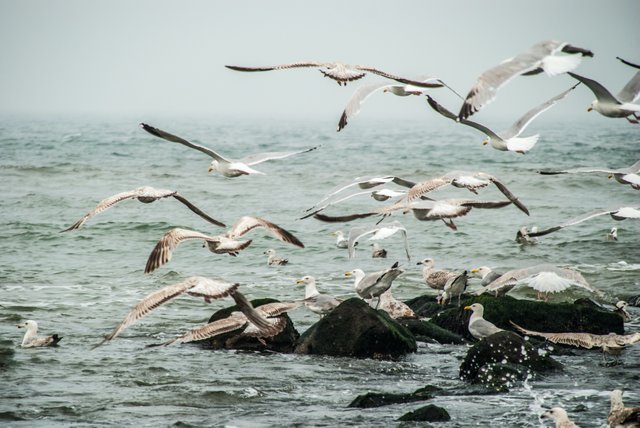 [Taken from one of my 'A day on a Dutch beach' posts]
Slow mornings without an alarm ringing
I honestly don't miss those times my alarm went off at 7AM. Even after 4 years of the freelance life I can still enjoy the fact that I don't need an alarm, I can first slowly wake up, get some coffee, watch an episode of some series on Netflix, and then start my day 'for real'.
Sense8
It's a Netflix series from the Wachowski sisters (formerly Wachowski brothers) that makes me cry every time I see it. It shows the life of 8 people who are evolved to a different species of human beings where they can communicate with each other through telepathy. There's a huge LGBTQ aspect to the series which doesn't get a lot of space in other series, plus they've picked the 8 people from very different countries and have as far as I can see put in a lot of effort to not create caricatures of these cultures but actually put research in it. The way it's produced, the art, the music... It all adds up and I feel exhilarated after many of the episodes.
Buttons
I have a tiny yellow metal container from my grandmother who collected every button from old clothing in the yellow container. When I was little I would go to her drawer, get the container, and empty the container on her table just to feel the buttons fall through my fingers and/or select them on colour or size.
(This container will get a proper blog in time, it deserves it.)
My friends
They are awesome. I'm picky about who I spend my time on and every few years when I'm going through something a bit more emotional or need a bit more support I lose a few friends because I have high expectations and in those periods I can see more clearly who's not meeting them. But the ones I have are amazing and I will cherish them forever :-)
My boyfriend
He has the kindest heart I know. He's a better person than I am but he still loves me.
Steemmonsters
I'm addicted to the idea of @steemmonsters blowing op the STEEM Blockchain. I love STEEM enough to let something like a @steemmonsters announcement make me dance for the rest of the week :-)
Autumn afternoons with lots of rain, blankets, some candles...
There's a thing you learn to love when you live in a country with 4 seasons. I love summer, but I might love autumn just a tad more. There's romance in shitty weather. I've also noticed I like houses in countries with shitty weather better. Maybe because we need to put more attention to them?
Solo travel
Feeling free, feeling in charge of me, feeling like I can spend all day to get just one picture instead of just snapping one quickly because a travel partner is already walking ahead. I often thing of myself as the wanderer. If I had all the money I needed to survive a few years I would just go wander and forget all the rest. I'm happiest while traveling, as I believe it's my natural state of being.
---
I hope you liked those 10 random happy things! Hop on over to @princessmewmew's original contest post and add a list of your own!