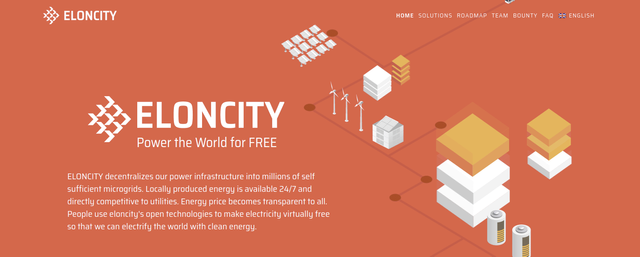 Renewable energy is our future, we need to shift from conventional energy for various benefits which includes environmental factors where we are concerned about the high carbon dioxide omissions when burning fossil fuels which is believed to be the cause of global warming. We are also facing a challenge with conventional energy, as we deplete fossil fuels such as gas, oil coal etc. The solution lies in renewable energy.
With the above reasons we have seen the prices of non-renewable fluctuate in the recent years, renewable energy provides a cheaper energy supply that allows consumers to be independent of centralized energy producers who have commercialized the energy sector for their own benefits.
(Video Source YouTube: ELONCITY - Power the World for Free)
One of the projects dedicated at improving the way the world is powered is ELONCITY, an innovative project that wants to POWER THE WORLD FOR FREE by making energy prices cheaper than buying electricity from centralized grids, they plan to make use of renewable energy consumers and turn them into renewable energy prosumers.
ELONCITY will be powered directly by smart energy storage systems that will increase the rate of consumption and also allow energy consumers to sell any energy that they are not using into the ELONCITY grid which is powered by the community.
As a person who uses electricity from my city grid I have no option to choose my energy sources, I'm an environment activist who has no control of my energy sources because I have no option to choose what I want. With ELONCITY I will be able to choose the option of shifting to renewable energy even without the infrastructure needed to produce renewable energy. With ELONCITY I will be able to purchase energy from my neighbors who have surplus electricity and with this comes the platform that supports peer to peer energy sharing economy which I will highlight in the platform features below.
ELONCITY: Blockchain based trade systems make energy trade transparent
══════════════════════════════════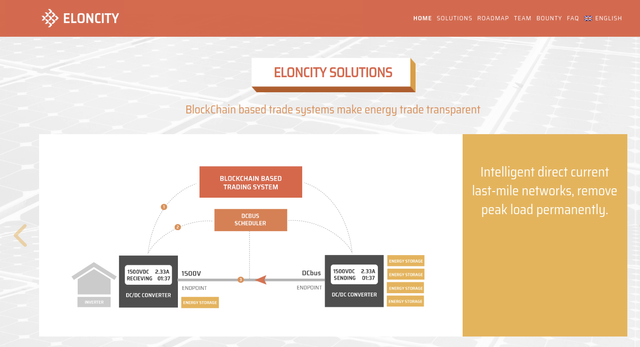 The ELONCITY project is a decentralized renewable energy projects that has partnered with Krypital Group a blockchain services marketing firm with plans to market and distribute renewable energy into the $8 trillion energy industry. ELONCITY Main focus is developing countries where there are problems with electricity distribution and accessibility.
ELONCITY is decentralizing the energy market through a decentralized energy distribution system that is powered by the community who store their surplus energy in smart energy storage systems and distribute them to the global community.
ELONCITY Powering the world for FREE.
══════════════════════════════════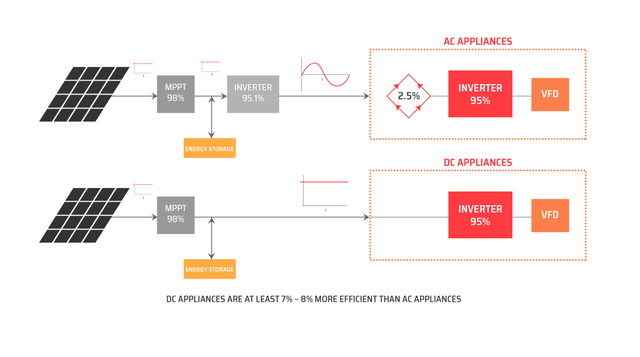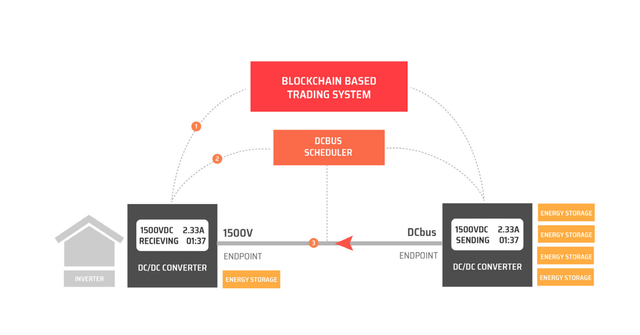 One of the best features of ELONCITY is the tools provided towards management of energy distribution, is the ability of consumers to manage their energy resources through a comprehensive user interface that shows power consumption, needs and excess power for resale. Consumers will also be able to use the native token towards payment of services in the ELONCITY Platform, using the native token consumers and energy Sellers will be able to get access to an immutable distributed ledger that is processes using smart contracts and makes the distribution of energy transparent and cost effective.
The features of Eloncity project.
══════════════════════════════════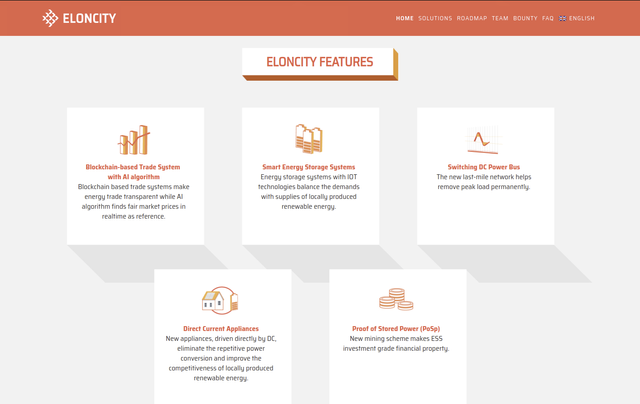 There are various reasons i'm excited about ELONCITY, One of the is the tools they will provide towards decentralizing renewable energy to the community. The infrastructure includes a blockchain based smart trading engine that uses artificial intelligence towards making the user understanding his environment, therefore advising on his power needs and his power surplus. ELONCITY is also working with a decentralized community all over the world who would like to join in the projects mission of decentralization energy to join hands where they will be able to store their surplus energy on the smart energy storage systems for redistribution.
In the ecosystem users will be able to earn native Eloncity tokens for their efforts towards renewable energy storage on the smart energy storage systems where they will be able to earn Eloncity tokens through the proof of stored power protocol (PoSp).
ELONCITY an opportunity for energy producers and consumers.
══════════════════════════════════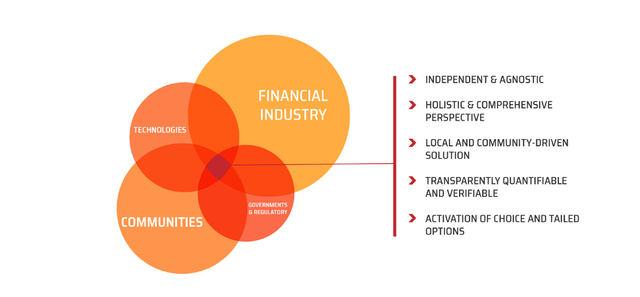 Though the use of blockchian technology, ELONCITY will be able to empower producers and consumers of renewable energy by providing them with tools they need towards making this a reality, one of the tools is the use of smart contracts and its own economy that will allow peer to peer energy trading where the transacted details are stored in distributed ledger technology for management of their daily energy spending.
Through their own tokenized economy, producers and consumers are guaranteed faster processing of transaction, lower transaction costs where they have no need of relying on third party services providers such as banks or energy companies whose services will not be needed since energy producers and consumers can trade in a trusted and secure environment using smart contracts.
Producers of energy will be decentralized community who have surplus of renewable energy after they have subtracted their own energy needs, they will be able to turn to prosumers who will decentralized the energy market by selling their surplus energy to consumers who don't have the infrastructure needed to produce renewable energy for themselves. This is a mutual relationship that is automated using ELONCITY allowing a peer to peer mutual relationship.
Producers and consumers will be able to use ELONCITY platform through optimization of energy transactions where they will be able to processes energy supply transaction and tools that will allow management of energy such as metering, smart billing and transaction clearing.
Conclusions.
══════════════════════════════════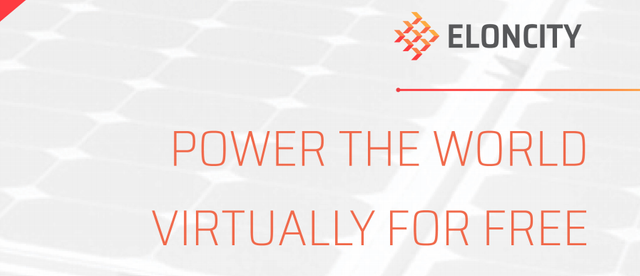 We all know blockchain technology has a future when it comes to providing solutions to the problems we have, energy distributions challenges are witnesses in rural and undeveloped countries who are still in need of energy but lack the resources required to buy the infrastructure needed for a renewable energy grid.
Through modern technology, and an expert team behind the back of the project the problems will be solved through ELONCITY energy distribution process and infrastructure provided optimizing producers and consumers energy trading.
══════════════════════════════════

Hey, make sure you are updated on the progress of ELONCITY by following the projects development and progress on ELONCITY website, educate yourself on the projects plans and solutions provided on the whitepaper and follow this amazing team for more news on their social media pages, links provided in the reference section below.
References.
══════════════════════════════════
Website: https://eloncity.io
Whitepaper: https://drive.google.com/file/d/1dkUNgo1_m4X4gf96rfnwEIN-W4P5HB9c/view
Krypital Bounty Group: https://t.me/KrypitalBounty
Eloncity Group: https://t.me/Eloncity
Krypital News: https://t.me/KrypitalNews
Twitter: https://twitter.com/Eloncity_io
Medium: https://medium.com/eloncity
Facebook: https://www.facebook.com/Eloncity-229599404279234
ANN Thread: https://bitcointalk.org/index.php?topic=4465922
══════════════════════════════════
Author: jamesndungu1
BitcoinTalk Profile: https://bitcointalk.org/index.php?action=profile;u=1856049