Long time ago, when I lived in Chicago, my parents came from Germany for a visit. The plan was to do some sight seeing there and then go for a trip to Arizona together. Thing is, my dad is most likely the biggest fan of (wild) west movies who ever lived. So we thought, it would be nice for him to see the land he knew, from watching every movie that was made there as often as it was shown. We flew to Phoenix and rented a car to drive around. Of course the main attraction was to be Monument Valley.
It was a very different world for us Germans and we were constantly amazed. The giant cactus everywhere, roads straight for up to 12 1/2 miles (we double checked) and the areas called "Reservations". With our history we are very sensitive to discrimination and racism and so we were very cautious and hoped not to make any mistakes or say and do things that might be misunderstood... It turned out, that we actually worried to much and everyone was really relaxed.
Thing that cracked me up was a sign we saw at the side of the road. It said: "Friendly Indians ahead!"
That alone was already really funny, although we didn't really understand what "message" was behind it. It turned out, that a mile or two later, some artisans had built a place, where they sold jewelry and other souvenirs. After we passed the place, there was a series of more signs saying things like "you missed it" and "turn around :-)" and such. We were laughing our heads off!
A little later, we came to a small town and I saw a young man with a drink standing by the street... together with the signs and souvenir shops it inspired me to this painting with the (ironic) title: "Vorsicht Navajo" (Beware of Navajo).
We went on to a place were my mom and I visited a museum, while my dad went horseback riding. Of course, he complained, that they gave him a very slow horse 😜
But all in all, it was a wonderful trip with some very special encounters.
---
I enjoy reading your comments!
❤
If you like my work, of course I appreciate your upvotes and resteems


All photos/scans by me of my own artwork done in my special technique as introduced in What is Hinterglas?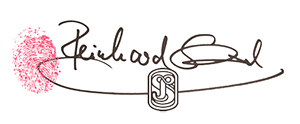 See more of my work on BeScouted