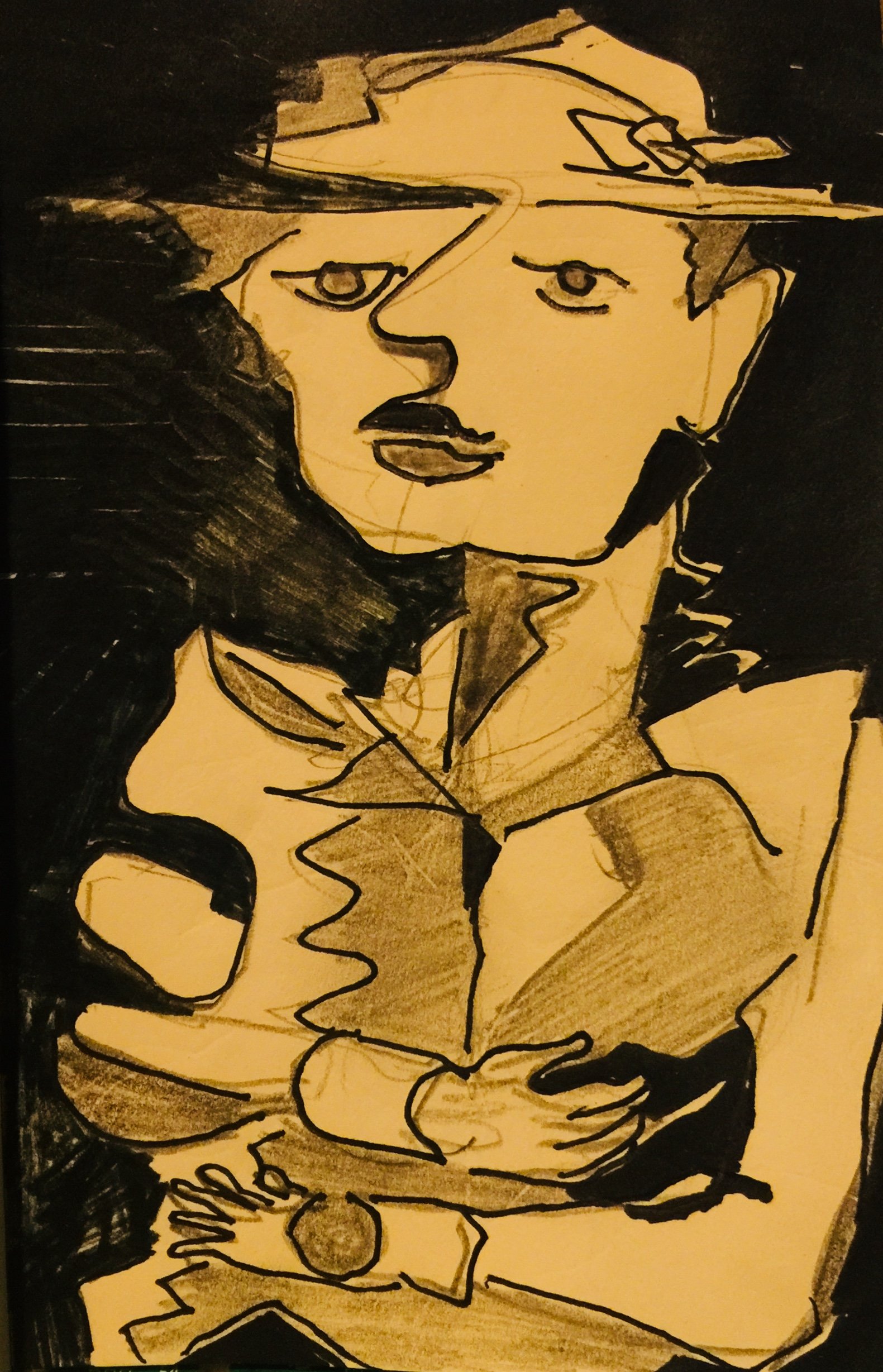 [JPN]
最近絵が売れない代わりかどうか知らないが、絵をプレゼントしようとしている。
プレゼントというのも、変な感じだ。
今はまだ、差し上げていない。
一人は、ネットに載せていたところ、気に入っていただいたから。
一人は、うちに猫のビブ幾多郎を連れて来てくれた子で、ビブと一緒に描いた。
モデルになってもらったので、いつかはもらってもらえればと思っていた。
一人は、うちに野菜を配達をしてくれているマルシェ、まぁ八百屋さん。
ただ今改装中で、新装開店のプレゼントがわりにと思っている。
思っているだけで、要らないと言われればそれまでではあるが。
そのマルシェには大きな絵が飾ってある。
僕の絵ではない。
古道具屋で見つけて来たんですと聞いた。
上手い絵ではない。
描いてあるのは、マルシェである。
海外の露天の八百屋さんである。
良い絵だと思った。
色も鮮やかで、お店に映えていた。
やはり、絵は飾るもので、隅っこにまとめられて片付けておかれるものではない。
今までは、絵をプレゼントする人、差し上げる人、たまに購入される人、出世払いを約束する人、などいたが、
なかが悪くなってしまう。
喧嘩になる人、いつの間にか嫌われてしまった人、口論になった人、などがいる。
険悪になったり、疎遠になったりは仕方がないとしても、その後の絵はどうなっているのかと思うと、少し心配になる。
確かめる手段がないだけに、気がかりである。
今回はどうなるであろうか。
絵を誰かにもらってもらう場合には、額装してからと思っていたが、それはやめにした。
家に額縁がある場合は別として、およそ好みが分かれるのと、単に面倒である。
実際に付けてみないと分からないことが多いのも面倒なのである。
だから、今回からは、額縁屋さんにご足労願おうと思う。
自分の場所に飾るのだから、楽しいこともあるんじゃないかと、都合よく勝手に思っている。
亀甲堂の壁も隙間だらけだったが、壁一面に細かくビッチリと絵を並べようと、今日から始めた。
まだ、まだ、余白はある。
細かいところも、何か描いて埋めようと思っている。
これが当初思っていた亀甲堂のイメージなのだが、10年かかってようやく取り組むのである。
敷き詰めた絵を眺めながら、早くコーヒーが飲みたい。
[ENG]
I do not know whether I can not sell pictures recently, but I'm trying to present a picture.
A gift is also strange.
I have not heard about it yet.
One person, as it was on the net, I liked it.
One of them was a child who brought me a cat 's Bibu Kotori, and drew it with Bib.
Because I had it become a model, I thought that I would have someday get it.
One person is Marche, a well-grown shop that delivers vegetables inside.
I am undergoing renovation now and I think that it will be a gift for newly opened stores.
If it is said that it is only thought, it does not need it though it is until then.
A large picture is displayed in the Marche.
It is not my picture.
I heard that I found it at an old store store.
It is not a good picture.
What is being drawn is Marche.
It is a grocery store in the open air.
I thought it was a good picture.
The color was also brilliant, shining in the shop.
Again, the paintings are to be decorated, they are not put together in a corner and cleaned up.
Until now, people who gave pictures, gifts, people who buy occasionally, people who promise paying for a lifetime,
The inside gets worse.
People fighting, people who have been disliked unnoticed, people who have quarreled, etc.
Even though it can not be helped or become estranged, I am worried a little if I think what the subsequent picture is like.
It is a worry just because there is no way to check it.
What will happen this time?
When asking someone to take a picture, I had thought that it had been framed, but I stopped it.
Apart from having a picture frame at home, it is simply a hassle to preference about preference.
It is troublesome that there are many things that you do not know without actually attaching.
So, from this time on, I'd like to ask the picture frame shop to work hard.
I decorate it conveniently because I decorate it in my own place, so there are some fun things to do.
The wall of Kiccoudo was full of gaps, but I began with today to arrange the picture closely with the wall all over.
Still, there is still a margin.
I also think that I will draw something and fill in details.
This is the image of the Kiccoudo originally thought, but it will finally tackle after 10 years.
I want to drink coffee as soon as I look at the picturesque spreading.