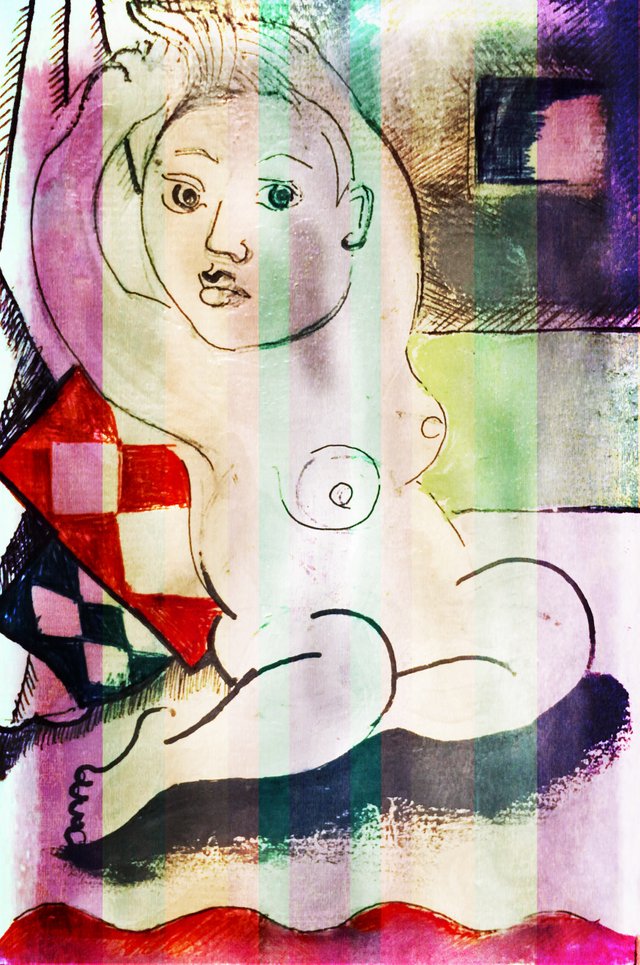 [JPN]
今日は恒例娘のピアノレッスン。
明日は @ayumi884 が帰ってくる。
一週間は長かった。
本人はどうか知らないが、僕には非常に長かった。
以前のように、ぼーっと死体のように暮らすことは少なかった。
しかし、長かった。
明日は掃除などして、帰って来たらゆっくりしてもらえる態勢を整えておきたい。
一週間分の話も聞きたい。
疲れているだろうから、眠るかもしれない。
それでも構わない。
いつもの場所に、 @ayumi884 の顔が見られれば良い。
いない場所を見つめなくて良いし。
ディスプレイに彼女の写真を写しておくこともない。
帰りにどこか軽くデートに行ければ良いが、どこに行ったものかな。
重い旅行鞄があるから、あまりウロウロできない。
喫茶店でも良いが、京都駅に良いところ、つまりタバコが吸える喫茶店があるかな。
家が良いかな。
コインロッカーに預けて、伊勢丹にでも行こうか。
ヨドバシカメラでも行こうか。
やっぱり家が良いか。
タバコも吸える。
コーヒーも飲める。
このコーヒーは亀甲堂で出すもので、玉屋珈琲店というところから仕入れている。
元々は、数年前に近くのカフェで出していたもので、僕が気に入って、オーナーさんに「亀甲堂でも同じコーヒー出しても良い?」と聞いたところ、快く承諾してもらったのだ。
だから、美味しい。
そのカフェは今はもうない。
cafe Heron と言う名前だった。
ああいうところがあれば、行くのだけど、そういうところがない。
京都駅に行くことが多くなってきたので、そういう場所を探した方が良いと思う。
少し探してみよう。
御所への散歩にも行きたいな。
あーだこーだとデートのことばかり考えているうちに、一枚絵を描き終えて、喫茶も終えて、ピアノのレッスンも終わった。
今日もそろそろ終わりである。
今日ばかりは、早く明日になれば良いと思った。
[ENG]
Today is an annual girl's piano lesson.
@ Ayumi 884 will return tomorrow.
A week was long.
I do not know about himself, but it was very long for me.
As I did before, it rarely happens to live like a dead body.
But it was long.
I'd like to clean up tomorrow and prepare for the situation so that I can take it slowly after I return.
I want to hear the story of a week.
Since I am tired, I may sleep.
It does not matter.
You can see the face of @ ayumi 884 in the usual place.
You do not have to look at places you do not have.
You do not have to copy her picture on the display.
I hope I can go on a date somewhere on the way home, but where did you go.
There is a heavy luggage, so I can not do it very much.
Although it is good at a coffee shop, I wonder if there is a good place for Kyoto station, that is, a cafe where cigarettes can smoke.
I wonder if the house is good.
Let me in the coin locker and let 's go to Isetan.
Shall we go with the Yodobashi camera?
After all the house is good.
I also smoke cigarettes.
You can drink coffee.
This coffee is to be served at Kameokodo, purchased from the place called Tamaya coffee shop.
Originally, it was something I had put out at a nearby cafe a couple of years ago, and I liked it and asked the owner, "Can I have the same coffee at Kameokodo?", I got it acceptably accepted .
So, it is delicious.
The cafe is now no longer.
It was the name cafe Heron.
If there is anything, I will go, but I do not have that kind of place.
As I go to Kyoto Station more often, I think that it is better to find such a place.
Let's search for a bit.
I want to go for a walk to the Imperial Palace.
While thinking about date with Koda only dating, I finished drawing a piece of paper, finished cafe and the piano lesson was over.
Today is almost over.
I thought it would be better to be tomorrow sooner than today.