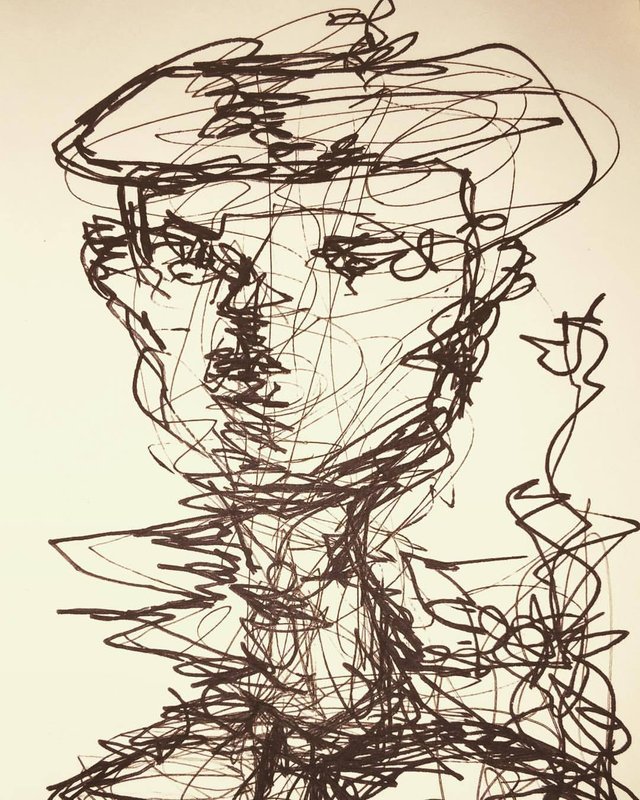 [JPN]
昨日、正確に言えば今日の午前1時に家を出た。
寝るとその前にあったことは昨日になって、本日中であっても昨日と思ってしまう。
西へ行こうと思った。
亀甲堂の常連さんより、「今度は西やな。嵐山。」と言われたので西に西に歩いた。
目的地が決まっている時は楽なものである。
ただ、登山と一緒で、目的地に着いても帰らないといけない。
これが面倒だ。
同じ道を帰ってくるつもりであったが、それでは面白くないなと思いながら、歩き出した。
家を出る前に、@ayumi884 にはメッセージを残しておいた。
「はーい」という返事が来た。
千本三条より歩き出して、すぐ人気は消えた。
車すらほとんど走っていない。
何かあったかもしれない。
しかしほとんど覚えていない。
昔からあるラブホテルが綺麗になっていた。
潰れているわけではなかったようだ。
ずっと歩いている。
人がいない。
車もない。
たまにパトカーが通る。
何もない。
猿田彦神社が見えた。
なんだか、知っている道ではなかった。
知っていると言っても、もう20年は前のことである。
道も変わる。
せっかくなので、神社の中を通り抜けて行こうと思った。
小さい神社である。
ご利益が何か看板に書いてあったようだが、忘れてしまった。
中に入って見たが、他に抜けられるようなところが見つからなかった。
暗いから見えなかっただけかもしれない。
ガラガラを鳴らす近くに行くと、ピカッとライトが光った。
最近よくある、人が近寄ると光るタイプの外灯である。
気分が削がれた。
すぐに入って来たところに戻り、出た。
神社は人の気配がなく、寺には人の気配がある、だから家のない人が寺には泊まるが、神社には止まらないのだと聞いた。
けれども、神社から道に出ると人の気配がない。
実際にいないことも確かであるが、さらに人の気配がない。
ぼさっと歩いている若者がいた。
100mほど先を歩いている。
やや僕の方が歩くのが早いようである。
徐々に差が詰まって行く。
彼は西へ西へ歩いていた。
僕も西へ西へ歩いている。
なんとなく、すれ違うのが気まずいなと思った。
それから、ずっとどこかで何か音が鳴っている。
音楽というのか、なんなのか何か音が鳴っている。
彼との差が詰まるたびに音が大きくなる。
彼がスマホか何かで音を鳴らしているようだ。
太秦まで来た。
広隆寺がある。
弥勒菩薩の半跏思惟像がある寺である。
朝鮮から伝来して来たとされている、要は盗ってきたものである。
最近では日本で作られたの、といろんな説があるようで定かでない。
彼は相変わらず、音を鳴らしながら、ぷらぷらと歩いている。
道が分かれた。
商店街に続く道と、路面電車の線路沿いとに分かれていた。
僕は、商店街沿いを行きたかったが、彼が商店街沿いを行ったので、線路沿いの道を行くことにした。
商店街を歩きたいわけではなかった。
線路沿いは何もないだろうと思っただけなのだ。
やはり、線路沿いは何もなかった。
今日は汗をかかない。
9月に入って、昼間は暑いままであったが、夜は全く違う。
じっとしていると寒いくらいである。
台風が近いせいかもしれない。
なんとなく、さっきまでは前を歩いている彼のことばかり気にかかって、他のことに気付かなかった。
白い月が半月で、端が少し黄色くなっていた。
太秦を越えると、嵯峨美の近くに来たと思う。
嵯峨美というのは、嵯峨美術短期大学のことで学生時代を過ごしたところだった。
雰囲気はあったが、周囲の建物が違う。
全く違う。
全く違うのに嵯峨美の近くであるとは感じた。
これは、雰囲気は変わらないということなのだろうか。
嵯峨美は車折神社を抜けて行けば見えてくる。
神社も見て行こう。
パンパンと手を打ってから母校を見、嵐山に行こうと思った。
しかし、間違いであった。
僕の歩いている道は、神社を抜けてしまったところに出るので、神社を通るにはわざわざ神社に入らなければならない。
今思えば、そこに鳥居があるのだから入れば良さそうなもんであるが、通り抜けて母校に行きたかったのである。
結局神社には入らず、嵯峨美の横を通った。
今は嵯峨芸である。
嵯峨芸術大学というのだそうだ。
略した時に言いにくいい。
私からすれば、嵯峨美で十分である。
裏門の横を通った。
看板が出ている。
「ん?」と思った。
嵯峨美術大学と書いてある。
「ん?」と思って見直したが、嵯峨美術大学と書いてある。
嵯峨芸ではない。
やはり嵯峨美というごろは捨てがたく、戻したのかと少し嬉しかった。
中に入りたかったが、当然入れるはずもなく、壁づたいに正門前に出た。
以前の通り、正門近くに電話ボックスがあった。
よく行っていた駄菓子屋もあるようである。
店内にアメリカ雑貨がぐちゃぐちゃに置かれている喫茶店もまだあった。
トマホークがあったかを見るのを忘れた。
カフェバーである。
やけに大きい鉄の灰皿をよく覚えている。
おしゃれなカフェもいくつか増えていた。
桂川沿いに出て歩いた。
下校の時もよく川沿いを歩いた。
家を出る前に「透明人間」という曲を聞いた。
B'zの稲葉浩志が歌っている曲である。
たまたま、知った曲で、割合気に入った。
B'zは割と面白い曲があるので、一曲は欲しいと思っていた。
ギリギリチョップでも構わなかったが、縁があったので、「透明人間」をダウンロードした。
綺麗に終わってしまっても良い曲である。
しかし、最後に「おかあさん」と入ってからがそれまでの綺麗な曲を壊しにかかっている。
これは、偉いなと思った。
しかし、詰め込みすぎている。
要素が多くなりすぎている。
作品は、いろいろてんこ盛りにするのが良いのではない、大きく終わらなくてはならない。
雑になるのではない。
大きく未完成で終わるのが最上である。
そこまでには至らない。
至らないまでも、綺麗なものを壊しにかかっているあたりは流石だなと思った。
気に入った曲ができると一曲ループでずっと聞く。
家を出る前には何度もなんども聞いて歌っていた曲で、批評まがいのことは頭には浮かんだが、曲を口ずさむことはなかった。
出てくるのは、中島みゆきの「シャングリラ」だった。
シャングリラからシャングリラから、と歌いながら川沿いを歩く。
車が2台止まっている。
人が出てくる。
口ずさむのをやめて、少し身構え、足早になった。
なんでもない、こちらも散歩と見える。
車だからドライブなのかもしれない。
夜には昼にはいない人がいる。
大きな息子を大声を張り上げながら、自転車で追いかけるお母さんも見たことがある。
息子は自転車で蛇行しながら、何も聞こえない様子で、自転車を漕いでいる。
深夜のドライブそれもいいなと思う。
僕は免許がない。
原付の免許もない。
僕は一体生涯に車を買うことがあるのだろうかと思った。
買うとすれば、どんな車なのだろうか、そんなことをメルセデスベンツの販売店の前で思った。
渡月橋に着いた。
LEDライトがうるさい。
明るすぎる。
ツブツブが目に痛い。
あんなに多く配置しなくても良いと思った。
白すぎる。
返って周りが見づらいように思う。
車のライトも最近は明るすぎて、車体の色すらわからない。
パトカーかと思って見ると、上にサーフボードを積んでいるだけだったりする。
13歳ではないが、振り返らず渡月橋を渡る。
渡りきると、公園のようになっている場所がある。
そこで一服、二服とタバコを喫む。
少し絵を描く。
コウモリが飛んでいる。
電灯もLEDらしい、うるさい。
デートしている人もいる。
ベンチが少し湿気ていたのと、朝になる前には帰りたかったので、すぐに渡月橋に戻る。
川の音が少し激しく感じた。
帰り道も川沿いを歩く。
嵯峨美の下校の時と同じ道をあるいた。
阪急の松尾駅に続く道である。
暗い、足元もよく目を凝らさないと見えない。
その中で、煌々と光るのは、ホテル嵯峨野。
まだ、健在である。
学生の時もあった。
ここも新しくなってはいたが、相変わらず、「峨」のネオンだけが消えている。
わざとやっているのだろうか。
ホテルの横を通り過ぎる頃に @ayumi884 から電話。
「どこにいるの?」
「ホテル嵯峨野の近く」と答える。
びっくりしたようである。
行く前に彼女は横になっていたので、メッセージに「散歩に行く」と残しておいたが、まだ家にいるのだと思っていたらしい。
しばらく家の中を探したようである。
タバコと飲み物が切れたようで、困っていると言った。
タバコと飲み物が不足すると非常に困るのが彼女である。
しばらく、あれこれと話をしながら、川沿いを歩いて帰った。
タクシーで帰ろうかと思ったが、「ゆっくり散歩しておいで」と言ってくれたので、歩いた。
帰りにマクドナルドを買って、カフェフラッペと爽健美茶、メビウスライトを二箱買って帰った。
彼女は寝ていたが、少しの物音で起きたので、月見バーガーを食べながら、少し話をしてまた眠った。
僕もいつの間にか眠ってしまった。
家に着いたのは4時を少しすぎたあたりだったろうと思う。
次は南へ行くことになるかもしれない。
[ENG]
Yesterday, exactly, I left home at 1 AM this morning.
What I had before going to bed was yesterday and I thought that it was yesterday even today.
I thought of going to the west.
From Takkodo's regulars, I walked west west because I was told that "This time it is West and Arashiyama."
It is easy when the destination is decided.
However, together with climbing, even if you get to your destination you have to go home.
This is troublesome.
I planned to return the same road, but I started walking, thinking that it was not interesting.
Before leaving home, I left a message at @ ayumi 884.
An answer "Ha yo" came.
I walked away from Senbon Sanjo, and the popularity soon disappeared.
Even cars do not run very much.
There might have been something.
But I do not remember it.
Love hotel of old days was beautiful.
It seems that it was not collapsed.
I have been walking forever.
There are no people.
There is no car.
Sometimes a police car passes.
nothing.
I could see the monkey Takahiko shrine.
Somehow, it was not the way I knew.
Even if you say you know it, 20 years ago it was before.
The way also changes.
Because I was impatient, I decided to go through the shrine.
It is a small shrine.
It seems that the interest was written on the signboard, but I forgot it.
I saw it inside, but I could not find anything else to get out.
It may be that I could not see it because it was dark.
Ringing rattling, I went nearby, and the light shone sharply.
Recently, it is a type of external light that glows when people approach.
My mood was shaved.
I returned to where I came in immediately, and went out.
There is no sign of people at the shrine, people have signs in the temple, so people without a house stay at the temple, but I heard that they can not stop at the shrine.
However, there are no signs of people when going out the way from the shrine.
It is certain that there is not actually, but there is no further sign of people.
There was a young man walking along the way.
I am walking 100 meters ahead.
Somewhat I seem to be walking faster.
The difference gets clogged gradually.
He was walking west west.
I am also walking west west.
Somehow, I felt awkward to pass each other.
Then, something sounds somewhere somewhere.
Is it music, or what sound is being heard.
The sound gets bigger as the difference with him gets blocked.
It seems that he is ringing on a smartphone or something.
I came to Da Qin.
There is Koryuji Temple.
It is a temple with a semi-thought statue of Maitreya Bodhisattva.
It is said that it came from Korea and the point is stealing.
It seems there are various theories that it was recently made in Japan, so it is not certain.
He still walks with plumbing while hearing a sound.
The road divided.
It was divided into a road leading to the shopping street and a track along the streetcar.
I wanted to go along the shopping street, but since he went along the shopping street, I decided to go along the track.
I did not want to walk in the shopping street.
I thought that there would be nothing along the track.
After all, there was nothing along the track.
I do not sweat today.
In September, it remained hot during the daytime, but the night is quite different.
It is about cold as it stands still.
A typhoon may be close.
Somehow, it took me carefully about him who was walking a while ago, I did not notice other things.
The white moon was half a month, the edge was a little yellow.
Beyond Qin Qi, I think that I came near Saga beauty.
Saga beauty was where I spent my school days with Saga Art Junior College.
Although there was atmosphere, surrounding building is different.
Completely different.
I felt it was near Saga beauty though it was quite different.
Does this mean that the atmosphere does not change?
Saga beauty will come out if you go through the car crash shrine.
Let's also look at the shrine.
I saw the alma mater after hitting hands with a bangpang and thought of going to Arashiyama.
However, it was a mistake.
The way I am walking goes out where I passed the shrine so I must go to the shrine to go through the shrine.
If I think about it right now, there is a torii there, so it seems to be good, but I wanted to go through to the alma mater through.
After all, I did not enter the shrine, passed Saga beauty.
It is Saga art now.
It is said that it is called Saga Art University.
It is hard to say when you abbreviate.
From me, Saga beauty is enough.
I passed by the back gate.
Signboards are out.
I thought "What?"
It is written as Saga Art University.
I thought as "___ ___ ___ ___ 0
It is not Saga.
I was glad a little whether Saga Beauty was hard to throw away and returned.
I wanted to go inside but naturally I could not fit in, and I went to the front gate in front of the wall.
As before, there was a telephone box near the main gate.
There seems to be a well-known candy store.
There was still a coffee shop in the store where American goods are messed up.
I forgot to see if Tomahawk was there.
It is a cafe bar.
I remember burning a big iron ashtray well.
Several fashionable cafes were also increasing.
I walked along the Katsuragawa river.
I often walked along the river when I was in school.
Before leaving home I heard a song called "transparent man".
It is a song that Hisashi Inaba sings about B'z.
It happened to be a song I knew, I liked it a little.
Since B'z has a comparatively interesting song, I thought that I wanted one song.
I did not mind chopping, but because there was a fringe, I downloaded "Transparent Human".
It is a good song even if it finishes cleanly.
However, after entering "mother" at the end, it depends on destroying beautiful songs until then.
I thought this was great.
However, it is packed too much.
There are too many elements.
It is not good to make various pieces of turtles, but the work must be largely over.
It does not become clumsy.
It is best to end in a large incomplete.
It does not reach that much.
Even though it did not reach, I thought that the area around the breaking up of beautiful things was fluffy.
If you like songs you listen all the time in one song loop.
Before leaving home, I heard many times listening to the songs I was singing, I caught myself about criticism, but I never sang the songs.
What comes out was "Mangyu Nakajima" Shangri-La ".
Walk along the river while singing from Shangri - La from Shangri - La.
Two cars are parked.
People come up.
I stopped squatting down, I took a bit of effort, and became quick.
Nothing, this looks like a walk.
Because it is a car, it may be a drive.
There is a person not in the day in the evening.
I have seen a mother who chases with a bicycle while raising a loud voice for a big son.
My son meandered by bicycle while he was riding a bicycle as if he could not hear anything.
I think that it is also good at midnight drive.
I have no license.
I do not have a license of mowing.
I wondered if he would possibly buy a car all his life.
If I had to buy it, I wondered what kind of car it was, in front of a Mercedes Benz dealer.
I arrived Togetsukyo Bridge.
LED lights are noisy.
It is too bright.
Tsubutubu hurts in eyes.
I thought that I do not have to arrange so many things.
It is too white.
I think it will be hard to see around.
Car lights are too bright these days, they do not even know the color of the car body.
If you think it is a police car, you just have a surfboard on top.
I am not 13 years old, but I look back and cross the Togetsu Bridge.
When you come across, there is a place that looks like a park.
So, I take two doses and a cigarette.
Draw a little picture.
A bat is flying.
Lighting is also like LED, it's noisy.
Some people are dating.
I wanted to go home before the morning as the bench was a bit damp, so I immediately returned to Togetsu Bridge.
The sound of the river felt a little intense.
I also walk along the river on my way home.
I got the same road as Saga beauty's school.
It is the way to Hankyu Matsuo station.
It is dark, I can not see it unless my eyes stand out.
Among them, the hotel shines gleamingly, Hotel Sagano.
It is still healthy.
There were times when I was a student.
Although it was new here, as ever, only the neon of "Ae" has disappeared.
I wonder if they do it on purpose.
Called from @ ayumi 884 when I passed by the hotel.
"Where are you?"
I answer "near the hotel Sagano".
It seems that I was surprised.
She was lying down before going, so I left it as "to go for a walk" in the message, but she seemed to have thought that she was still at home.
It seems that he searched the house for a while.
I heard that tobacco and drinks seem to have run out and I am in trouble.
She is quite troubled when cigarettes and drinks run short.
For a while, while talking to them, I walked along the river and returned.
I thought of going home by taxi, but told me "Please take a walk slowly", so I walked.
On the way back I bought McDonald 's, bought two cups of cafe flapping, Soben beauty tea, Mebius light and returned.
She was asleep, but I got up with a little noise, so I talked a bit and slept again while eating a lunar eater burger.
I fell asleep before I knew it.
I think that it was around 4 o'clock when I got home.
Next may come to the south.