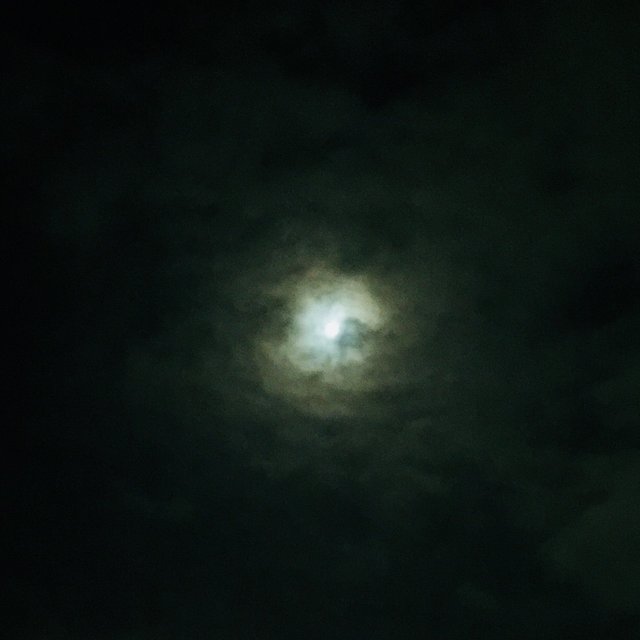 [JPN]
昨日のというか、今日の午前0時より家を出た。
最近よくやる深夜の散歩である。
別に出たいわけでもなかったが、なんとなくここ最近の恒例行事になってしまったため、ついつい出てしまった。
歩き出して、100メートルほどで、もう後悔したが今帰るのもなんだか、格好悪いような、縁起が悪いような、決まり悪く、結局そのまま足を止めずに歩いていた。
目的地を定めなかった。
方向も定めないで、道が分かれたところで、周りを見渡して決めながら、何処へともなく歩いていた。
それでも、同じところに行くのはつまらないと思ったので、北へ行くことは止めにしていた。
酔っ払いがいた。
本当にフラフラ歩いている。
手土産も持っている。
頭にネクタイは巻いていなかった。
歩道の端から端までを使って、ゆっくり前に進んで来る。
目はほとんど空いていなかったように思う。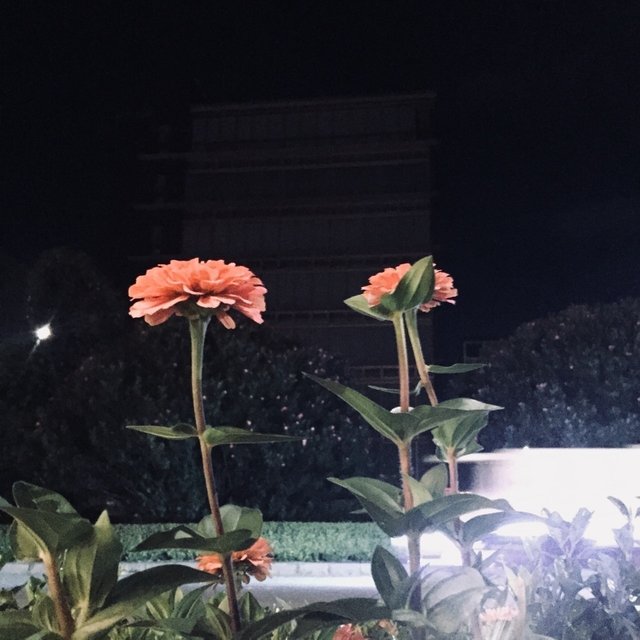 歩道橋を渡った。
柵の低い歩道橋だった。
足の下を車がびゅんびゅん通り過ぎる。
気分が悪くなった。
月を撮った。
頭がクラクラして、思わず柵に寄りかかった。
微妙に揺れるのが、歩道橋の怖いところである。
高所恐怖症なのか、三半規管が弱いのか、よくわからないが、嫌いという意識はないものの、身体はあまり喜ばないようである。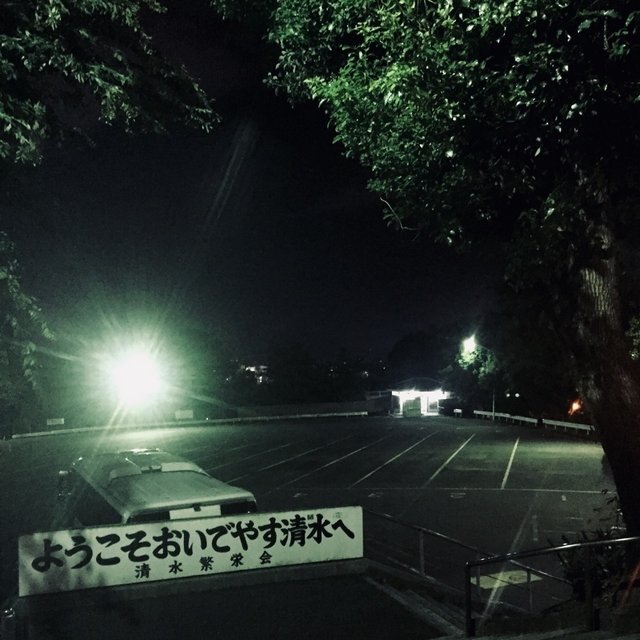 なんとなく、東に向いて歩いていた。
清水坂が思い浮かんだ。
前に住んでいた家の近くの小さな本屋があった。
そこのオッチャンが自転車でよく清水坂に配達に行った話を聞いていた。
福々しい顔の、肌がツヤツヤの、黒髪だがバーコード頭の本屋のオッチャンである。
清水坂というと、割と急な坂で、陸上部などが合宿で使いそうな坂である。
実際には観光客がうようよといるため、そうそう陸上部のために開けてくれることもない。
その坂を、自転車立ち漕ぎで突っ切る本屋のオッチャン。
70歳位までは自転車で登っていたとよく自慢していた。
それ以降は、配達が途絶えたため、行く機会がなくなって残念だと言っていた。
最近会わないが、85歳は過ぎているだろうと思う。
本屋のオバちゃんはたまにスーパーで見かける。
今は本屋はやめてしまって、コロッケを揚げていると、前に言っていた。
オッチャンが徘徊するので、困っているとも言っていた。
そんな事を思い出したからか、清水坂に向けて歩いた。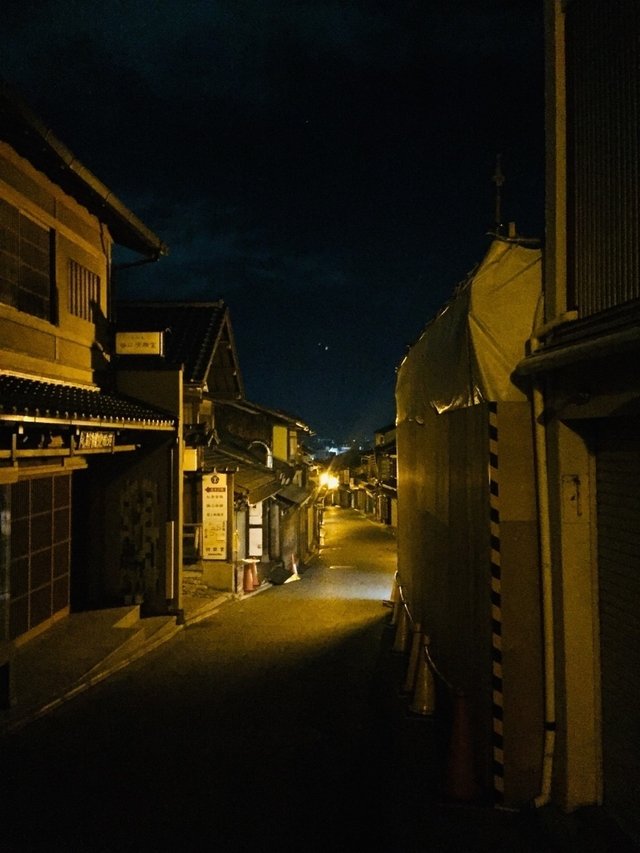 僕のつまらないところで、朝にならないうちに帰ってしまう。
どうせなら、朝までとか、他府県まで、歩いて帰って来れば良いのに、頭のどこかで朝になる前にとか、京都市内までとか、面白くない制限をかけてしまう。
くだらないなと思いながら、清水坂入り口。
スーパーカーが猛スピードで来る。
これは、信号を守らないだろうなと思ったので、青信号の中スーパーカーが過ぎるのを待った。
横断歩道を超えたところで止まるスーパーカー。
よくわからない。
人ははねても良いが、車にぶつかるのは嫌なのか。
気付くのが遅いだけなのか。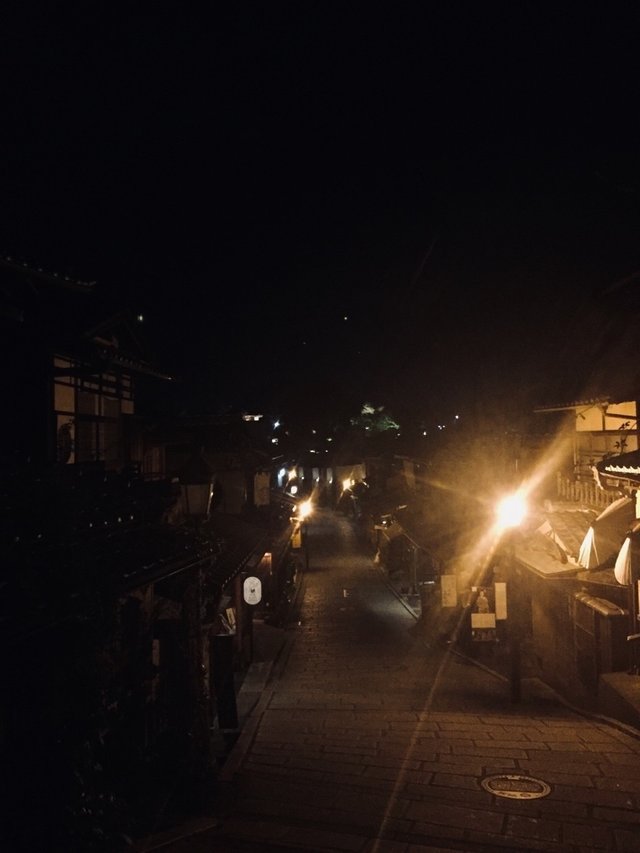 深夜はゴミ収集車も怖い。
猛スピードである。
全部回収すれば、早く帰れるからかわからないが、猛スピードで走り抜ける。
匂いも迫力に花を添えているが、ガシャガシャとゴミの揺れる音や、車体の大きさが夜に紛れて一層怖い。
お兄さん達もドアを急いで開けて、飛び出して来る。
ダッシュでゴミのある地点まで行き、ゴミを放り投げる。
また、ドアをバタンと閉めて、走り去る。
ゴミの近くは歩かない事。
ゴミ収集車が来たら、走り去るのを待つ事、深夜には必要な心構えである。
清水坂に人はいなかった。
誰もいなかった。
登りきったところに、清水寺の守衛さんが3人詰所で何か話をしていた。
一人と目があって、軽く会釈した。
不思議と登りがきついところであったが、苦しくなかった。
下りは楽しかった。
誰もいない中、月も綺麗だった、なんだか高揚した気分になって、少し走った。
少し走ったところで、若い男性二人が何か話をしていたので、急に立ち止まって、知らぬふりして歩いた。
来た道とは違うところを、降りて行った。
白檀の匂いがする、お香屋さんが何軒もあった。
良いところだと思ったが、誰か案内したくても、覚えていない。
調べれば分かるだろうと思う。
調べれば分かることなど、覚えていても仕方がない。
その時に調べれば良い。
帰りは一つ、ルールに背いた。
良いな思った道より家に近い道を選んだ。
自分に残念なやつだと言った。
猫がたむろしていた。
あまり人が通らないせいだろう道の真ん中に5、6匹だらだらと情けない格好で寝ていた。
坂を下りると、縁切り神社があった。
良縁を残し、悪縁を切ってくれるのだそうだ。
その良し悪しは、誰が決めるのだろうか。
神社だから、神様が良し悪しを勝手に決めるのだろうか。
良し悪しは自分で決めさせてほしいと思いながら、御神木にパンパンとして、ガラガラは鳴らさず、帰って来た。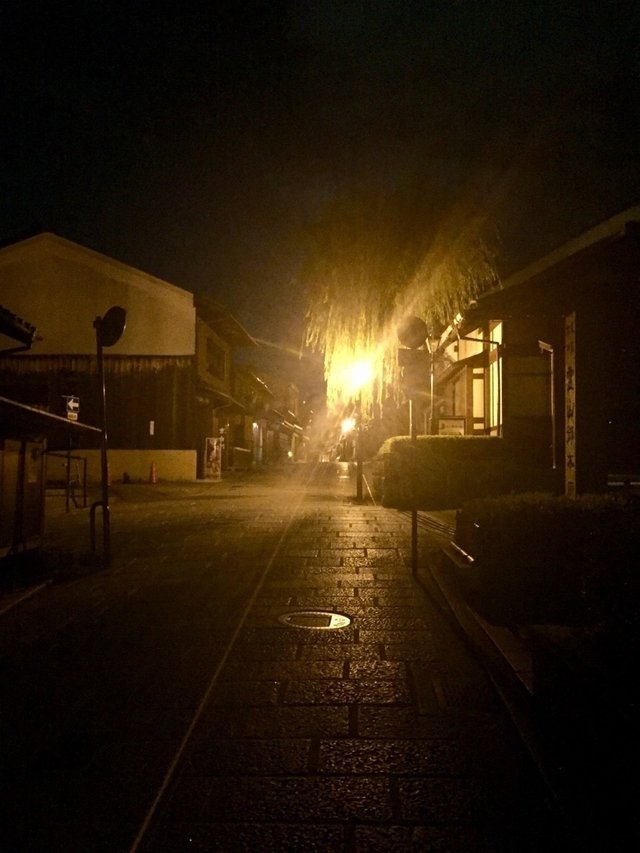 繁華街に出た、ローラーブレードをやっている人、何か話をしている3人の男性、ギターのチューニングばかりしてなかなか歌いそうにない人などがいた。
じっと、下を眺めているおばあさんがいた。
僕がすれ違う時に、ふっと後ろを向いて、すぐに前に向き直って、歩いていた。
お化粧バッチリの水商売風のお姉さんが、ママチャリで急いでいた。
これから、出勤だろうか。
調子に乗って、坂を走ったりしたからか知らないが、足がもつれるような、フラフラするような、腹のなかがグラグラするような感じになって、自動販売機でCCレモンを買った。
カンカンは珍しいのとここ最近レモンが飲みたくてのめなかったので、すぐに買った。
飲むとスッキリしたが、頭は余計にフラフラした、フワフワしている感じになった。
カンカンを持って、フラフラしているので、自分が酔っ払いのような気分になった。
そのまま、酔っ払いの気分のまま家に帰った。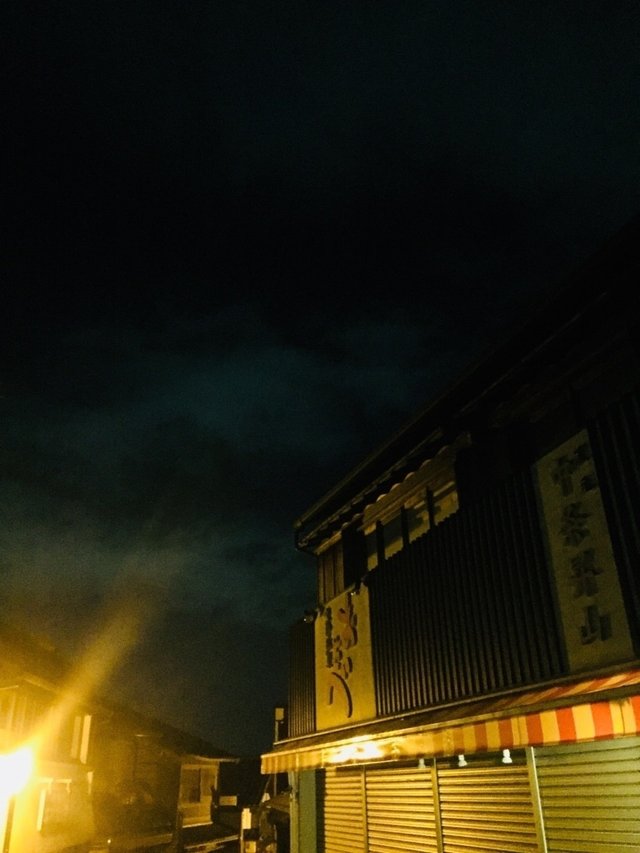 [ENG]
I came home from yesterday or today at midnight.
It is a late night walk that I often do recently.
I did not want to go out separately, but somehow it became a recent annual event, so I caught out.
I started walking and I regretted it about 100 meters, but it seems like something is bad, somehow, I'm badly forgotten, I'm walking without stopping my legs as it is.
I did not set a destination.
Without setting direction, I decided to look around and walked where I could go without any way when the road was divided.
Still, I thought it was boring to go to the same place, so I decided not to go north.
There was a drunkard.
It is truly walking in a hula.
I also have a souvenir.
There was no tie wrapped around his head.
Using the edge of the sidewalk, slowly advance forward.
I think the eyes were almost empty.
I crossed a pedestrian overpass.
It was a pedestrian bridge with a low fence.
The car passes by under the foot.
I felt sick.
I took a moon.
My head began to spin and I leaned against the fence unintentionally.
It is a scary place of the pedestrian overpass that delicately shakes.
I do not know if he is afraid of heights or whether the semicircular canals are weak, but I do not seem to like the body much, although I do not have awareness of dislike.
Somehow, I was walking towards the east.
Shimizuzaka came to mind.
There was a small bookstore near the house that I lived before.
I was listening to stories that Ochchan often went to Shimizuzaka on a bicycle.
It's a futuristic face, skin is shiny, black hair but barcode head bookstore Ochchan.
Shimizuzaka is a steep slope and a slope that is likely to be used in a training camp, such as the land section.
As tourists are actually going to use it, they do not open up so much for the track section.
Ochchan of the bookstore that cuts the slope by bicycle standing.
I was proud of having been bicycling well until the age of 70.
After that, he said that it was a shame because the delivery was lost and the opportunity to go was gone.
I have not met her recently, but I think that 85 years old has passed.
Oba at the bookstore occasionally sees it at the supermarket.
I was saying before that I stopped the bookstore and crochet fried now.
As Ochchan wanders around, he also said he was in trouble.
Because I remembered such a thing, I walked toward Shimizuzaka.
I will be back in a boring place, before morning.
For anything, until morning, or to other prefectures, you may come home by walking, but before you get morning somewhere in the head, or until you reach the city of Kyoto, it makes an uninteresting restriction.
While thinking it was crap, it was the entrance to Shimizuzaka.
A supercar comes at a tremendous speed.
I thought that it would not protect the signal, so I waited for the super car in the green light to pass.
A super car that stops beyond the crosswalk.
I do not really understand.
People can splash, but do not want to hit a car.
Is it only late to notice?
I am scared of garbage trucks at midnight.
It is a tremendous speed.
If you collect all of them, you do not know whether you can return soon, but you can run at a tremendous speed.
The smell also adds flowers to the powerfully, but the sound of shaking gashagasha and garbage, and the size of the car body are scary even further in the evening.
The older brothers also opened the door in a hurry and came out.
Go to the point where there is garbage with the dash and throw the garbage.
Also close the door and run off.
Do not walk near the garbage.
When a garbage truck comes, waiting to run away, it is necessary mind at midnight.
There was no one in Shimizuzaka.
There was no one.
The place where I was climbing, Mamoru of Kiyomizudera was talking about something with three people stuff.
I had an eyes with one and bowed lightly.
It was a wonderful and climbing place, but it was not painful.
I enjoyed going down.
While there was no one, the moon was beautiful, I felt like I was uplifting somehow and ran for a while.
When I ran a little, two young men were talking about something, so they stopped suddenly and pretended to pretend without pretending to walk.
I got off the place different from the way I came.
There were many shops that smell of sandalwood.
I thought it was a nice thing, but I do not remember who I wanted to guide.
I think that it will be understood by examining it.
It can not be helped even if you remember such things as you can find out.
You can investigate at that time.
One way back, I disobeyed the rule.
I chose a road closer to my house than I thought good.
I told myself to be a regrettable guy.
The cat was hanging out.
In the middle of the street that people would not go through so much I was sleeping in a miserable looking way with 5 or 6 animals.
As I got off the slope, there was a treasure shrine.
He seems to leave a good edge and cut off evil bonds.
Who decides the good or bad?
Because it is a shrine, will God decide the good or bad without permission?
I thought that I wanted to decide the good or bad by myself, as a bread in the Kamiki, the rattles did not ring, I came back.
Those who came downtown, who are doing rollerblading, three men who are talking about something, others who were not likely to sing just by tuning the guitar.
Watashi grandma watching under.
When I passed by, I faced back at the back, immediately turned forward and was walking.
A girlfriend 's water - based sister was in a rush at Mamachari.
I wonder if I should go to work now.
Although I do not know whether I was on a slope or running, I felt like a feet like a hanging leg, in the belly feeling like a graffiti, I bought a CC lemon at a vending machine.
Cankan is rare and I recently bought it because lemon wanted to drink.
Although it refreshed when drinking, the head became a feeling that it was fluffy, and it was fluffy.
I had a cancan and I was scattered, so I felt like drunk.
As it was, I went home without feeling drunk.