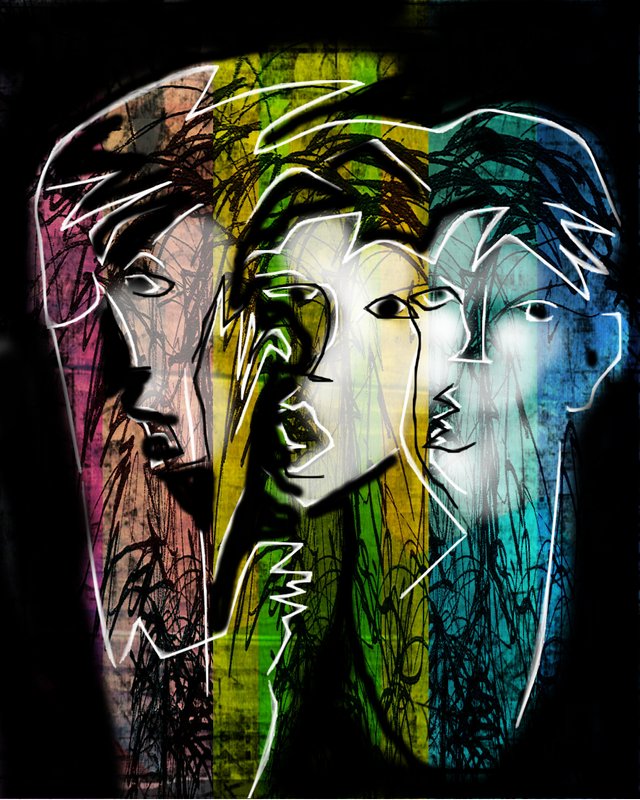 [JPN]
昨日も記事を上げてから考えた。
出かけようかどうしようか。
しかし、台風である。
昨日の夜だから、台風が来るまでに時間はある。
風も少し強いようだが、雨はない。
北、東、西と行った。
今度は南である。
その前に、台風到来の準備をしなければならない。
看板を外して、鉢植えを店内に入れる。
物干しの洗濯物を釣るものを物干し竿より外して、下に置く。
これで準備万端。
しばらく出かけるかどうか考えた。
台風である。
しかし、台風と言えども、上陸しているわけでなし、1時間やそこらで急に身の危険に迫ることもないだろう。
よし出かけよう。
南へ歩き出した。
嵐の前の夜空は綺麗である。
空が高く、空気が澄んでいる、透明感がある。
三日月のような月である。
時間は午前の2時近くである。
ぷらぷら歩いた。
梛ノ宮神社に入った。
ここは気に入りの神社である。
娘の七五三もこちらにお願いした。
4箇所ほどパンパンと手を打つところがある。
ご利益は何かしらないが、気に入ったところで、手を打つのは気持ちが良い。
ガラガラは深夜であるので、やめにした。
神主さんを起こしては申し訳ない。
狛犬さんにも軽く会釈して鳥居を出る。
また、南へ歩き出す。
壬生寺の手前に和菓子屋さんがある。
この近くに祖母の家があった。
今、祖母はカタカナのホテルのような施設で暮らしている。
よく働く人で、遊びも知らない、コップに少しビール入れて飲むのが好きな祖母である。
今は90を超えた。
80を過ぎる頃まで、食堂でおにぎりを握っていた。
若い頃に夫を亡くし、染め工場を一人で切り盛りしてきた。
借金も多くあったようである。
親戚一同に責められたが、皆の前に立ち、「私が一人で返します!」と宣言し、実際に返済したようである。
随分と、姑さんにいじめられたと、話を聞いたことがある。
この祖母は、非常に背が小さいが、非常に手が大きい。
ゴツゴツしている。
大男のような手をしている。
子供の頃から、肩こりの私はよく祖母に肩を揉んでもらった。
僕が祖母の肩を揉むのではない、祖母が僕の肩を揉むのである。
祖母は肩が凝らないんだそうだ。
いくらでも揉んでくれた。
30分くらいしてもらったところで、こちらが気を使って「もういいよ。ありがとう。」と言うと、
「もういいのかい?」と言う。
猫を撫でる時もそうである。
ウチのベー君が子猫の時、祖母の手で遊んでいた、噛んだり、手でちょいちょいと、遊ぶ。
噛まれたって、大男の手はどうにもならない、こそばゆいらしい。
噛まれても、遊ばれても、ずっと撫でている、そのうちベー君が疲れてしまって、うとうとし始めた。
祖母もうとうとしながら、ベー君を撫でていた。
歩いていると、そんなことを思い出した。
和菓子屋がある。
コインパーキングがある。
なんだか石が大理石のように光っている。
妙なパーキングである。
鶴、だとか亀だとか書いてある。
ほかは、車が停まっていたので、なんと書いてあったか知らない。
龍だとか、虎だとか、書いてあるのだろうか。
そのすぐ先に壬生寺がある。
寺は閉まっている。
固く閉ざされていると行った感じである。
神社というのは、概ね24時間解放されている。
寺は門限がある。
なんとも不思議である。
24時間衆生を救うための修行に励むものではないのかといつも思う。
固く閉ざされた門、塀をに沿って歩いている、ふと娘が一人で寝ていることを思い出した。
最近はあまりないが、夜たまにうなされて起きる。
台風前夜でもあることだし、娘が夜うなされないとも限らない。
帰るか、そう思った。
壬生寺を一周して、家に帰った。
娘はスヤスヤとお休みのようである。
@ayumi884 もスヤスヤお休みであった。
よかったと思った。
本日の台風の模様。
13時ごろであったと思う。
仕舞い忘れていた簾が散乱した。
向かいの家の窓ガラスが一枚割れた。
電線から、なんだかわからないコードがぶら下がっている。
カラーコーンが飛ばされた。
自転車が倒れていた。
家が大いに揺れた。
家の中に風が吹いた。
瞬間的に数度、停電した。
被害と呼べるものはなかった。
何よりである。
[ENG]
I thought after raising the article yesterday.
Shall I go out or not?
However, it is a typhoon.
As it was yesterday night, I have time before a typhoon comes.
The wind seems to be a little strong, but there is no rain.
I went north, east and west.
This time it is South.
Before that, we must prepare for typhoons.
Remove the signboard and put the potted plants inside the store.
Remove clothes from laundry in the clothesline from the clothespin and place it under the laundry.
It is ready now.
I thought of going out for a while.
It is a typhoon.
However, even typhoons are not landed, and it will not suddenly approach their danger in an hour or so.
Let's go out.
I walked to the south.
The night sky before the storm is beautiful.
The sky is high, the air is clear, there is a sense of transparency.
It is a moon like a crescent moon.
Time is close to 2 in the morning.
I walked around.
I entered Shinmonomiya Shrine.
This is a favorite shrine.
My daughter 's Shichigosan asked for it.
There are places where you can handle hands with about four places.
I do not care what the interest is, but I like feeling hands when I like it.
Since the rattle is midnight, I quit.
I am sorry to wake the shrine.
Also briefly beside the guardian dog, leave the torii.
Also, walk to the south.
There is a Japanese sweet shop in front of Mibu-ji.
There was a grandmother's house near here.
Now my grandmother lives in a facility like a hotel in Katakana.
He is a grandmother who works hard and does not know play, likes to drink a little beer in a cup.
It has exceeded 90 now.
Until past 80, I caught a rice ball in the dining room.
When I was young I lost my husband and I dyed the dyeing factory alone.
It seems there were many debts.
Even though my relatives were blamed, it stood before everyone, declaring that "I will return by myself!" And seems to have actually repaid.
I have heard a lot about being bullied by her mother-in-law.
This grandmother is very tall but very handy.
It is rugged.
He is like a giant.
Since I was a child, my stiff shoulders have my grandmother rubbed my shoulders.
I do not massage my grandmother's shoulder, my grandmother rubbing my shoulder.
My grandmother seems to have a stiff shoulder.
He rubbed me as much as I could.
When I asked them to do about 30 minutes, this is my mind and saying "Thank you.
"Is it alright?"
It is the same when stroking a cat.
When my friend Beck was a kitten, I was playing with my grandmother's hand, chewing, playing with my hands for a while.
It seems that it is frightening that the hands of the Giant are not able to do anything because they are chewed.
Even though I was chewed or played, I've been stroking all the time, Ba said you started tiring and exhausted.
My grandmother was caught staring beside myself.
I remembered such a thing when walking.
There is a Japanese confectionary shop.
There is coin parking.
Somehow the stones are shining like marble.
It is strange parking.
It is written as crane, tartar or turtle.
Other than that, the car was stopped, so I do not know how it was written.
I wonder if it is written as a dragon or a tiger.
Immediately after that there is Mibuji.
The temple is closed.
I feel like I went as if it was tightly closed.
The shrine is released for about 24 hours.
The temple has a curfew.
It is strange.
I always think that I am not encouraged to train to save sentient beings for 24 hours.
I was walking along a tightly closed gate, a wall, I remembered that my daughter was sleeping alone.
Recently there is not much, but at night it gets hurt and gets up.
It is also the night before the typhoon, and it is not always that my daughter can not be apologized at night.
I thought so, I thought so.
I went around Mibuji and went home.
My daughter seems to have a day off with Suyasuya.
@ ayumi 884 was also a day off from Suyasuya.
I thought it was good.
The pattern of the typhoon today.
I think it was around 13 o'clock.
The damn which I had forgotten was scattered.
A windowpane across the house broke a crack.
From the electric wire, a code which is somewhat unknown is hanging.
The color cone was blown.
The bicycle was fallen.
The house shook a lot.
A wind blew into the house.
A power outage occurred a few times in a moment.
There was nothing to call as damage.
What is more.