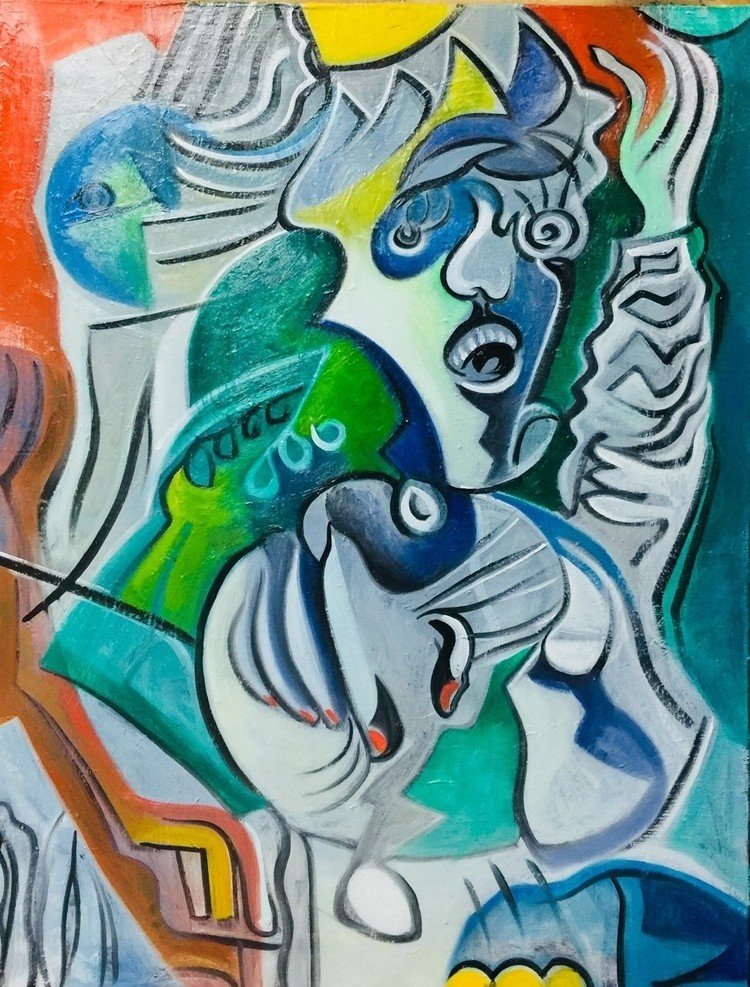 [JPN]
@ayumi884 が出かけてから4日目。
あと3日。
長い。
することは何かとある。
町内会業務が溜まっている。
区民運動会の食券の前売り券を販売する。
敬老の日の贈り物を買いに行く。
来季は町内の組が合併するので、その案内。
古い回覧板の回収。
配布物を各組長に配る。
町内会のお金の入金。
平安神宮関連のお金立て替え。
加えて、会議などがある。
まだあったかもしれないが、忘れた。
これは真面目にやっては仕事になってしまう。
真面目にやってはいけない。
皆それぞれすることは何かしらあって、暇そうに見える人でも、割と1日のスケジュールは詰まっているのである。
だから、できる範囲で、仕事の支障にならない程度にするのが、町内会は良いだろうと思う。
「すごく評判の悪い町内会長になればいい。」これは、@ayumi884 からのアドバイスである。
評判が悪くなれば、次に大役が回って来ないから良いだろうということである。
別に町内で、評判を取らなくても良い。
評判が悪くなろうとも、皆体裁というものがある。
あからさまに意地悪されることはあるまい。
そこそこに付き合ってもらえれば良いのである。
しかし、これだけ色々あれば、やはり三役はお断り申し上げたい。
やはり、夜は寝るほうが良いと、@ayumi884 と決めた。
日が昇ると起きて、日が沈むと寝る。
これが良いであろうと彼女が提案してきた。
僕の方は、夜遅くなろうとも、朝はいつも通りに起きて仕事しようということにした。
彼女のお父さんの信仰である「おてんとうさん」に沿った生活をしてみようということである。
@yadamaniart はずっとこの生活である。
花の画家でもあるから、「おてんとうさん」が良いのかもしれない。
そういえば僕も最近は眠る時間を見失っているので、それが良いかもしれない。
@ayumi884 より先に、彼女のメガネが帰ってきた。
1軒目のホテルに忘れたのである。
他にも忘れ物をしたように行っていたが、他には何も入っていなかった。
メガネより本人が送られてくれば良いのにと思ったが、そういうわけにもいかない。
今日は看板を描き直した。
まだ途中と言って良い。
@ayumi884 とテレビ電話しながら、互いに作業をした。
互いに制作するというのは久しぶりである。
これも悪くないなと思った。
あと3日という悶々とした中でやることは色々ありすぎるくらいにある。
まぁ手につかないことばかりである。
大半のことは放っておいても構わないであろうと思うが、あとになって困ることは、できるだけ片付けていきたい。
寝る場所が定まらない。
彼女の場所で寝てみたり、アトリエで寝てみたり。
うろうろしている。
二階の大きいベッドは若い猫の音松が一人で使って、優雅に夜を過ごしている。
[ENG]
The fourth day since @ ayumi 884 went out.
3 more days.
long.
There is something to do.
Neighborhood association work is accumulated.
We sell advance tickets for meals of the local people 's sports festival.
I go to buy a senior citizen 's gift.
The next season will be the merger of groups in town, so that guide.
Collection of old circulation board.
Distribute the distribution to each group manager.
Fund deposit of the neighborhood association.
Heijin Shrine related money transfer.
In addition, there are meetings etc.
I might have had it, but I forgot.
This will be a job if you do it seriously.
Do not do it seriously.
Everyone has something to do, even for those who seem to have time, the schedule for the first day is packed.
Therefore, I think that it is good for the neighborhood association to make it to the extent that it does not interfere with the work to the extent that it can be done.
"You only have to become the chairman of a town chooser with a bad reputation." This is advice from @ ayumi 884.
If the reputation gets worse, it will be good as the next biggest member will not come.
Apart from within the town, you do not have to take reputation.
Whether the reputation gets worse, everyone has an appearance.
There is nothing obviously mean to be done.
It would be nice if you could get along with it.
However, if there are so many, I would like to refuse the three roles as well.
After all, I decided that it is better to sleep at night, @ ayumi 884.
I get up when the sun rises and go to bed as the sun sets.
She suggested that this would be good.
Even though I will be late at night, I decided to get up and work as usual in the morning.
Let's try to live according to her father's faith "Oto-san".
@ yadamaniart has been this life forever.
Because it is also a flower painter, "Oden-san" might be good.
Speaking of which, I also lost sight of sleep recently, so it may be good.
Before @ ayumi 884, her glasses came back.
I forgot it at the first hotel.
I went as if I left something behind, but there was not anything else in it.
I thought it would be good if the principal was sent from the glasses, but I can not do that either way.
Today I repainted the signboard.
It is still good to say it's on the way.
Working with each other while telephoning with @ ayumi 884.
It's been a while since I worked together.
I thought this was not bad either.
There are many things to do in the midst of 3 days.
Well all that is wrong.
I think that I do not mind leaving most of the things, but I want to clean up as much as possible after all.
The place to sleep is uncertain.
I tried sleeping at her place or slept at the atelier.
I am wandering around.
The big bed on the second floor is a young cat's pine tree used by herself and is elegantly spending the night.