What a great start to this ICO! After 10 days there are:
14,729 users registered
Over 374 Million ETN Sold
Over 4,975 ETH Raised
Over 304 BTC Raised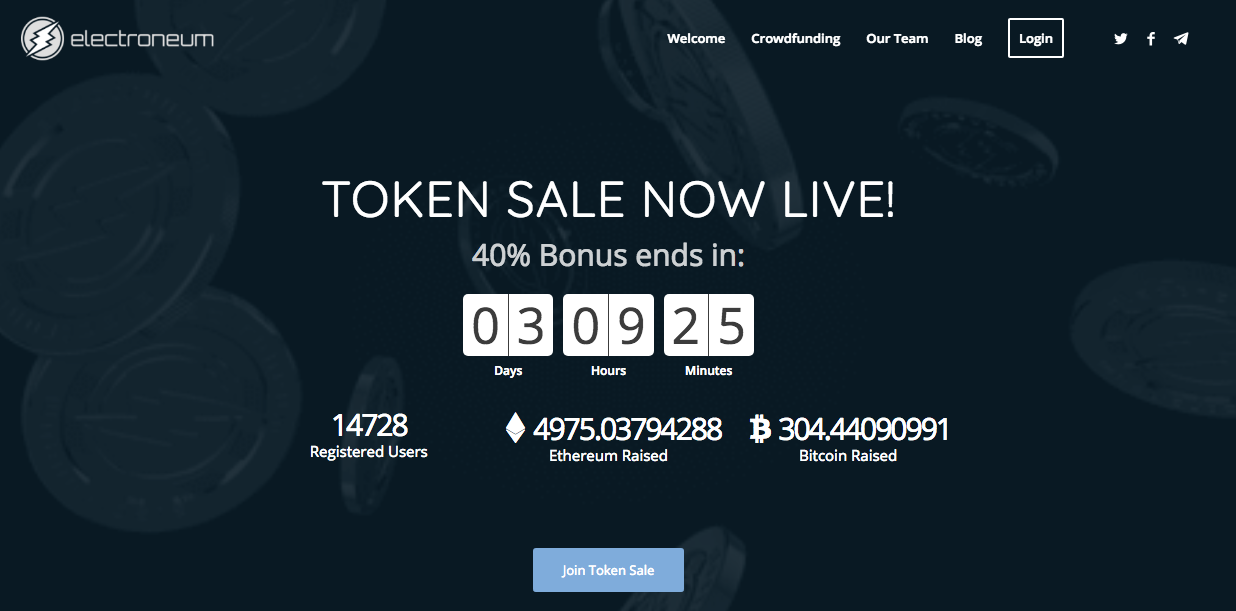 Something that I forgot to mention in my previous posts (My First ICO - Electroneum
and Electroneum: Crypto currency for the masses) is that before the ICO started, Duncan Logan voiced his support for Electroneum, and mentioned this would be the first ever ICO he would buy into. You might be wondering, who is Duncan Logan? Why should I care? He is the CEO and founder of RocketSpace. Doesn't ring a bell yet? How about Spotify and Uber? Yes, I am guessing those are names you are familiar with. Well, they were both nurtured in the RocketSpace environment, which I think is pretty amazing because this guy knows how to spot a unicorn. ;)
To all those crypto currency experts out there, I know Electroneum doesn't sound as exciting. The truth is that Electroneum was developed for the average user in mind, someone like me, someone new to crypto currency or someone who wants to make some extra cash through crypto (even if a small amount) but is not interested in learning all the ropes behind it. But it should not be dismissed for these reasons because it was designed to be used in the online gaming and gambling industries, which are huge. I am sure billions are spent each year, which is why I see this particular user-friendly coin as a strong one. It has real token applicability and it is something I will use. If I am going to invest on something it has to be something I would actually use (I know everyone won't agree with that, but it is one of the things I consider when investing in an ICO).
You have until September 27th, 2017 (a bit over 3 days) to get the 40% bonus … that is 140 ETN coins per 1 USD you invest, so don't miss out on this! Starting September 28th, 2017 you only get a 30% bonus (and remember, if you use my referral code - 5E52E7 - you get an extra 1% ... you can also click here: https://my.electroneum.com/join/5E52E7).
A huge THANK YOU to all those users that have already used my referral code. I didn't know this (not sure how I missed it!), but the Electroneum referral program entitles you to get a 5% bonus on all ETN purchased by people that use your referral code to participate on the ICO. So be sure to register and start sharing your own referral code to earn some extra ETN. ☺
The good news is that you can also invest from exchanges such as Coinbase, Kraken (there is a setup guide), to name a few because after you decide how much you want to invest and selecting your payment method the system will generate a unique / personal BTC or ETH wallet (depending on the payment method you select) which is used to fund your Electroneum (ETN) purchase. This will enable the team to track the transfer accordingly and ensure you are being credited with your ETN once the ICO is over. Unfortunately bank transfers are no longer being accepted due to security reasons … But before you do any investment, be sure to visit their website: http://electroneum.com and read their whitepapers as there is a lot of detailed information on them. They have 2 WPs, one is the overview and the other one has the technical information.
I haven't mentioned this yet because I am still working on a blog post to cover that, but Electroneum also happens to have a wonderful bounty campaign. The total bounty pool for the whole campaign is 20 million ETNs that will be split into smaller bounty campaigns, covering Signature & Avatar on Bitcointalk (which includes newbies!), Social Media (Facebook & Twitter), Creative, Translation/Moderation/Community Management, and Other (for influencers and newsletter owners).
The ICO is scheduled to end on October 31st, 2017 or until the 6 billion ETNs reserved for the ICO are sold. I know October 31st sounds far away, and 6 billion sounds like a lot, but you should sign up sooner rather than later, as you can collect more stakes. ;)
In the meantime, visit the official Bitcointalk thread for more information.
Happy ICOing everybody!
Ally
PS. Links to some of my other articles. Some are available in English and some in Spanish. I am trying to get all of them in both languages.