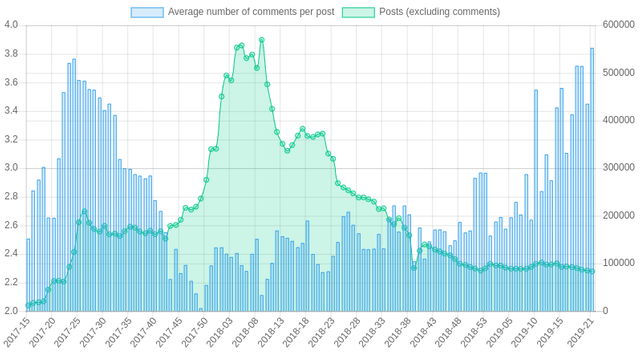 - STEEM Changes -
I don't know if it is too late, but from what I understand, rewards for Content Creators on the Steem Blockchain are about to go down while the payout for Curators is going to go up.
If that is the case it makes no sense to me, and it makes no sense to the Steem Blockchain at this moment based off Stats provided by @penguinpablo
This shows Content creation is currently in a Downtrend, and user Curation is on a MAJOR uptrend. This means that Curators are currently satisfied, if not highly satisfied being curators via up votes and Commenting. The data clearly shows that Commenting is on an uptrend, while Content Creators must not be too happy since some are doing less of it.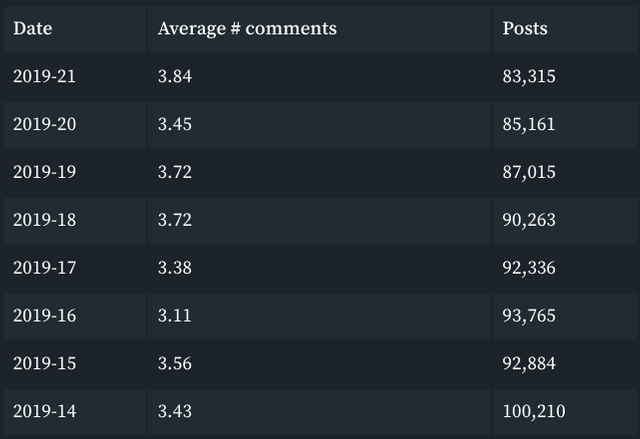 Numbers don't say anything, it is up to people to look at them to see what it is they are saying.
the Green Line Shows Posts (content creation) on a Major Downtrend in the First chart

Commenting average per Posts climbing
Conclusion:
Post authors not engaging - possibly not happy with current payout, Steem Price, and other possibilities.

Curator activity increasing - possibly happy with current payout, more passive engagement, ease of use, LESS CONTENT TO CURATE?? etc etc etc

Remember when Authors were receiving more support from Whales, Orcas and Dolphins?? Remember that it created a lot of hype for Steemit, Steem and the Steem Blockchain?

For Content Creators - commenting on others and up voting others is key to SUCCESS here on Steemit. You can't just create good content and expect to succeed without engaging your followers as well as the STEEM Community. ENGAGEMENT WITH OTHERS HERE IS IMPERATIVE!!!
My 2 Steem Cents,
+++ @streetstyle
Source for charts and stats = @penguinpablo