Realization which sparked a period of personal growth and a new understanding of myself and others.

Business author, Tom Peters once said: 'Leaders don't create followers, they create leaders'. This quote was on to say list when I was preparing for leading my first 'leadership and public speaking workshop' intended for 25 young (12-15 years old) Chinese students in Chengdu, China. Preparations were all done, and suddenly, I found myself in completely new surroundings. Coming from a small village with only five thousand people, without any tall buildings, where the tallest house is 5 floors tall, made myself questioning how I am going to teach children from the town with fifteen million people, and average buildings' height of twenty-eight floors. But I was very passionate and confident about the skills that I am going to teach them, and I felt that we will have a lot of interaction while learning. The workshops were 10 days long, and on our 1st day, I already realized that it will not be as simple as I thought it will be. Before we started the introduction part, no one was engaged in conversations with each other, females were sitting on the one side of the table, and males were on the another, and no one was comfortable speaking to me in English.

To make them feel safe and comfortable with each other, we did lots of practical energizers and ice breakers. Slowly, but surely, we have reached the point where we could talk and exchange ideas amongst the group. It was impressive that without good English level, all of them started learning about leadership and public speaking from the scratch, and besides all of their academic pressure in schools, and additional maths/language classes, each one of them was always punctual and ready for our workshops. One of our significant activities was to create the highest tower; with 30 pasta sticks, and marshmallow set on the top. For 15 minutes, in groups of five, everyone was challenged. The tallest and the most stable tower was only 2 inches tall. Second very significant activity was a writing a speech and presenting it to other students. Each of them was scared of presenting, and it did not go very well. But why do I say that those two activities were the most important ones if they faced the biggest failures? I didn't give up on them, they didn't give up on me. We continued working on our confidence, and reliability on each other. To make them laugh, I was even singing in front of them. The atmosphere was significantly improving. Furthermore, we evaluated where were mistakes in the two of our activities, and how should we fix them. On the last day, we repeated our previously failed activities in front of their family and friends. This time, they used learned leadership skills such as collaboration, organized leadership, brainstorming. They improved their public speaking skills such as being confident, timely accomplishing goals, visioning, using body language, etc. The highest tower was incredibly stable, and 12 inches tall. Each speech was clearly interpreted, and all of them used the technique of eye contact and body language. You could easily see how proud they and their parents and friends were.

Those youngsters taught me an important lesson. That to create a good quality leader, you need lots of patience, time, and knowledge to give. You need to be trustworthy and rely on the team. Being aware that I positively contributed to their development of knowledge, encouraged me to work even harder in transferring useful knowledge and skills. These 10 days enriched me as a person and made me understand the importance of real teamwork, independently on the age of the team. If there is one thing that I am sure of, is that those young students will continue to improve, and in short, future, become confident and influential leaders and public speakers.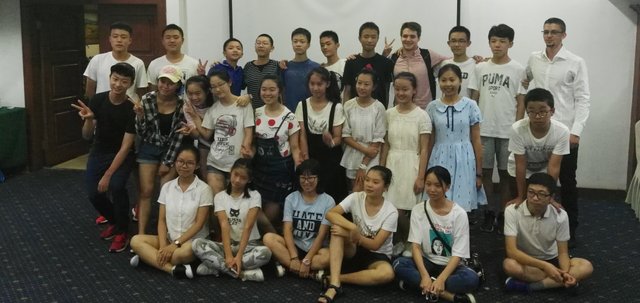 I hope you enjoyed reading this article.
Please feel welcomed to leave a comment/feedback, or share it with your community by resteeming this post.
:)
@keyss