Education in Estonia Through EduHouse Global
Study in Estonia?
Next Intake: September 2020
IELTS Required
Want to study abroad in Estonia?
As one of the first fully-digitalized societies in the world, few countries could match the technological advancements that Estonia has achieved. Students taking up an education in Estonia are given a glimpse to the world of tomorrow, where almost every facet of life – healthcare, business, even government elections– are done online.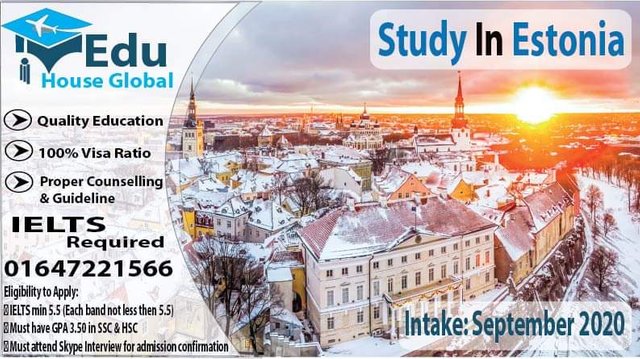 The capital city, Tallinn, has been one of the world's seven most intelligent communities. In addition, English is widely spoken throughout the country and internet access is free in many locations. Estonia is one of the most connected countries in the world, with electronic identification cards, e-government and online voting.
✅Eligibility to Apply:
☑ IELTS min 5.5 (Each band not less then 5.5)
☑ Must have GPA 3.50 in SSC & HSC
☑ Must attend Skype Interview for admission confirmation.
✅Academic Programs:
☑ Bachelor Programs
☑ Master Programs
☑ Doctoral Program
Our Service:
✅ Visa Assistance
✅ Free Counselling and Proper Guideline
✅ 100% Visa Ratio
✅ No Service Charge Before VISA
✅ Confirm Your Seat by Registration this Link
http://bit.ly/2utf2Y6
Our Office Address:
EduHouse Global
House- 284, Road- 03, Thikadar Para, Bikon More
Rangpur, Bangladesh
Contact: +88 01647-221566
Email: [email protected]
Web: www.eduhouse-global.com