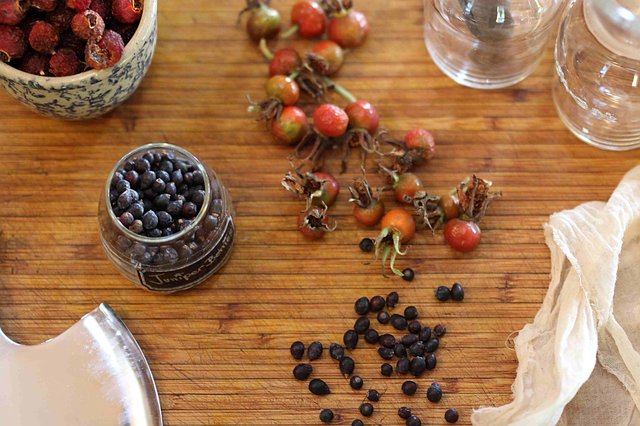 It's that time of year and I've got an itchy scratchy throat and sniffles.
We've started the wood stove and my sensitive lungs are protesting. We've close the windows - even worse. I am the kind of person that has every window in the house open as soon as the weather allows for it and I dread that day when we close them.
I decided to go and gather some of the remaining rose hips from our many rosa rugosa bushes to make a healing syrup. Rose hips are packed with vitamin C and other goodness.
I found a recipe on-line for a syrup that uses honey rather than sugar and a bit of booze, it sounded perfect except for the fact that the recipe called for elderberries. Sadly, our newly planted elderberries are not producing yet. I decided to modify the recipe and use wild gathered juniper berries.
I have of course been sampling this syrup frequently since cooking it up and it is delicious, soothing and very nice indeed! Almost too nice. I think this syrup would be enjoyable in a hot toddy or even a splashy cocktail.
Facts and Nutritional Details about the ingredients
Rose hips & juniper berries what could be better? These are two ingredients that we love to use. They are packed with a surprising amount of nutrients and can easily be foraged. I write about rose hips and their many beneficial uses quite often. You can explore even more ideas here.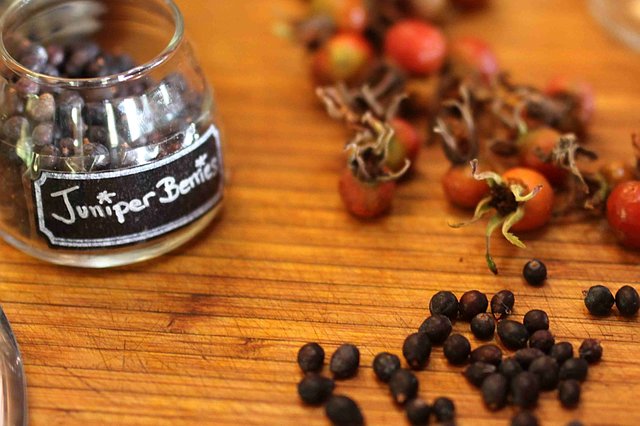 Rosehips
The 'Hip' is the fruit of the rose. All rosehips are edible as long as they've been picked from plants that have not been chemically treated.
You do need to remove the irritating hairs from inside the rosehip so I don't recommend popping one into your mouth and chewing as you'll likely have a scratchy throat and unpleasant experience as a result. Considering that this is a recipe to help relieve such symptoms - we really want to avoid that!
Rose hips are really very good for supporting our health. They are packed with vitamins, minerals, organic compounds, and other essential nutrients. Some of these beneficial components include vitamin C, A, E, and vitamin B-complex, as well as minerals like calcium, iron, selenium, manganese, magnesium, phosphorous, potassium, sulfur, silicon, and zinc.
Additionally, they contain organic compounds, including lycopene, lutein, pectin and beta-carotene, which are all beneficial to our body. The antioxidant components: flavonoids, phytochemicals, and carotenoids also contribute to the overall health benefits of this fruit.
Juniper Berries
The juniper berry plant (Juniperus communis) is a small evergreen (coniferous) plant often found in parts of Europe and North America; though, it has a wide distribution north of the equator. The juniper berry is bitter tasting and not a fruit!
Juniper berries are loaded with minerals and vitamins including: copper, calcium, iron, zinc, limonene, phosphorous, magnesium, chromium, potassium, and selenium, vitamins B (B1, B2, and B3) and C. They also have a rich content of phytochemicals and essential oils, rich in antioxidants. source
How To Make Rose Hip & Juniper Berry Syrup
Simple ingredient,s easy to make and packed with vitamin C this syrup is a great alternative to those mysterious concoctions sold at the drug stores or chemists.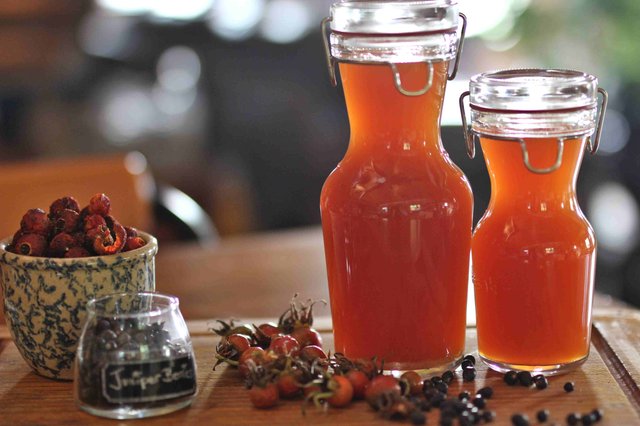 Here's a link to the lovely original recipe and my modified version follows below.
Ingredients
1/2 lb fresh ripe rosehips - washed with stems and blossoms removed.
1/4 cup juniper berries (dried or fresh)
5 cups of water (to be reduced down)
2 cups honey
1 cup whisky or brandy
A large pan strainer & cheesecloth
Sterilized bottles for storage
Directions
Remove the blossoms and stems from the rosehips and wash well. Place rosehips, juniper berries and water in a blender and pulse quickly to break up into small pieces.
Pour the mixture into a pan, bring to a boil and then turn down to a gentle simmer for about 45 minutes. You want to reduce the liquid a bit and extract the goodness from the rose hips and juniper into the water.
Allow to cool to warm. Strain well through a thick piece of cheese cloth. Rose hips have irritating hairs in them and you don't want to be swallowing them!
Add the honey and stir well
Add the brandy and stir to combine
Pour the syrup into a sterilized (very clean) bottles and store in the refrigerator.
Usage
Take a spoonful or two as needed or mix with fizzy water or other fancy ingredients as you please. This syrup should keep well for a month or two in the refrigerator.

[@walkerland ]
Building a greener, more beautiful world one seed at a time.
Homesteading | Gardening | Frugal Living | Preserving Food| From Scratch
Cooking|

You can also find me at: walkerland.ca |
Facebook

All Photos copyright: @walkerland