@thetreeoflife in her 100K Homestead Challenge asked:
If you could start your Homestead over, completely from scratch, and you had a hypothetical budget of 100k US dollars in your pocket, how would you plan and prioritize?
A variation of this question often pops into our minds when we walk our dog up the hill, on a beautiful piece of property with a view of the lake and a opening in the forest with a south facing slope on the hill.
My husband usually says, "if he were younger, he'd really like to rebuild here with an earth bermed house, digging into the hillside."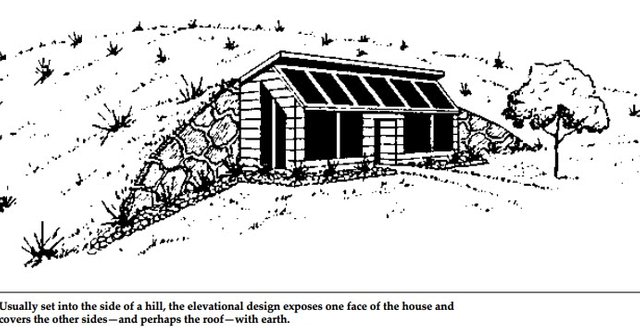 Source
That is one thing we miss living right in the forest - direct sunlight in the winter, for the sun will not come over the treetops.
We would take advantage of the insulating factor of the earth for all the walls and roof of the building except the south side.
With the south exposure we would set it up to take advantage of the sun for growing indoors and for passive solar heating. Lots of windows (these would also give us a good view of the lake) and heat sinks (rocks on the walls, dark water containers, etc.)
With good exposure to the sun we would also set up a solar power system, something we haven't been able to do in the bush.
A well with a wide mouth casing (this allows you to draw water by hand if needed) would be our next priority.
Then I would start planting my orchard and developing my permaculture beds, really building up the soil.
I can live with an outhouse and buckets for gray water, etc. but eventually I would want to set up something like @mountainjewel with their humanure, composting toilets.
We have a septic lagoon right now, all gravity feed, which works fine but Hey! If you can use it to feed the soil all the better!
When we first set up our homestead we choose our place because we liked the people in the community and we wanted to live in the forest. It was either in the forest or by the ocean and by the ocean was way to expensive.
I think it's also important to have a community that you can get along with, for in hard times if the community can come together there is a lot of strength in that.
Thanks for stopping by!
I love engaging with folks here so please feel free to leave any comments or questions,
if you found this post beneficial an Upvote is appreciated.
If you enjoyed this post,
Please don't hesitate to follow me here on steemit at @porters