**This series is really one of my favourite features on Natural Medicine. We get to know more about Steemfolk who practice natural healing in their day to day lives, and celebrate what makes them unique. This week, we're super chuffed to bring you the DRIVER of @ecotrain!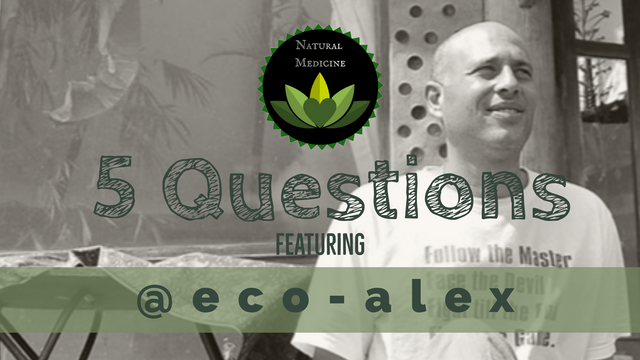 @eco-alex is the founder of EcoTrain, who aims to 'make the world a better place' by creating awareness about sustainability, the environment and other practices that have conscious awareness at their centre. He is the owner builder of a beautiful earthship in India (we've included a picture here, because it's just so damn GORGEOUS!) and you can find his book on Amazon, as well as Steemit's own @homesteaders coop here as an ebook - that is also on sale RIGHT NOW! He is a kind, generous and beautiful Steembeing, and we are thrilled he took the time to answer our 5 Questions. Please enjoy!
Oh, and check out his most recent Natural Medicine related posts below!
Rejuvelac - Natures Own Probiotic
The Fast Track to Bliss
1. @ecoalex, you've been a big presence on Steemit with @ecotrain, whose wonderful tagline is 'Making the World A Better Place'. We're super excited to see it's resurgence. Can you tell us a little bit about how Ecotrain came about, and where you see it headed? What do you enjoy most about being a Driver for this great community?
I discovered Steem from Jerry Banfield (remember him!) in June 2017, and that was not long after I discovered the blockchain in general. When I discovered Steem and what it was, I simply fell in love! I wanted to support Steem, the blockchain, and also some amazing friends who I knew had a lot of great things to say and share and could potentially make some money doing so. SO the ecoTrain all began on Facebook and I wrote this huge powerful post to my whole network and looked for people who wanted to join me. I found about 10 of us, including four of us who were willing to commit to buying at least a few thousand dollars worth of Steem to help drive the train and support our Passengers. WE started with some amazing people, who have all moved on now, except @likedeeler who was one of our VIPs and put his money where his mouth was. I also put in around $8,000, which was most of my crypto portfolio.. but lets not talk about that!
The best thing about the ecoTrain is of course the people in it and the community. We are much less exclusive than we use to be, and its so good to consistently meet and discover more like minded and amazing people! The #ecotrain feed is my favourite feed and the place I got to when I want to curate and find good posts.
Long term, the highest goal for ecoTrain is to be able to use funds from Steem to create an entire off-grid community somewhere in the world that can lead the way to demonstrate sustainable building done PROPERLY using BIOTECTURE theory. It would also demonstrate community living in a more harmonious way through honouring the real principles of None Violent Communication. Even today almost NO ONE understands this properly, and I only really came to understand it well very recently after watching one special soul explain it! That led me to writing this post: https://steemit.com/ecotrain/@eco-alex/probably-the-best-parenting-advice-you-ll-read-don-t-say-no-never-praise-complement-or-reward-no-demands-or-punishments-the-real . The video that inspired it is at the end and I whole heartedly recommend everyone to watch it as it changed my life!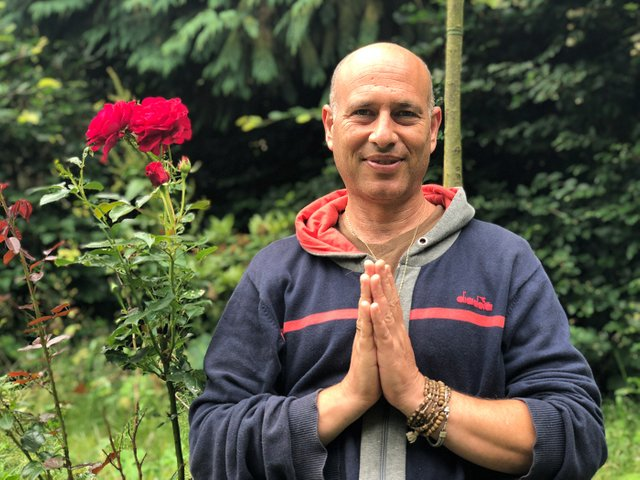 2. Recently, you took a much needed break for self-reflection and exploration. You said you were off exploring the 'innernet', a fantastic phrase. What value, do you think, does the 'innernet' have in our lives, and why should we go there?
Ahh the innernet! This whole new approach to life came about at the end of last year, when I was having a pretty hard time in many ways. One of main reasons I started looking at the innernet was as a way to reach people in a different way to the normal dialogue, debates, posts, videos etc that I have spent so much of 2018 with. I can remember the biggest controversy I caused was on Facebook, when I posted a comment about Global Warming being a hoax, and it just being a money grab with no real effort being made. I think I spent about two to three weeks dealing with all kinds of people who were really opposed to what I was saying. One of them was some kind of scientist who drove me totally nuts with his illogical conclusions… the most annoying of which was that he believed nuclear power to be totally safe and the best option for our future. Pointing him to a long list of known nuclear disasters didn't seem to make any difference!
Anyway, I am someone who is quite deep and spiritual, and experience life a little differently to the mainstream. I know that we are all connected, and I can feel it.. its much easier when you live in a quiet place, in nature to hear and feel the world. And because we are all connected in a network of consciousness, our thoughts and feelings interreact with it and each other. So, in January 2019 I decided to unplug from the internet, I turned off my facebook account and withdrew from the internet almost totally, including steem. I turned my focus inwards, and started meditating every morning at 5am, and doing the things that I had neglected for so long as I was too busy online!
So the changes that I want to see in the world.. I feel them.. I hold this positive feeling toward the things that I think are important. I think about certain people and send them light and information, and this resonates and is shared with the whole grid. This approach works in the most cosmic an metaphysical ways, and is really the old traditional 'shamanistic' way of changing the world. It is SO much easier and there is no ego, bullshit, stress, and endless banter to have to deal with. Oh what joy!
There is much more I could say about the innernet, but I would also like to say that it is also where I get MY information about anything.. I try not to use google, especially for opinions, and when I seek answers they just come. I use google to confirm my ideas, and more often than not I get it right! A nice example is my cat called Grey. She's been having a lot of fleas lately, and I don't want to use any chemicals on her that could be toxic. Fleas are HARD to knock out, and so I just asked the innernet what to do. Almost immediately I got the answer, to put baking soda with some water all over her. So I quickly checked with google and immediately found many people talking about using baking soda for fleas.. Two things were interesting about what happened next.Normally Grey is not happy about ANY interference with her, and doesn't even like being picked up. When she comes, she comes of her own accord! First is that Grey let me cover her, soak her, with this baking soda.. VERY out of character. She let me spend 10 minutes applying it and then she went off. The fleas left her and she seems SO much happier ;-) The good ol Innernet. Id spend three hours on a hundred different websites using the Internet, SO inefficient!
3. On your blog, you often post about foods as natural medicine, from delicious smoothies to rejuvelac. What is your favourite medicinal food, and why?
Oh that's a hard one! I guess pizza doesn't count huh!? I think I would have to say … miso right now. I just LOVE the stuff, and im really learning how Important gut health is to our WHOLE mood and outlook on life. It tastes amazing and there are so many ways to experiment with it. My latest favourite recipes are Miso Glazed Eggplants Grain Bowls with Basil, Miso Tahini Noodles with Asparagus and Tofu, Oh and lets not forget the Sweet Potato Turmeric Miso Soup!
4. Another 'natural medicine' you enjoy in your life is mantra or kirtan. We'd love to know more about this and what it means to you.
Good timing on this one! I've been playing a lot of Kirtan lately with some of the guests that pass through my community. There is a LOT that can be said about Kirtan, but I will share something deep and meaningful. I have lived here in India in a community led by a man who was a part of the original hare Krishna movement. He has so much deep and esoteric knowledge and wisdom, and we have talked about, and shared so many hours of kirtan together. Those were our best times without any doubt.
In India it is said that the mind is like a mad monkey. The mind will never totally let go of thinking, and will never cease to think and speak mad things. The mind is like a crazy monkey! So, it is said that Mantra, and Kirtan and Bhajans are an extension of that, and that it is the ONLY way to liberation. Whilst we chant or sing, our minds are preoccupied with the divine. The mad monkey is tamed, and we may reach high enlightened states of bliss through repetition and singing. Kirtan is where people sing bhajans together in a call and response fashion, and it takes me to places that no other music has ever taken me. SO I sign often, usually at 6am after my meditation.. and that lifts my whole the day, heart open!
If you are interested to see what REAL blissful kirtan looks like (Krishna style) check this out:
5. I've been fascinated with the Ecotrain 'Question of the Week' that brings Steemians together to talk about philosophical, and often controversial, questions. In many ways, I've personally found intellectual exercises like this can be a form of healing through self-exploration, dialogue with others and often, putting our thoughts into action that can indeed 'make the world a better place'. What has been your favourite QOTW to date in that regard, personally, for you?
Matriarchy! Wow that was a powerful three part QOTW. I knew very little about this subject beforehand, and I can still feel the intensity and power of that month! Clara led the questions and we were all really engaged with it, the posts were awesome, and I felt like I got a real education from it, I learned a lot!
Here is one of the tie-up posts: https://steemit.com/ecotrain/@eco-alex/matriarchy0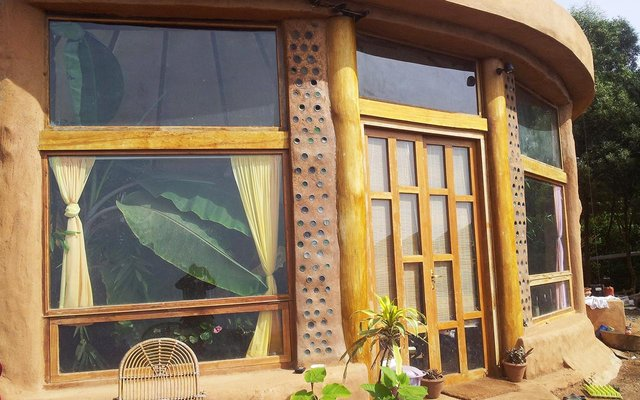 Alex's stunning earthship!
Have you enjoyed posts under the #ecotrain tag, or every got tangled in a Question of the Week?
Are you a fan of kirtan or miso?
Natural Medicine is a big supporter of @ecotrain - go check them out!


Natural Medicine Needs YOU! Please consider delegating to @naturalmedicine by clicking any amount below to help keep this collective going. The minimum entry for membership is 20SP (free for members under 150SP), and helps support and celebrate your work with natural remedies, healings and nurturings on this gorgeous blockchain! Join us on Discord here - we'd love to have you!