[ENG/ESP] 830 masl of pure adrenaline. Santa Ana hill. Paraguana. Venezuela / 830 msnm de pura adrenalina. Cerro Santa Ana. Paraguana. Venezuela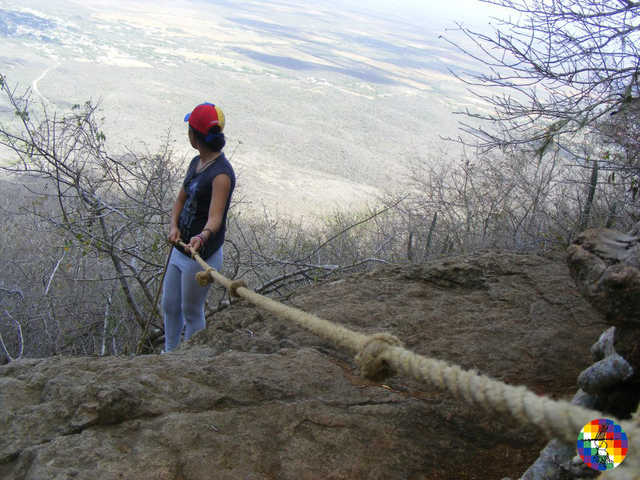 🌵🇻🇪🌵
Of the most unusual trips I have had, the one at Cerro Santa Ana did surprise me
De los viajes mas insolitos vividos, el Cerro Santa Ana sorprende.
An imposing hill that is not allowed to flatten by the strong winds of the Paraguana Peninsula, a place where time flies between cardones and prickly pears, where each step is important to move forward safely.
The Cerro San Ana, is a really amazing space, in its ascent we can see its great diversity of fauna and flora, which according to the meters of height are shown. 5 "biotic floors", this means that we go through five completely different types of climate and vegetation, until we reach the top.
Un cerro imponente, que no se deja aplanar por los fuertes vientos de la Peninsula de Paraguana, un lugar donde el tiempo se te pasa volando entre cardones y tunas, donde cada paso es importante para avanzar con seguridad.
El Cerro San Ana, es un espacio realmente inolvidable, hacer senderismo por sus caminos es volver a tiempos jurasicos, en su ascenso podemos ver su gran diversidad de fauna y flora, que según los metros de altura se van mostrando.
Los expertos hablan de ¨5 pisos bióticos¨, esto significa que al transitar su camino, se pasa por cinco tipos de clima y vegetación completamente distintos, una aventura natural donde el reto es disdrutar hasta llegar a la cima.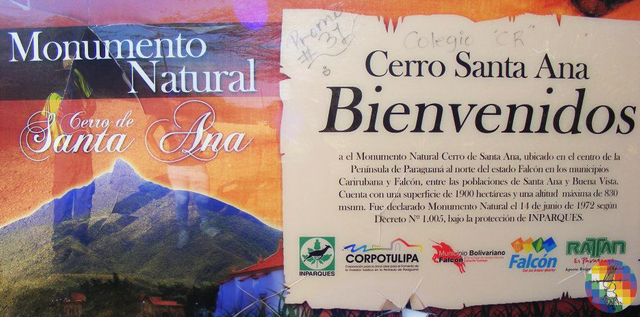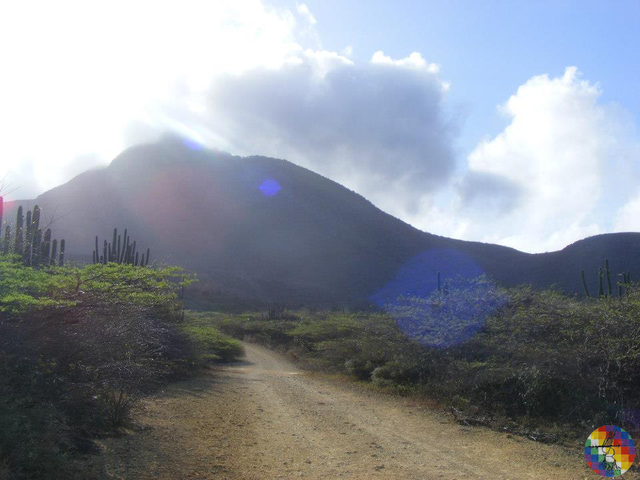 🌵
Initially the area is dry, dry, with little life to simple life, accompanied by a forest of thorns, where a cemetery of shoe clogs stands out in the landscape, the weather is inclement, with high temperatures and little wind.
After overcoming this section of the route, the road begins to narrow, opening the way to a different sector, the Tropofítica area, where the presence of the wind gives us its freshness, the bromeliad plants also arise showing us their beauty, in addition to a small creek that it serves to give us encouragement and to make us go on, the weather changes dramatically, showing us the beautiful greenery that occurs with the presence of water.
En un inicio la zona es xerófila, seca, con poca vida a simple vida, la acompaña un bosque de espinas, donde un cementerio de zuelas de zapatos resalta en el paisaje, el clima es inclemente, con temperaturas altas y poco viento.
Luego de superar este tramo del recorrido, el camino empieza a estrecharse, abriendonos paso a un sector diferente, la zona Tropofítica, donde la presencia del viento nos regala su frescura, las plantas bromelias tambien surgen mostrandonos su belleza, ademas de una pequeña quebrada que sirve para darnos aliento e incentivarnos a seguir, el clima cambia drasticamente, mostrandonos el hermoso verdor que se produce con la presencia del agua.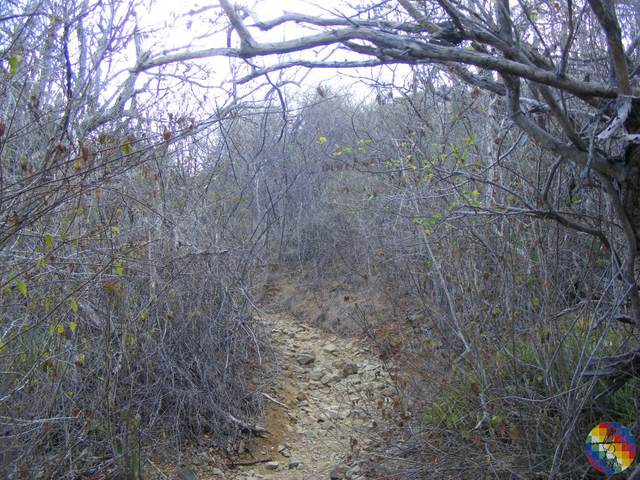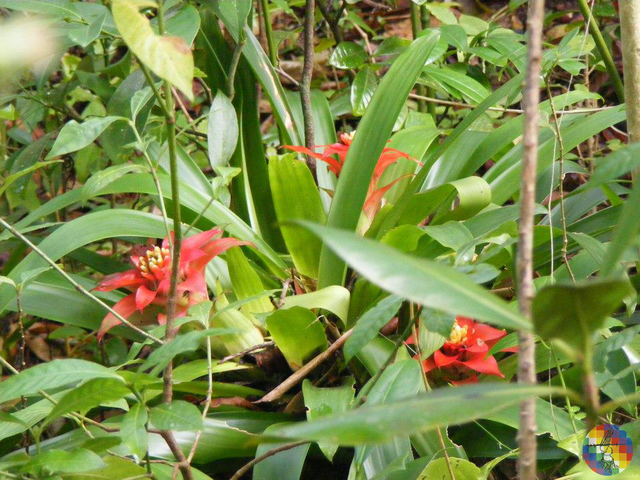 🌵
Magically that creek, makes the walk more enjoyable, a new climate change appears, taking us to the humid tropical forest, the walk becomes tasty, even with the muddy ground and a bit slippery, we enjoy the contact in this beautiful natural space, which it houses the perfect biome for the development of life of a species, visually spooky and at the same time very striking, the tarantula, the most exotic Blue Tarantula, unique in the world and of origin of this beautiful peninsula, unfavorably we could not appreciate it close, but one of her relatives gave us a moment to contemplate her.
Magicamente esa quebrada, vuelve la caminata mas amena, un nuevo cambio de clima aparece, llevandonos al bosque húmedo tropical, la caminata se hace sabrosa, aun con el suelo enlodado y un poco resbaloso, disfrutamos el contacto en este hermoso espacio natural, el cual alberga el bioma perfecto para el desarrollo de vida de una especie, visualmente espeluznante y al mismo tiempo muy llamativa, la tarantula, la más exotica la Tarantula Azul, unica en el mundo y de origen de esta hermosa peninsula, desfavorablemente no la pudimos apreciar de cerca, pero una de sus familiares nos regalo un momento para contemplarla.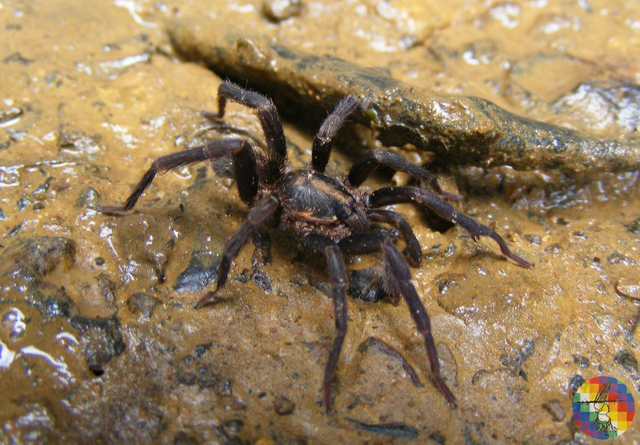 🌵
We continue our way, when the vegetation returns to change, a more open space with steep climbs, the Antillano scrub of our hill is characterized by places with beautiful views, where the entire peninsula is contemplated until its encounter with the sea; letting us notice how small we are to such immensity.
Seguimos nuestro camino, cuando derrepente vuelve la vegetacion a modificarse, un espacio más abierto con subidas pronunciadas, el matorral Antillano de nuestro cerro se caracteriza por lugares con hermosa vista, donde se contempla toda la peninsula hasta su encuentro con el mar; dejandonos notar lo pequeño que somos hasta tanta inmensidad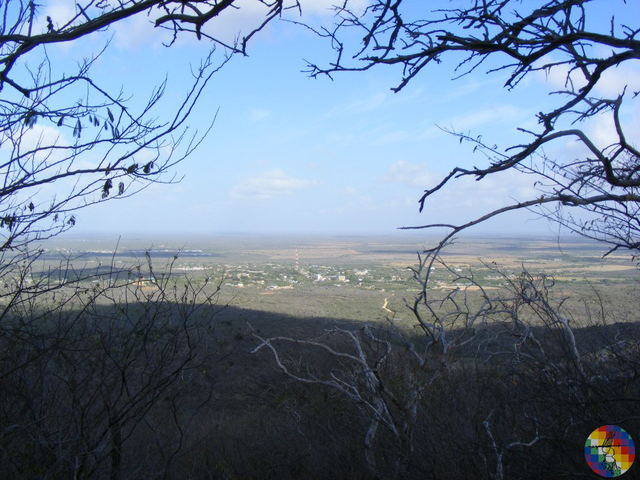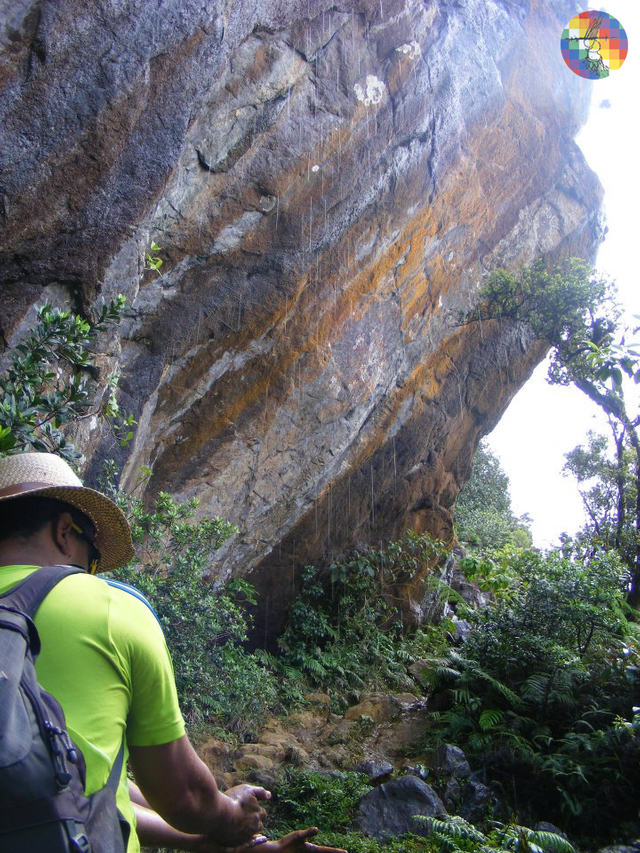 🌵
And finally and before reaching the top, the mountain demands even more, several sections with vertical slopes appear, full of wet stones and ropes worn by wind and air, makes you think that the arrival will be impossible, to this The last section of the trail will be called the pseudo-paramera zone because the vegetation is a bit similar to that of the Andean moorland. The most impressive of the place does not seem to be the dangerous ascent, if not the strong winds that whip, that make you think that you will be shot like a paper plane through the skies.
Ya por ultimo y antes de llegar a la cima, la montaña nos exige aún más, varios tramos con pendientes verticales aparecen, llenas de piedras mojadas y cuerdas desgastada por el viento y el aire, te hace pensar que la llegada sera imposible, a este ultimo tramo del sendero lo llamaremos zona pseudo-paramera por que la vegetación es un poco parecida a la del páramo andino. Lo más impresionante del lugar, no parece ser el peligroso ascenso, si no los fuertes vientos que azotan, que te hacen pensar que seras disparado como un avion de papel por los cielos.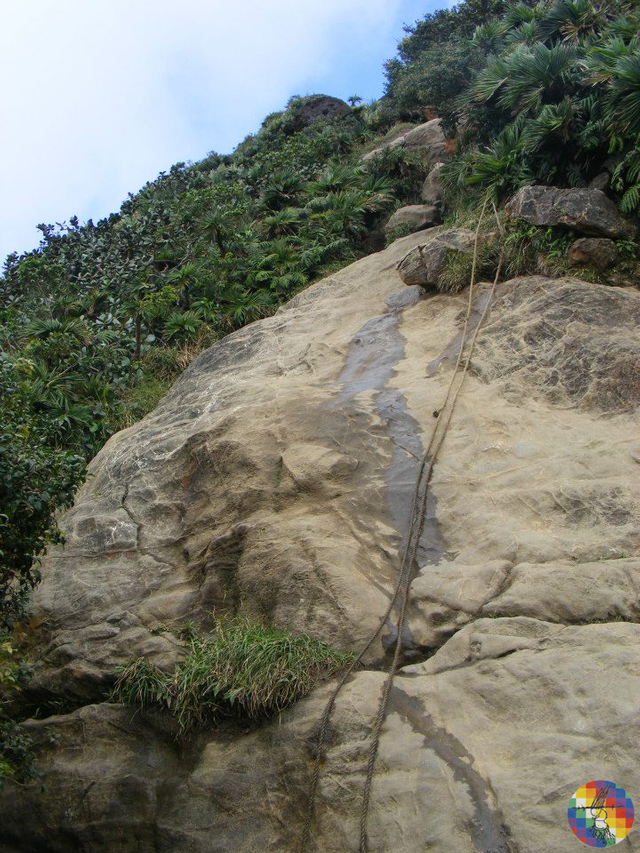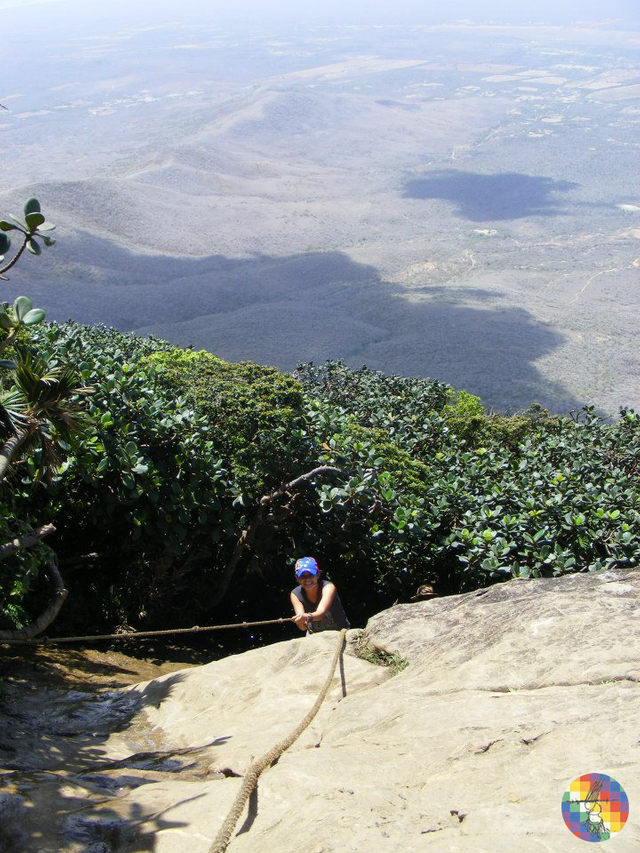 🌵
Reaching the top was undoubtedly a real prize, the gift of perseverance, effort, on the way we see many people return, because the vertigo makes succumb to more than one. We, on our part, arrive exhautos, prepared to replenish energy with a nutritious food, rest and take the momentum necessary to get off.
The return path already known, allows us to hurry the step and at the same time admire the route, makes us reflect on the process of creation of this beautiful hill, unique in the Paraguana peninsula, the magical nature surprises us again, allows us step on more safely. Already back we remember one of the main recommendations given by the locals of the place, and it is: "climb with the cutest shoes you have", because the walk is quite demanding, the high temperatures and the irregular path take its toll on this garment, leaving back the offering of the shoe zuela before leaving the park.
Llegar a la cima fue sin duda un verdadero premio, el regalo a la constancia, al esfuerzo, en el camino observamos a muchas personas devolverse, pues el vertigo hace sucumbir a mas de uno. Nosotros por nuestra parte llegamos exhautos, preparados para reponer energias con un nutritivo alimento, descansar y tomar el impulso necesario para bajar.
El camino de regreso ya conocido, nos permite apurar el paso y al mismo tiempo admirar el recorrido, nos hace reflexionar sobre el proceso de creacion de este hermoso cerro, unico en la peninsula de paraguana, la naturaleza magica nos vuelve a sorprender, nos permite pisar con mayor seguridad. Ya de regreso recordamos una de las principales recomendaciones que dan los locales del lugar, y es: ¨subir con los zapatos mas feitos que se tengan¨, porque la caminada es bastante exigente, las altas temperaturas y el camino irregular le pasan factura a esta prenda de vestir, dejando de regreso la ofrenda de la zuela de los zapatos antes de salir del parque.