The Medicinal Cooking Collective Challenge: Diets for Ailments and Disease, Week 5: COLON HEALTH, COLITIS, IBS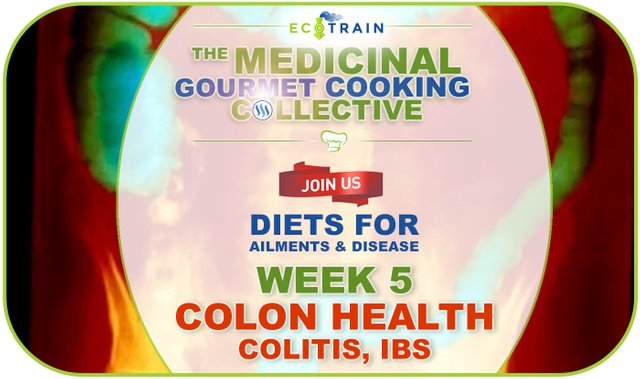 Do you suffer from the following symptoms: Abdominal pain ... Diarrhoea. ... Constipation. ... Alternating Constipation and Diarrhoea. ... Changes in Bowel Movements. ... Gas and Bloating. ... Food Intolerance. ... Fatigue and Difficulty Sleeping. If you have most or all of these symptoms you may have Colitis, Irritable Bowel Syndrome (IBS), Crohn's disease, or allergies.
Colitis and its associated diseases is a very common and even serious condition affecting around 15% of the developed population. It can be a precursor to colon cancer, and should be treated once diagnosed. Unfortunately allopathic medicine, AKA your doctor, can do very little to help you. Doctors don't yet understand exactly what causes it, or indeed how to treat it. It is considered incurable by the medical establishment, and the best course of treatment is eating the right foods and omitting ones that can irritate the colon even further. Since our doctors are not trained in nutrition, and even nutritionists often lack in depth holistic knowledge, let us be here to share the information you really need to know so that you can live a long and healthy life!
We know from previous Collective Challenges that probiotics are one way to improve gut health, but that is only a part of a balanced diet and so this week we will focus on the the type of foods we should be eating and not eating to encourage a healthy gut. In general those who have Colitis or IBS related symptoms must ensure that their diet choices include the following:
Eat a moderate amount of soluble fiber. It adds bulk to your stools. Good sources are whole wheat breads, oats, barley, brown rice, whole-grain pasta, the flesh of fruit (not the skin), and dried fruits.
Don't eat foods at opposite temperatures, such as ice-cold water and steaming hot soup, in the same meal.
Stay away from broccoli, onions, and cabbage. They cause gas, which can make you feel worse.
Eat smaller portions.
Drink water an hour before or after meals, not while you eat.
Remove gluten from your diet for some time to assess if you are allergic to it.
To ease symptoms of bloating and gas, try to avoid gassy foods such as beans, brussels sprouts, wheat germ, raisins, and celery.
The Challenge!
SO this weeks Medicinal Cooking Collective Challenge is to come up with a dish of your choosing that will be good for the troubled colon. It could be a snack, starter, main course, dessert, or an entire meal!
It SHOULD feature any of the following ingredients:

Dairy-free alternatives such as vegan cheese.
Fruits like kiwi, honeydew melon, cantaloupe, and strawberries
Vegetables like lettuce, carrots, cucumbers, bok choy, turnips, potatoes, and eggplant
Grains such as oats, barley, brown rice, whole-grain gluten free pasta.
The flesh of fruit (not the skin)
Dried fruits.
It should NOT feature any of these ingredients:

Breads and cereals made with refined (not whole) grains
Processed foods such as chips and cookies
Coffee, carbonated drinks, and alcohol
High-protein diets
Dairy products, especially cheese
Beans and legumes
Chocolate
Garlic and onions
Broccoli and cauliflower

Please include photos and clear instructions how to make it.
Share any other knowledge you may have about collitis, IBS or similar conditions.
The deadline for posting is Monday 22nd October.

Please use the #ecotrain tag in your post. You can also tag #naturalmedicine as it is so relevant.
Please resteem this post if you want to help spread awareness to others who may be suffering and just don't know the truths and options out there.
Please do comment on this post to let me know if you will join us for this Medicinal Cooking Collective Challenge: Diets For Colitis And The Colon!
You can be sure that through the magic of Steemit and Google that others will find this in the years to come, and who knows how many lives we can change and even save from our efforts here on Steemit.

---
CHECK OUT LAST WEEKS MEDICINAL DIETS FOR AILMENTS & DISEASES
Week 1
Diabetes:


Week 2
Cancer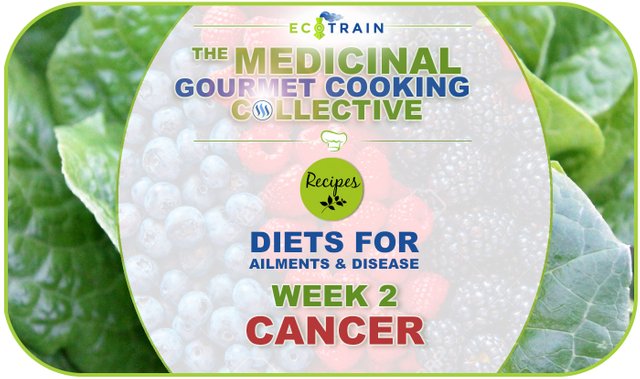 Week 3
Good Gut Health, Probiotics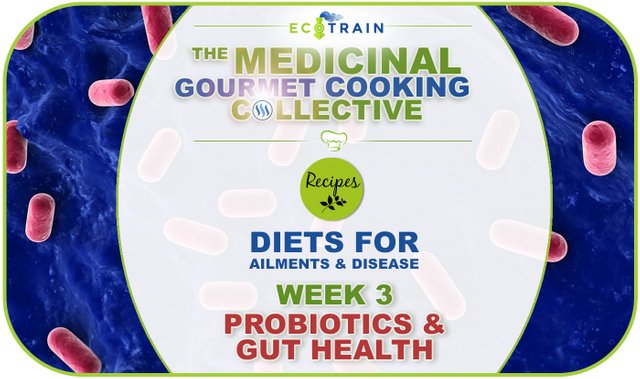 Week 4
Fruit it up Baby! - Medicinal Cooking Collective Diets For Ailments & Disease Week 4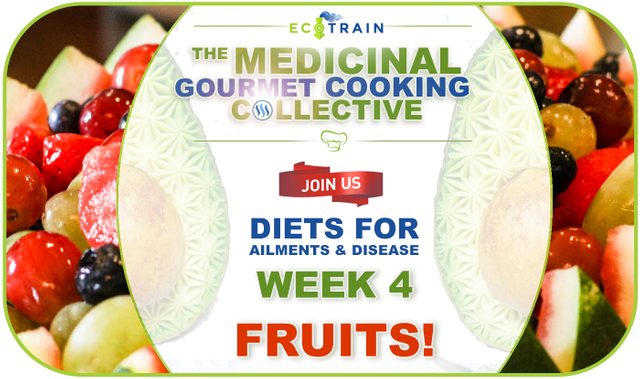 [OOPS!] THIS TIE UP POST NEVER HAPPENED AS ONLY ONE PERSON POSTED! NOW THIS MORNING @vegan.niinja SAID SHE WILL POST, AND I JUST BOUGHT A LOAD OF ORANGES AND APPLES SO I MIGHT DO ONE! SO IF YOU WOULD LIKE TO POST A FRUITY DISH PLEASE DO CHECK THIS OUT.
DEADLINE IS EXTENDED UNTIL 25TH OCTOBER!


Supporting People Who Help
Make The World A Better Place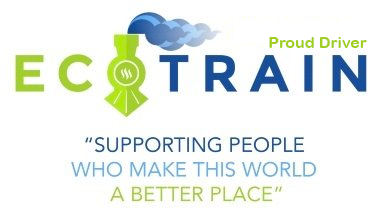 Discover previous ecoTrain magazines at @ecoTrain



The 8 Pillars of @TribeSteemUp