"When you are sorrowful look again in your heart, and you shall see that in truth you are weeping for that which has been your delight." Kahlil Gibran
These last weeks, forests in Asia have brought me close to tears. Many times.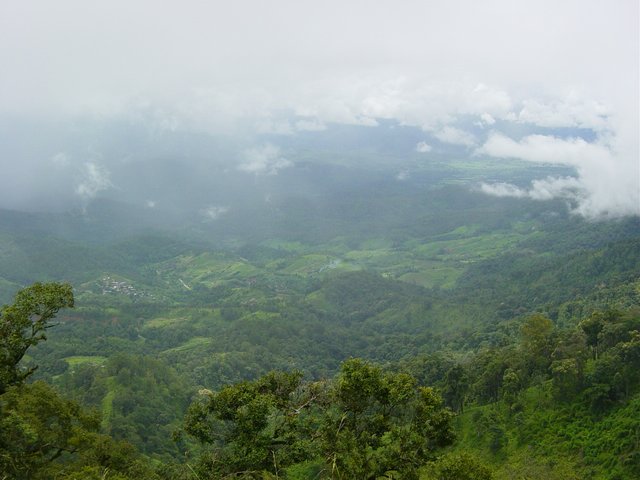 Image: Pai Valley, Mae Hong Son Province
Beyond the big cities of Chiang Mai and Chiang Rai, much of North Thailand is a delicate dance between natural forest, small scale farming, indigenous minority people (who are largely stateless) with some nominal delegated land usage rights, and the ever-growing presence of Big Corporate Farming trying to gain a profitable foothold in this pristine paradise, where natural resources are abundant and labour is still dirt cheap.
It's hard NOT to engage with forests if you live in Chiang Mai, as this city where I live for now lies in a valley surrounded on all sides by mountains. No one lives up there; the Thai people believe (and Thai law reflects) that to be above someone's head is disrespectful, and so mountains are largely the preserve of the King (Royal Family) and monks. We have some ASTOUNDING TEMPLES on the peaks of our Thai forests!!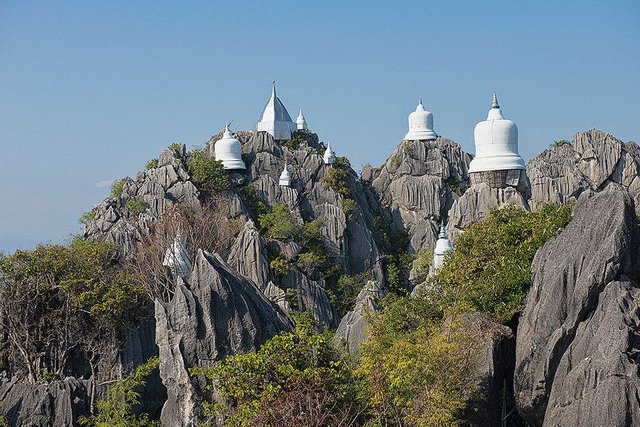 Wat Chalermprakiat, a mountain temple in Lampang, North Thailand.
The surrounding forests literally protect, and are protected by, the temples. But the laws which protect our forests are questionable in their effectiveness and in their patchy implementation. Why? Because, at the end of the day, the forests represent $$$ for several groups and protecting them is not always profitable. Nothing makes that more evident than two issues big in the Chiang Mai media these last weeks.
Air Pollution - politely called "The Burning Season" here in Asia.
Indigenous people denied of statehood-identity but allowed to forage the forests, literally set fire to them so as to be able to harvest a local mushroom specialty - hed torp - which commands a high price and is in HUGE demand in China. With the forest undergrowth gone, the mushrooms are easy to harvest as soon as the first rains fall in late April.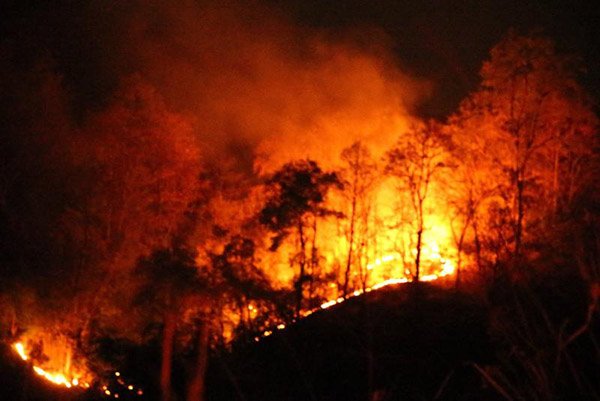 Image credit: Bangkok Post
But more to the point, the steep and small mountain farms, often fringing the forests, lend themselves easily to corn, which is in high demand for both animal feed (for Asia's endless pork obsession) and for the production of ethanol, the biofuel component added to petrol for vehicles. Asia is exploding with vehicles, as the subsistence farmers of the last generation become the western wanna-bes in countries with poor transport infrastructure. The corn grows well in the well drained soil during the rains and is harvested at the end of the cool season but, as these farms have no machinery to manage the massive volume of corn waste on steep land, it is burned, sugar-cane style. Readying the field for the new planting when the rains come and reducing the need for expensive chemical fertilizers.
This recent article and video from Malaysia's Straits Times explains the issue fairly simply: Straits Times Smoke Haze Article.
What does this mean for our forests? the destruction of small wildlife and bird habitat, and the severe degradation of soils, as natural decomposition doesn't happen and the ash makes the soils hard and less able to hold moisture. Over time, although burning does return natural nutrients to the soil, the reduced capacity to hold water means a decrease in species diversity and a far greater risk of landslides during the monsoonal wet season. It also means HORRENDOUS air pollution of 2.5 particulate matter for several weeks of the year - hazardous to health and to Thailand's huge tourist industry. How bad is the air here this Chiang Mai Saturday?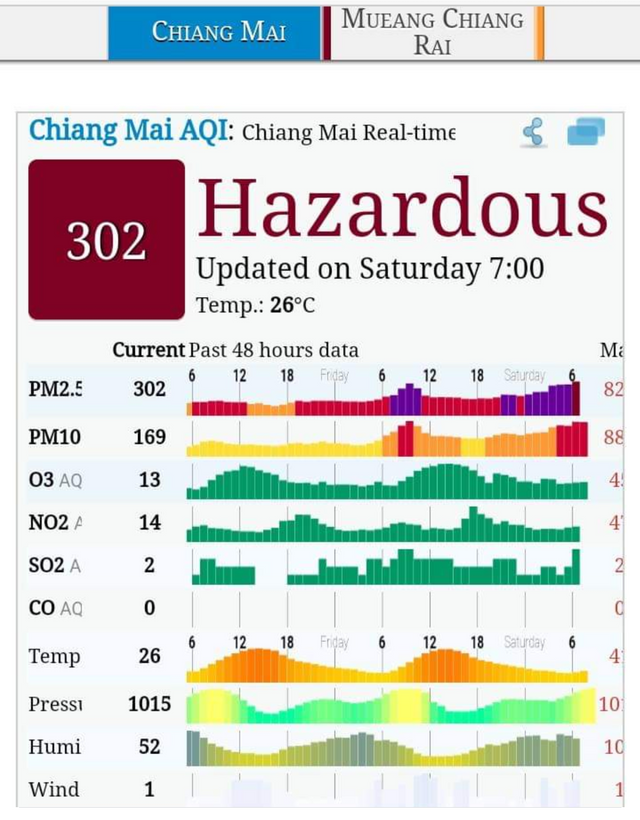 So why doesn't Thai law prosecute the burners? Well, it all comes down to land ownership and the fact that this country doesn't have a social security system willing or able to manage the several hundred thousand indigenous people living semi-legally along its borders in the mountains. Without statehood, they are actually not able to become landowners, nor to farm officially. But they were born on this land and have lived there for generations. The Thai government does allow them foraging rights in the forest. And Buddhist Thailand would not overtly allow them to starve. And so the forests suffer.
And those of us still here in Chiang Mai in late March each year weep - for the mountain and indigenous forest dwellers doing the best they can, for our collective apathy in solving land ownership and refugee issues, and simply because our irritated eyes sting from the smoky air.
Land ownership of "vacant" forest land.
The "Who owns the forests and therefore has a right to burn it?" question pales into insignificance to the OTHER forest issue which had me close to tears this last week. The Burmese government has enacted the Vacant, Fallow and Virgin Land Management Law. In a nutshell, as of March 2019, if a person cannot present proof of valid legal government issued land title, then they are forced off the land they have lived on for years, decades and sometimes generations. And of course, many indigenous people have no legal statehood and so are NEVER ABLE to buy their land. It is a humanitarian tragedy of epic proportions, unfolding in the forests along the Thai-Burmese border. Please take some time to read this incredibly important document from the Karen Human Rights Group; you can find it here. Where will these people go? It's unlikely they will be able to cross back through what remains one of the most heavily land-mined strips on earth - a "no man's land" of some 1,800 km caught up in what is, arguably, the world's longest running civil war. The original villages have been burned, their lands confiscated and their families killed. Which leaves Buddhist Thailand, known for its tolerance and for large amounts of 'grey' employment - poorly paid, dirty and dangerous, but a better option than war or starvation.
Why enact legislation to dispossess hundreds of thousands of indigenous forest dwellers from the land they occupy? Because Burma is deeply in debt to China, because these forests cover land rich in minerals, and because these pristine mountains also are strategic for military control, whilst endlessly being discussed in the Salween Dam project which will supply water & electricity to Burma but yes, also (and mostly) to both Thailand and China.
That the United Nations International Day of the Forest fell on the Vernal Equinox was not lost on me. Balance is the key to the Equinox energy. And the precarious balance of indigenous rights, forest rights, our right to breathe and the right of so many species simply to BE is upset and threatened by LAND OWNERSHIP issues, MONEY and $$$.
Should I give up and simply move to Costa Rica? No.
How to respond to the weeping of my own heart as it resonates with the weeping of Mother Earth?
Engage in forest activism - sign those petitions and EDUCATE the world about the Salween River and the majestic forests of eastern Burma, Thailand and southern Laos;
Create new organic livelihoods for the indigenous mountain dwellers;
BOYCOTT the exotic mushroom trade, just as we have learned to boycott ivory and fur;
Assist Thai people to become effective in their activism, asking the Thai government to restrict and prevent the sale of exotic mushrooms to China;
BOYCOTT the companies behind the toxic GMO corn industry;
Visit the forests often, meditate and pray for their sustenance and survival;
Promote tree planting and forest regeneration projects;
Support alternate businesses in mountain regions so local people have other viable ways to make a living.
I leave you with the inspiration of the mighty Salween River as seen from Mae Hong Son province here in North Western Thailand.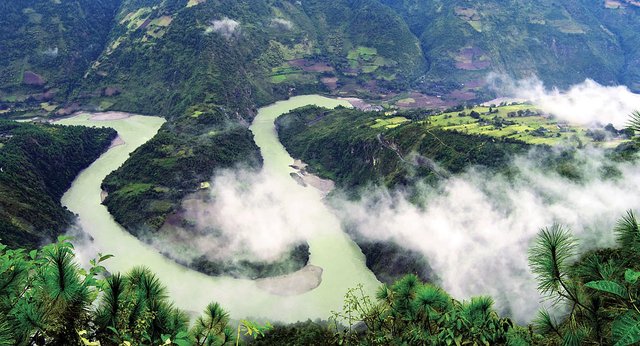 Image credit: Mekong Eye
This post was prepared in response to @ecotrain's steem challenge: https://steempeak.com/ecotrain/@eco-alex/international-forest-day-21st-march-or-please-join-us-for-a-steem-challenge
Come check out my natural Thai herbal business…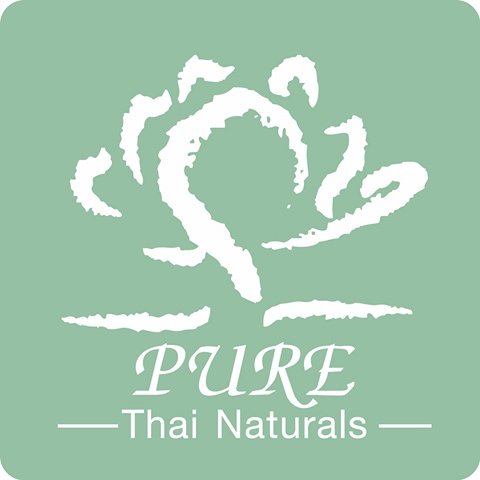 @ecoTrain Eco-Green-Sustainable content on Steemit

Proudly contributing to @naturalmedicine

Grateful for the curation and support of @tribesteemup

Celebrating and encouraging Freedom, Truth, Happiness, Life and Love with @freedomtribe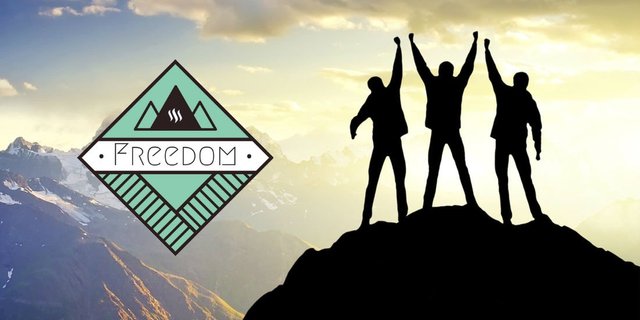 Contributing to the @earthtribe. Cos it MATTERS.