--Having read other books by David McCullough my expectations were extremely high for the release of this gentleman's great work in the past standards in landmark works he has achieved. "The Wright Brothers" delivers on that past standard of excellence expected and then some. The biographical historian has covered countless historical figures in United States history and abroad and brings life to the brothers, and the great Wright family from Dayton, Ohio.
--I have heard people mention that historical biographies can be boring, purely fact or statistic based but this narrates the lives of Wilbur Wright and Orville Wright as the "grounded (pardon the pun)" individuals they are and the international supernatural forces of celebrity they become after mastering Humankind's fascination with birds and the possibility and pursuit of the flying machine.
--Personality traits of the gentleman practical geniuses become a great revelation of the value of the content in this book as I was insanely curious of how these men thought, who were the people that had the greatest influence in their lives, how they reached successes in aviation, what happened to them after reaching this success, and so many other countless other questions one may seek when reading of what is popularly known as a wildly successful life. The apparent fact that took aim at my ignorance toward the gentleman was the role their family took part in aiding them towards their success, along with the most loyal backers that were made up of titles known by them as employee and lifelong friends. In seeking the methodology that "makes them tick" McCullough's legwork dissects the brothers' letters, as well as historical accounts of those that were close enough to give the most accurate depiction of their relevance during their respective lifetimes.
--This step into internationally acclaimed virtual "textbook" success in their eventual massive scale is an unexpected mix of duly eye-opening; As well as likely affirming at the same time to those that study the correlation of conventional thinking on human behavior as it affects the Wrights. It is my hope that someday soon that this well crafted work by David McCullough is made into a feature film soon, so that McCullough can aid in its historical accuracy, as Hollywood need not take an liberties in creative license in telling this story straight down the middle as it happens. In the world today we have such a short attention span in history that is written by every single individual living during that time in their own relative zone of impact. Stories like the Wright brothers have been snowed over by recency bias and the zeitgeists of the modern attention span and need a very close look like the McCullough has thoughtfully and artfully penned in the must read "Wright Brothers."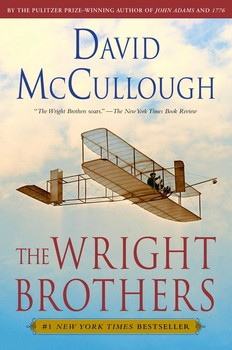 http://www.simonandschuster.com/books/The-Wright-Brothers/David-McCullough