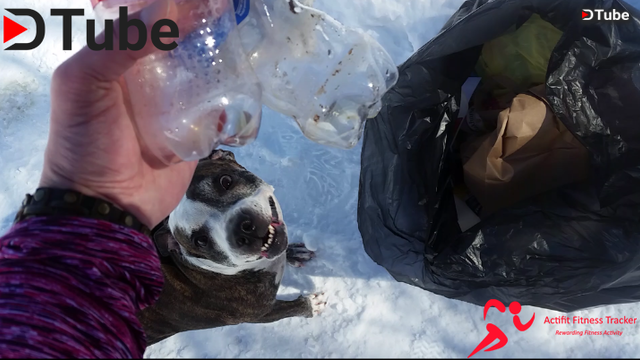 ---
Hello BeautyFull Beings! Happy Saturday!!
My computer didn't want to cooperate with me last night (it happens lol) so I'm sharing my Actifit Adventure from yesterday a bit late...but better late than never right hehe
It was an amazing walk. Bright Sunshine, Fresh Mountain Air, High Vibes...and I even got to do a bit of my own #trashgirlgo which you get to see in my vlog. There's even a little visit from my sweet dog, too!
I really hope you injoy this one...I had a lot of fun creating it <333 I just wish I was able to get it shared last night. Ah well, everything happens for a reason right ;)
Are you ready? Here We Go....!
Music Credit:
Another Time by LiQWYD

Before you go....If you haven't already voted on the current dpoll for 20k delegation would you please show @steemitbloggers #powerhousecreatives your #steemlove & support with your vote? 🙏 We greatly appreciate it!
Thank You For Reading & Watching. Your Time, Attention & Support Are Greatly Appreciated. Feedback & Constructive Criticisms Are Always Welcome, Too.

To my friends & family that are not yet partaking in the awesomeness of the Steem blockchain...There's no time like the present to join & begin your journey. Jump in with ACTIFIT & begin stackin your crypto while improving your wellness along the way! You'll be glad you did!!!
My Actifit Adventures/ActiZnaps
Znap7 Intro/Profile Video for FamilySeven77
ActiZnap No. 1: Introducing ACTIFIT
ActiZnap No. 2: Winter Storm Walk
ActiZnap No. 3: An Actifitastic Flashback (My 65k Actifitivity Journey)
ActiZnap No. 4 - Ice Walk Adventure
Happy Monday! Bright Blessings Upon Your Day & Your Week!
ActiZnap No. 5 - Winter Walk Adventure
Actifit Adventures: ActiZnap No. 6 - My Workout Shoveling
Actifit Adventures: ActiZnap No. 7 - Happy Friday Snow Walk
Actifit Adventures: ActiZnap No. 8 - Happy Saturday! (Thinking of Spring Walk)
Actifit Adventures: ActiZnap No. 9 - Sunday Funday Winter Walk
Actifit Adventures: ActiZnap No. 10 - Fitness, Fresh Air & Fun - Starting the week off RIGHT!
Actifit Adventures: Tuesday Morning Active Meditation
Actifit Adventures: Winning Wednesday with Wellness
Actifit Adventures: Therapeutic Thursday Winter Walk
My Humble Request For Your Support 🙏

See You Again Soon ~ Much Reiki Love

A Little About Me: I am an Actifit Moderator, Dedicated Actifitter, Full Time Caregiver, Friend of The Forest & Passionate Reiki Practitioner. I am also a proud member of the Power House Creatives Community as well as a Ulogger.
It is my hope that each of you keep your love lit & make the most of this ever unfolding Now Moment.
Thank you for passing through...
As All-Ways, Thank You for Being YOU!!!
💖🙌💖
🙏Namaste🙏
~April



---
▶️ DTube
▶️ IPFS