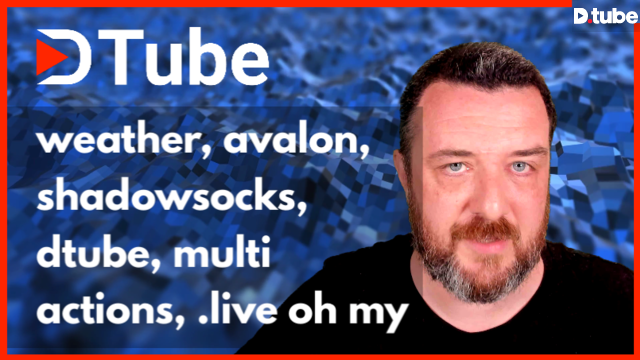 ---
Decided in between the writing, editing, pixel pushing and the responding to emails I missed doing the daily vlogs too, in fact it's kinda like post it note therapy but as vlog format — kinda like what I did last year with a bunch of other people as part of frame.io, I really enjoyed doing that and I'm sure we will do it again, maybe in November/December time, that would be a bit of a trip actually ;)
The weather is f'ing me up right now!
I can't get used to the weather, it's gonna be like over 70's for the next few weeks and while I try and get things done in the morning it's just screwing me up a little bit in terms of food, day logistics, warmth and focus — we are not used to this in the uk, I know 70's is nothing to many but it is for me!
dtube avalon server
Had to do some updating yesterday and I've just got plenty of playing around to do, I wanna install PM2 and understand how that works, it might be a way for me to get information OUT of the server into a dashboard where I can then get notifications and such like — at least I'm hoping that's the case, I've upgraded the current stats which make it a little easier to know what's going on and I have backups running too.
shadowsocks on digital ocean
Maybe it's the confidence of setting up the dtube avalon server I'm not sure but I wanted to get a decent socks5 installation (remote) for feeding the resilio sync stuff for offsite encrypted backups and moving big files around — either movies, 4k all that good stuff — either way, thirty minutes later got it working and it works great! :) all on a little $5 server. brilliant!
setup all the steemit accounts I have on dtube
I spent about two hours this morning getting all my steemit accounts on the new dtube, mainly to get the credits but just so I have claimed the names, it was important that I support the platform and of course I made sure to use all the votes for leaders (including my own server!) in the process! :)
Multi actions are stopping me from actions in general
Trying to get over my need to 'know all the things' of what's possible to control with the multi action with stream deck, truth is I'll probably never know them all until I need to know kinda thing but I'm trying to think what would be useful for making video in realtime, I've got a whole idea for rapidly prototyping videos both live and offline but using the stream deck on an iPad (until I can afford the physical box) in the meantime.
maybe I'll start with the live stuff and then abstract that for recording offline, I think I can combine the two so that when I'm working local maybe I can also use that to bolster my social media outreach at the same time! I have so many ideas I wanna stop and lock down!

thinking about .live for things steemhunt, reviewhunt, idea hunt
I'm doing a separate video about this today as part of the reviewhunt series because I think it warrants doing one — there is no doubt in my mind that .live portals to engagement are going to be massive once everywhere has super fast internet with no latency, everyone will be a tv station and the interactivity and 'show like' quality will probably end up on platforms like Netflix — imagine twitch but on Netflix, I truly see that where things are heading too, I always know a few shows that could make that transition today!
Current 'so you got a Mac course!'
I gotta get this done, I've got about 15 segments for it so far but it could end up being at least 100 videos and the biggest course I've done, I'm going for a twenty four hours + course on this — mainly because skillshare is premium minutes but because also the amount of people over the years who have cornered me and asked me how to do a certain function on the Mac, sure you can get that from youtube but it can take a bit of digging — I wanna have all of that stuff in one place with good seo and straight to the point because you wanna get in, learn the skill, execute and go about your day into something else — speed is going to be more important!
The 'reaction' videos — brain dead — kids and gamers — occasional politics and religion ones but rarely see ones about other topics…
It makes me hella mad when I see my daughter watching 'brain dead' videos that are just reaction videos — don't get me wrong, I get that they are fun, exciting, funny edits/sounds and all that but back to back HOURS of this stuff is mind numbing, I want her to see some of the incredible things happening in the world and for her to take notice of them and get as excited as me about them.
I realise that's impossible because of the age difference but sometimes she acts older than she actually is and I forget PLUS there is nothing I can find for reaction videos for like forty year olds that inform! I'm sure there are other mid age people who are like 'where's my media on the internet!?' too…
Anyway, vlog mind dump for today done!














pinterest epic wins pinboard → brand advocate for nokia, 1000heads, verisign → won vloggie for node666 (san fran 2006) → television for time team history hunters 1999 → sold me.dm to evan williams in april 2011 → went to phil campbell, alabama to help raise money after tornado (was on sky news, bbc news)→ CNN for sxsw 2013 about austin sxsw → video chat with robert scoble → music video can you spot me?


---
▶️ DTube