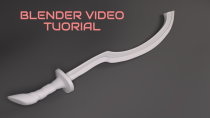 ---
Last weekend I bought a new PS4 game "Assassin Creed Origins" which inspired me to design the Khopesh Sword that I use in the game. In this post / video I will show the end to end process on how I modelled and rendered it.
Please see the video for details but the basic steps are the following:
Add Reference image to Blender. I used it for the Top view.
Add a regular plane as a starting point and cover the reference image by extruding the vertices and edges
Once the model is covered I have extruded it to give it thickness
Where the blade is I merged the two vertices using "merge at centre"
I added edges to the handle and extrude inwards for the grip
After the blade was complete I added a another plane for the background
I split the plan in multiple sections and applied some Random hills to it.
Finally I rendered the scene using 600 samples.
I hope this tutorial was helpful. If you want to see more Video tutorials than please let me know in the comments.
All the best!
---
▶️ DTube
▶️ IPFS