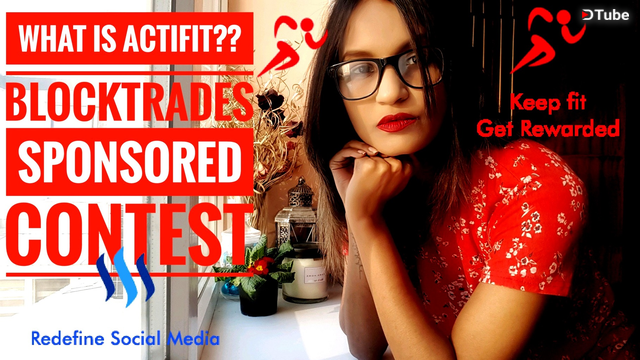 ---
Hello everyone
Today I am going to talk about @actifit, for @blocktrades sponsored @steemonboarding contest. This is my participation into the contest.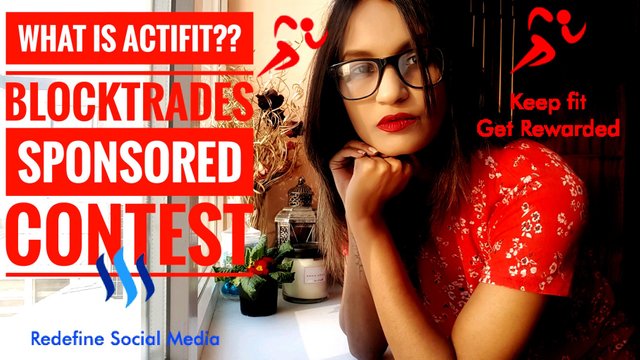 What is @Actifit?? An amazing one of most popular dapp of steem blockchain..
An Innovative Dapp That Rewards Your Everyday Activity!
Currently, @actifit is one of the most popular dapp on steem blockchain which tracks you daily activities and rewards you by giving AFIT tokens. You can also get steem rewards via upvotes on your steem posts. Actifit encourage their users by rewarding them for their fitness. All you have to do , just download and share your steem username. Full tutorial is into my video, simple and easy...
We, all do regular acitivities so why not you use actifit right?? This dapp is available in beta version both for android and ios mobile app.. So, it's easy to download it. You can also get extra rewards by commenting and upvoting on @actifit users posts. You can exchange those tokens on steem and for daily upvotes. Just make sure keep it on when you start your day and post your report in the end of your day..
Earn Tokens As Simple As One Two Three

Download the Actifit mobile app.
Go for a jog, walk your dog, mow your lawn, go to the gym, move around your office,... with an aim to reach a minimum of 5,000 activity count.
Post via app to the Steem blockchain, and get rewarded!
Links :
Actifit website : https://actifit.io/
Discord link : https://discordapp.com/invite/aHtcA6r
Vote as a witness : https://app.steemconnect.com/sign/account-witness-vote?witness=actifit&approve=1
Playstore download : https://play.google.com/store/apps/details?id=io.actifit.fitnesstracker.actifitfitnesstracker
App store download : https://itunes.apple.com/us/app/actifit-fitness-tracker/id1433969051?ls=1&mt=8
Twitter : https://twitter.com/Actifit_fitness
Telegram : https://t.me/joinchat/HiszbEZ3lH139lXz_JNjQA
Facebook : https://www.facebook.com/Actifit.fitness/
You can know more about this contest from here.
Music :


Lost Within - A Himitsu (No Copyright Music)
Lost Within by A Himitsu from SoundCloud (Royalty Free Music) http://bit.ly/2RuWYmu
🔗 Official website → https://www.audiolibrary.com.co
• Track Info:
Title: Lost Within
Artist: A Himitsu
Genre: Dance & Electronic
Mood: Sad
Download / Stream / Support: http://bit.ly/2RuWYmu
• License:
You're free to use this song in any of your videos, but you must include the following in your video description (Copy & Paste):
Lost Within by A Himitsu https://soundcloud.com/a-himitsu
Creative Commons — Attribution 3.0 Unported— CC BY 3.0
http://creativecommons.org/licenses/b...
• Main Playlists:
Artists: https://www.youtube.com/channel/UCht8...
Genres: https://www.youtube.com/channel/UCht8...
Moods: https://www.youtube.com/channel/UCht8...
---
I am
@priyanarc
..... An architect, a dreamer and a passionate writer who loves to write about life.I try to present my own perspective and experiences. Please leave your feedback and criticism because it's the only way i can know and reach your mind and thought easily...

source
Thank you so much....Thanks to @bdcommunity for always supporting me. Also i am thankful towards @welcomewagon for giving me the opportunity to develop myself and for generous support from all members...thank you @nathanmars for enormous support. Thank you @onelovedtube ...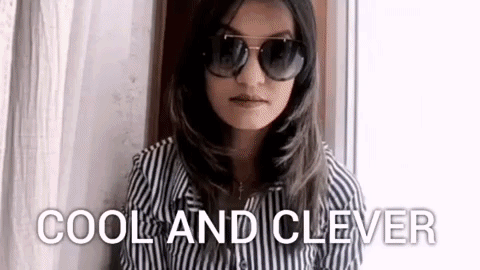 Thank you @sergiomendes for this amazing GIF.... If you want your GIF also you can contact with him...
You can find me on Twitter
After all I believe in community power , interaction , connection and engagement....

Ready to do some activities??? Join @actifit