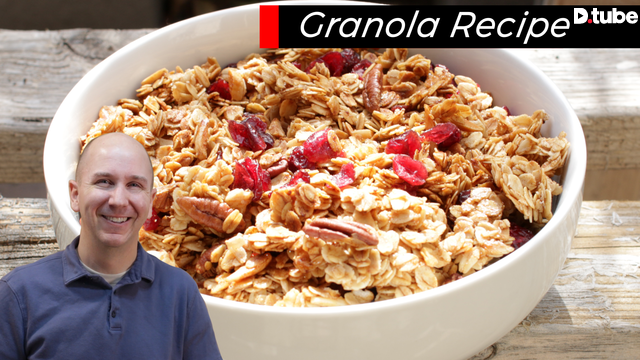 ---
Hello DTube and Steemians!
In this episode of In the Kitchen with Matt I will show you how to make granola. This homemade healthy granola recipe is very easy to make and tastes super yummy. Granola is much cheaper to make at home then it is to buy at the store and it doesn't take very much active time at all. Granola is a perfect snack for hiking, camping, biking, or of course while watching tv or a movie, anytime really. If I can do it, you can do it, let's get started!
Don't forget to subscribe to my channel and check out my other videos!
If you have any questions or comments leave them down below and I will get back to you as soon as I can.
Ingredients:
4 cups old-fashioned rolled oats (don't use 1 minute oats) (360g)
1/3 cup of pecans (or any of your favorite nuts) (50g)
1/4 cup slivered almonds (or other nuts and seeds) (40g)
1/2 tsp. of table salt (2g)
1 tsp. of cinnamon (4g)
1/2 cup of coconut oil (105g)
1 tsp. vanilla extract (4ml)
1/4 cup of honey (85g)
1/4 cup of maple syrup (85g)
Tools:
bowls
spatula
sheet pan
parchment paper or silicon mat
Thanks for stopping by!
Matt aka mrchef111
---
▶️ DTube