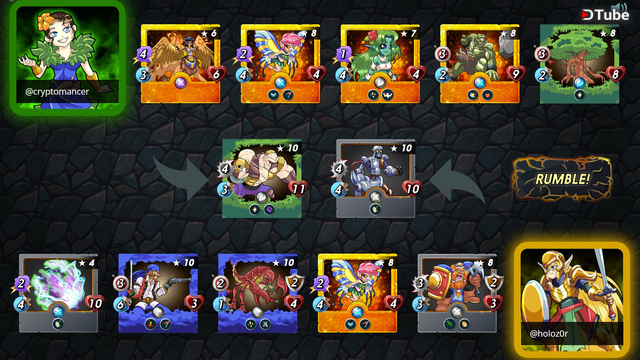 ---
In this video, I play some Steem Monsters, broadcast (formerly) live on @vimm. The outcome is a lot of loss, to the point of "What kind of pigeon is this?" levels of memery.
Thankfully, there's a bright spark, right at the very end of the video, where a team containing a Rusty Android, AND a Grumpy Dwarf, triumph over the combination of Flesh Golem, Forest Nymph, and Lyanna Natura heal train.
Watch that battle here: https://steemmonsters.com?battle=2217dd32d407164ffee1368d31cfa4533b618d2d&ref=holoz0r
I was really happy that I came away with the win. If you're not playing Steem Monsters already, you can get started here: https://steemmonsters.com?ref=holoz0r
This video was spontaneously recorded as people were requesting some assistance on the @steemonsters discord with some tactics, mechanics, and strategy. Hopefully, this is of some assistance.
If you're having trouble seeing the stream replay, watch it on YouTube here (when YouTube is done compressing the thing!)