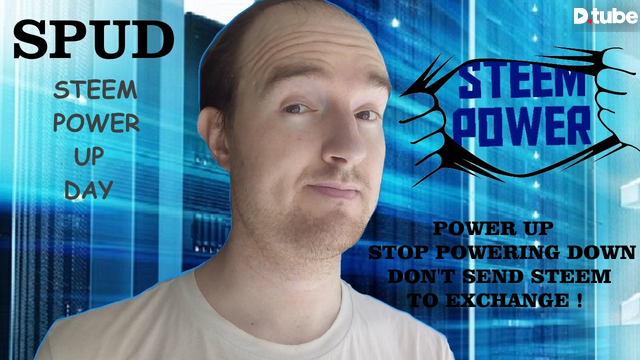 ---
Tomorrow is a big day for all steem community !
We are willing all together to power up the amount we can !
In one day all steemians will do the following :
Power up any amount they are able to do !

Stop powering down if they are already doing so !

Don't send steem to any exchange website !
This movement is called #spud , click on it and you will see how many people are exited about the event !
First of all thanks to @streetstyle for creating this awesome initiative !
Thanks to all who wrote posts about this and those are : @mrme1984 , @felt.buzz , @xpilar , @cryptopie , @bxlphabet , @eddiespino , @maxdevalue , @fitinfun , @maxdevalue , @grisvisa , @thecryptolink , @jeronimorubio , @bluengel , @joshman , @mcoinz79 , @mcoinz79 and more other awesome steemians.
Special thanks for @donald.porter who was always reminding me about creating content about this.
I will tag also all people I know maybe interested in this :
@calisthenicsdrop @emsonic @robertandrew @behelen @sp-group @holgerwerner @steemflow @freecrypto @soufiani @bobaphet @hafizullah @moncia90 @indigoocean @ireenchew @eftnow @rehan12 @mamun123456 @iamjadeline @steemitbaby @thecrytotrader @camuel @paulag @mrchef111 @jeronimorubio @clicked @ireenchew @jgvinstl @dmilliz @saiful39 @ilazramusic @zekepickleman @certain @hmetu @madushanka @romafedorov @mjtravel @alokkumar121 @cryptospa @mediumjack @fruitdaddy
Thanks also to @nathanmars who is willing to support this.
If you are not willing to power up, at least you can create content about this.
Let's #makesteemgreatagain .
Watch the video for more details.
There are as well big prices for doing so. Check @streetstyle 's posts and you may win delegations and more !
Also, at the same day we will have something will be created that's called moes or something and they claim that that thing will be better than steem. I don't think that anything in the world can be better than steem. Even if someone is planing to create something like steem, it will be the same. Anything created by people will be used to maximise the profit. They will also have whales like we do, they will also have more powerful people than others. It will be the same like steem, but new and who knows how it will work. But steem is working more than 3 years and we all know how it works and we are building our accounts, communities, followers for a long time. We also learned all this time about everything here and I don't think that we are willing to spend time to learn about something that was created just to profit from steem traffic.
So, ask yourself. Are you willing to start again from the bottom ? Are you willing to join something only related with money ? Are you willing to spend time building your account and became a fishie again ? Are you willing to support something, just because a lot of money intvested in it, or you are willing to power up, to join our great steem communities and to use our awesome apps and to get in touch with our amazing creators ?
It's all up to you guys, steem is us like @blind-spot said.
Steem is about people who are supporting others, like @theycallmedan and others.
Steem is about community leaders.
Steem is about the change in the world.
Steem is all about freedom.
Let's power up in #spud day or spread the word about it.
Nothing will stop steem, steem is immortal !
---
---
You're welcome to join @dcooperation , the community to collaborate.
Subscribe to my youtube channel here to watch my interviews
Read the white paper of @dcooperation here : DCooperation's white paper !
Check the new project we're starting with community leaders here : Our Steem Network
---
▶️ DTube
▶️ IPFS