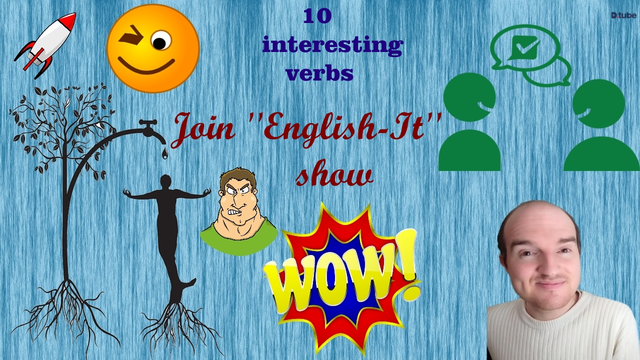 ---
As usual, I want to share with you something useful about English language.
In this video I shared 10 interesting verbs to know :
To scrutinize : it's to examine something carefully.
To flourish : it's grow and develop successfully.
To marvel at : it's to be amazed or surprised by something.
To insinuate : it's to express something in an indirect way.
To vouch for : it's to trust simeone with something.
To nag : it's to remind someone repeatedly, usually in an annoying way.
To dump : it's to throw something or let it fall without being careful.
To skyrocket : it's to increase very quickly. ''Let's the price of steem skyrocket''. ☺
To flee : it's to run away, usually from danger.
To reminisce : it's to think / talk about good past experiences.
For more details and examples check this website : https://www.espressoenglish.net/10-interesting-verbs-to-improve-your-english-vocabulary/
As usual, in the end I invite every steemian and non steemian to practice with us English, tomorrow saturday at 5 pm UTC time, the 20.04.2019. ( Edited )
We will have native speakers helping non native speakers to practice English.
It's just a show for steemians to hangout and anyone can join, you can even invite your friends from other social media, so they may like our community and join steem blockchain.
We already had five shows and it went really cool and all who joined before are : @blind-spot , @priyanarc , @eugelys , @jozef230 , @emsonic , @cryptospa , @dmilliz , @josediccus , @geekoverdose , @hafizullah , @soufiani, @behelen , @dearw , @slavomiro.vonzo,@cryptobdschool , @mamun123456 .
The native speaker who is always helping us to make it possible is @jeronimorubio, an experienced english teacher. But more native speakers are always welcome.
Maybe also @achatainga will join us, he is from Venezuela and he is an English teacher.
To join our show, join our community @dcooperation here : https://discord.gg/UMAMYkP
---
▶️ DTube
▶️ IPFS