Reviewing STEEMMONSTERS as an Oracle-D Task for the "State of the Dapps"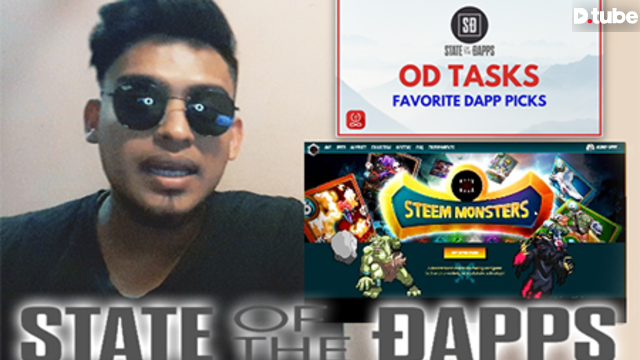 ---
This is a personal review with personal opinions
---
The latest task from @Oracle-d is to review a featured dapp from the State of DApps and I review @SteemMonsters today.
---
Steemmonsters is a digital, multiplayer, collectible, card "trading" online game based on the steem blockchain. Huge shoutouts to @aggroed and @yabapmatt. The aim is to collect and upgrade the cards to climb the rank ladder as well as trade them for REAL money. Additionally you can complete daily tasks to win reward cards which can be further upgraded or traded. Did I tell you about tournaments? You can participate and also bag some extra rewards if you win.
---
How do I get into the game?
Simply go to https://steemmonsters.com/ and you can enter your STEEM USERNAME and PRIVATE POSTING KEY and you are good to go.
You, of course, would need to have a pack to open and start playing. Packs cost $10.00 but you do have 3 options to get your hands on the pack.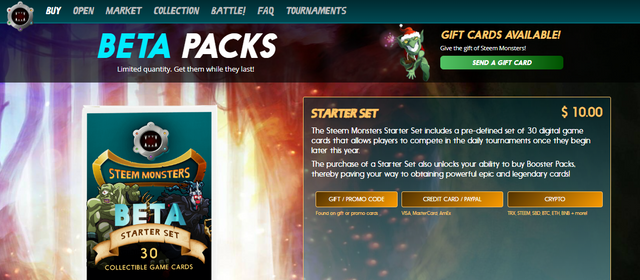 -Gift/Promo code: which essentially means you redeem the gift or promo codes which can be received through either gifts, giveaways or contests and allows to open a pack.
-Credit card/ paypal: Pay for the pack online.
-Crypto: ranging from steem to btc and more!
What this essentially means is that you are more than welcome to join us no matter which blockchain or currency you are currently invested in.
The pack will give you 5 Splinters and 25 beta cards which elevates you to start battling and trading.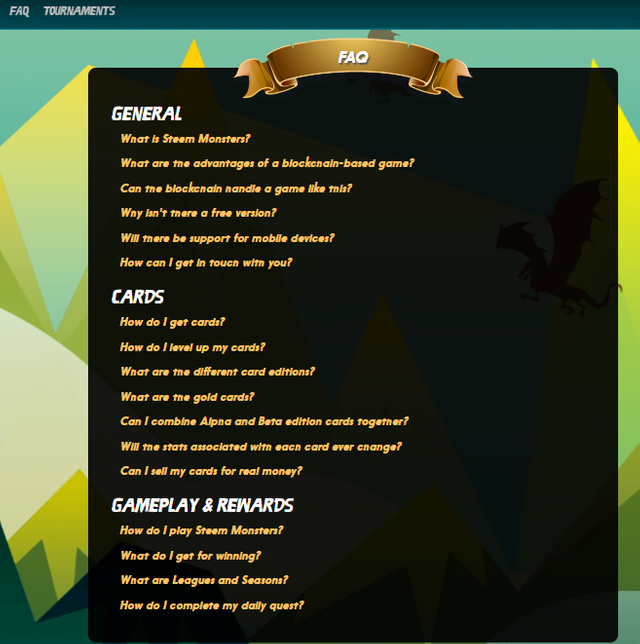 The FAQ tab has the answers to all your questions.
You can also "practice" in the "BATTLES" tab and also participate in tournaments which range from free to paid entries and have a go to win some extra rewards. YUM!
No restrictions on trading.
Steemmonsters is a trading platform where YOU make the choices. You can buy the cards for whatever amount on the market or even list them on the market for whatever price you like without anyone to say you NO. How cool. I love it!
Can't find something you like on the market? Try your luck with booster packs! With a tiny amount you can buy booster packs that will contain 5 BETA cards ranging from summoners to almost anything! Lovely way to improve your deck as well as gain some powerful cards to list on the market.
---
I love what the STEEMMONSTERS community is doing. They are a gateway to on-board many users to the STEEM blockchain.
I absolutely love the latest upgrade to their website which has made it more dynamic and super responsive. It has increased the overall feel of the game.
Steemmonsters is constantly making sure that the "excitement" factor stays alive by adding new rules which gives everyone a chance to challenge themselves.
STEEMMONSTERS IS MORE THAN A GAME. IT IS A COMMUNITY. SM is very in-touch with their user base. You can stay in touch with their blog to stay up-to-date. You can participate in their multiple contests from art to lore contests to be a more significant part of the community and also earn additional rewards. A happy user is a successful product!
You can also, additionally, register with the SM discord and keep track of what's happening, check your deck's stats and also earn some upvotes for posting about steemmonsters every 30 HOURS. HAPPY USER BASE.
STEEMMONSTERS is open to it's users for finding the best ways of engaging with the game. Look at https://monsters.steempeak.com/ and [Monster-market]https://discord.gg/p4QyETf of @bdcommunity nuilt by @reazuliqbal. They are amazing tools to trade as well as keep updated on your trading aspects.
---
I do wish the home page, in particular the logo be more dynamic or HD. I feel like a more pleasant, flashy and beautiful LOGO would be more pleasant to look at and interesting. At present it does feel a bit dull.
I also wish the gameplay was much smoother including how the timer bugs out, the "fast forward", "back" and "pause" buttons aren't as responsive and at times makes me feel they aren't actually what they look like.
An AFK or leave penalty would be a great addition to the game. Making sure that someone else's carelessness does not effect the other player. Not to mention the "boosters" or "farmers" get a free pass to upgrade their decks and keep punishing lower rating players.
Finally, SPLINTERLANDS. I am not a fan of what happened. I love the idea that SM wants the best for the game and the blockchain but I somehow feel like it did more for tron and seed than it did for steem or SM. Also, should a digital product take so much time to go out to the investors? I could be wrong.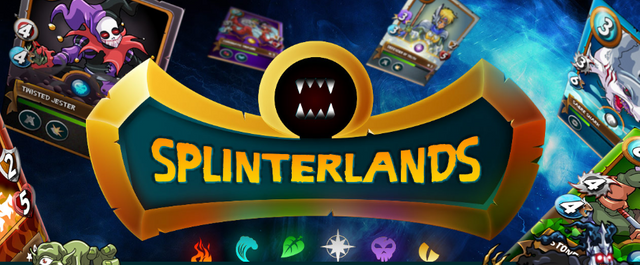 Is there a matter of inflation, too? So many cards and so few players. Should their be a cap on how low can a card be priced considering it's value? Or is there some other solution?
---
Overall, I love the game and am super addicted to it for the right reasons. It is a phenomenal game and is doing so much for itself and the STEEM blockchain. I love how in-touch are they with their community. I love how everyday SM keeps getting better. I love how many ways of approaching and different goals can be set with SM.
But, is there room for improvement? There always is.
Great to have experienced a game like this in my lifetime. Wishing SM the best of luck.
A strong 9.5/10
The .5 taken away for the many theories of improvement that will and can be implemented.
---
Discord : , Twitter : , IG :,https://steemmonsters.com/, FB:, Shop.
---
That's another blind spot from Blind's pot.
Have a good one.