AMD Radeon VII quite possibly the best mining GPU on the planet! Extreme Efficiency with tweaks!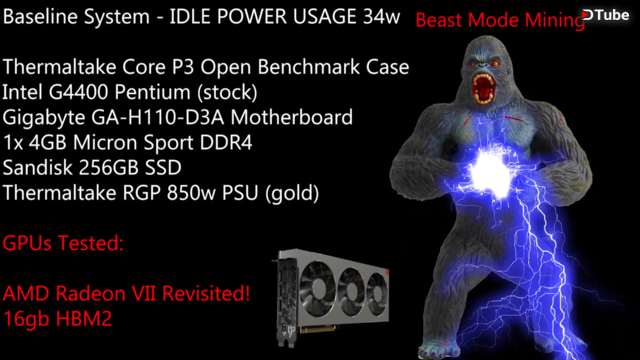 ---
Radeon VII testing resumed after our replacement came back from RMA. In this testing I tried basic stock settings and extreme performance, power testing driving down the core to 803mhz and 713mv volts with a 20% pl reduction. The results were insane efficiency for avail mh.
The Radeon VII is a supreme GPU for gaming and cryptocurrency performance and if your thinking of doing some light mining and gaming, this is the card for you.
Full #livestream testing results here:
https://docs.google.com/spreadsheets/d/1ezlD-K6wl6LsA7_dDQSqV7A_mpc6UanT4FZAJMIwGyM/edit?usp=sharing
Purchase the same components from the links below!
Radeon VII - https://amzn.to/2K68ia6
CPU - https://amzn.to/2GwV3MH
MB - https://amzn.to/2X8IbSg
RAM - https://amzn.to/2GvE2ma
PSU - https://amzn.to/2GwE7WV
Case - https://amzn.to/2BG9Dh4
Windows 10
Drivers 19.2.2 and 19.2.1 tested
===================================================
Video brought to you by BitsBeTrippin
===================================================
To support BBT in content and future events:
Ravencoin = RMR8YEZr1BQ3FVhfXmxvNZ9ErSdDgcwvcj
Bitcoin = 1QHADdYwmMgVoaYqqY3SE8ummr4euHqzUv
Litecoin = LVemKU6GTccpCSaLp4JwXPXbDT1RBbDWbQ
Ethereum = 0xF897EaFdb787AcD4Da5e2EB5003E42dc1Ef86d39
ETC= 0x89b455cfd5adb8ba4a69fd6bd082b3d61efe160f
Dash = Xrk5429K5GUHkQJkDcUQ1ZtwSGwwRstxK4
Doge = DJeTVqyNVsd493iyWzbuUM11xDwsRAtzLy
Zcash = t1KgQi4aAKJYh6QJ1rFxczWv9gqdtXPDYKh
We are not a fly by night channel, have been serving the space since early 2013!
Paypal: paypal.me/bitsbetrippin
-~--~~~--~-
If you choose to mail us a product/gear.
BitsBeTrippin
P.O. BOX 508
Troy, IL 62294
United States
ALL Amazon links are affiliate links and support channel through affiliate marketing (clicks, revenue). Cheers for your continued support.
-~--~~~--~-
Follow BitsBeTrippin
► Website - https://www.bitsbetrippin.io
► Facebook - https://www.facebook.com/groups/BitsB...
► Twitch -